Saline Rinse Method for Sinus Infections
Aug 27, 2016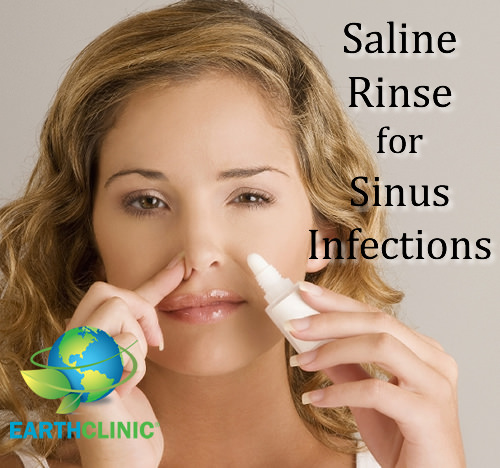 When it comes to clearing the sinuses, the first remedy that comes to most people's minds is likely not a saline rinse. The triggered mental picture of ingesting saltwater through the nose likely does not conjure up images of cleansed sinuses and relief; however, the treatment is particularly effective. Plus, a saline rinse is a much safer option than over-the-counter remedies.
The Problem with OTC Decongestants
When nasal pressure and congestion start, most people are tempted to head straight to the drugstore to pick up "the good stuff," or in other words, a nasal decongestant. In these cases, though, individuals are likely doing more harm than good. While decongestants appear to relieve congestion, really all the medication is doing is drying out the body -- a practice with a negative compounding effect. Additionally, as the body is continuously exposed to conventional treatments, it becomes immune to many treatments, making even effective options less potent.
A More Effective Option - Saline Rinse
A better, safer option compared to an over-the-counter decongestant is a saline rinse. A saline rinse uses a saline solution or mixture of water and salt to clear the nasal passages. The process promotes healing of a variety of conditions including the common cold, sinus infection, and allergies.
How saline works:
A saline rinse is one of the most effective ways to cleanse the nasal passages to relieve congestion and prevent mucous buildup. The balanced mixture of water to salt restores balance in the nasal passages via osmosis. Likewise, the salt has a cleansing effect that helps reduce swelling, which allows mucous to drain more effectively.
How to Use a Saline Rinse:
Using a saline rinse is relatively easy. An appropriate rinse is comprised of 1/2 teaspoon sea salt mixed into 1 cup of warm water. After the salt has dissolved in the water, it can be poured into a nasal spray bottle or neti pot. To complete the rinse, lean over the sink and insert the nozzle into the nose, squeezing to allow the mixture to enter the nose. Allow the rinse to travel through the nasal passages and exit the throat. Complete the rinse as often as needed, but wait at least 30 minutes between each rinse.
Potential Side Effects
While a saline rinse is an effective treatment, even this home remedy is not without potential side effects.
Nasal Irritation
If the rinse is too concentrated, the salt may cause nasal irritation and dryness. Be sure to use an appropriate solution as suggested above.
Sinus infections are among the most common and uncomfortable health conditions; however, effective remedies can diminish recovering time and increase overall health. A saline rinse is one of the most effective ways to clear a sinus infection and prevent further development of infections and illness.
Continue reading below for over 50 reviews from Earth Clinic readers and tell us what you think!
User Ratings

YEA (51)
94%
WARNING! (1)
2%
SIDE EFFECTS (2)
4%
54 User Reviews
Saline Rinse Instructions for Sinus Infection
Alternative Healing Instructions
Sea Salt - 1/2 Teaspoon
Water - 1 Cup
Mix a half-teaspoon of sea salt in a cup of warm water, then irrigate your nasal passages with a nasal spray bottle or neti pot.
User Ratings

YEA (51)
94%
WARNING! (1)
2%
SIDE EFFECTS (2)
4%
---
Posted by Cara C. (London, Uk) on 03/27/2014

I have used a saline rinse daily for years and it works like a charm. Before I started on my daily ritual, I got sinus infections one after another. It was torture. Happily, I have had no sinus infections in 3 years! I use 1 teaspoon of sea salt in my saline bottle mixed with distilled warm water. Once a week I add a dash of hydrogen peroxide.
---