Hydrogen Peroxide and Sea Salt for Sinus Infections
Last Modified on Jan 28, 2015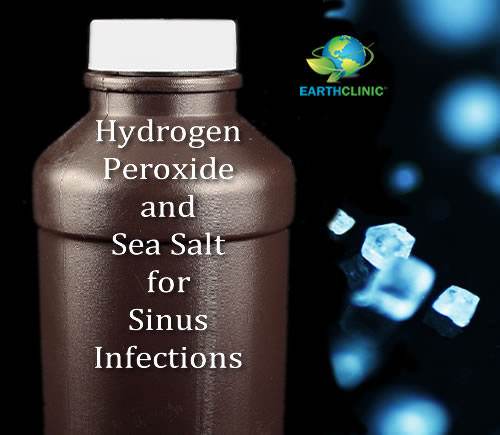 Many individuals are more comfortable reaching for a factory-manufactured remedy for sinus infections and other common health conditions than they are using naturally-occurring treatments like hydrogen peroxide and sea salt. In reality, the exact opposite should be true. The combination of hydrogen peroxide and sea salt is a safe, effective nasal treatment and remedy.
The Issue with Antibiotics and Traditional Treatments
With the advancement of science and medicine, a wide variety of new remedies has also been identified. The problem is that these treatments don't necessarily work naturally with the body and could have potential adverse effects. The more frequently people use antibiotic remedies for common conditions, the less effective these treatments are on any condition. Likewise, these treatments often cause additional issues within the body such as prolonged or recurring infection, dehydration, and other problems.
A Natural Solution - Hydrogen Peroxide and Sea Salt
Hydrogen peroxide and sea salt are both safe, natural alternatives to typical sinus infection treatments. These ingredients work together to cleanse the sinuses and relieve congestion safely and naturally.
How the remedy works:
The combination of hydrogen peroxide and sea salt function much in the same way as a traditional saline rinse with a few added benefits. Hydrogen peroxide is a natural disinfecting agent, so it works to eliminate infection that may be associated with the condition. The added salt helps restore osmotic balance in the mucous membranes as well as relieving congestion.
How to use hydrogen peroxide and sea salt:
To complete the treatment, mix six ounces of warm filtered water with 1/2 teaspoon of hydrogen peroxide and 1 teaspoon of sea salt. Allow the salt to dissolve into the solution, and insert the solution into a nasal sprayer or neti pot. Leaning over the sink, spray the solution into the nose and allow it to drain through the mouth.
Potential Side Effects
While this combination is a natural remedy, there is always the potential for side effects associated with health treatments.
Nasal Irritation
If used too frequently, the treatment may cause nasal drying and irritation.
While some individuals are uncomfortable about trying natural remedies, they are actually doing their bodies a disservice. Natural treatment options like hydrogen peroxide and sea salt are much safer, more effective options than over-the-counter and antibiotic treatments. Continue reading below for User Reviews from over 20 Earth Clinic contributors!
Tried this remedy? Let us know what you think!


Hydrogen Peroxide and Sea Salt
25

4

Hydrogen Peroxide and Sea Salt Sinus Infection Cure
Home Remedy Instructions:
Warm Filtered Water - 6 Ounces
Sea Salt - 1 Teaspoon
Hydrogen Peroxide - 1/2 Teaspoon
In six ounces of warm water, mix a teaspoonful of sea salt and a half-teaspoon of hydrogen peroxide. Use this solution to irrigate the nostrils with a nasal sprayer or neti pot.
Approval Ratings

YEA (25)
78%
NAY (4)
13%
BETTER BUT WITH SIDE EFFECTS (1)
3%
BETTER BUT NOT CURED (1)
3%
WARNING! (1)
3%
Posted by Joanna (Minneapolis, Mn) on 04/08/2014
[YEA] I recently tried your hydrogen peroxide and sea salt in a nasal pot for a sinus infection that had just started. It was amazing! I admit it did sting for about 10 minutes after the rinse, but felt immediately better. I did it 3 times the first day, 2 times the 2nd day and 1 time the third day. Cured!
Replied by Jessica
Oklahoma
12/29/2014


Posted by Joe (New York, Ny) on 06/05/2013

[YEA] I use the hydrogen peroxide netti pot irrigation remedy for my sinus infections and it works great. I alternate with salt water to wash away any remaining hydrogen peroxide. I'm going to add the ACV as a supplement as well. My sinus infections won't go away with antibiotics but this does the trick. a few words of caution. It doesn't take much hydrogen peroxide. I use a small amount from a dropper and that is powerful enough once mixed in with a netti pot. Be careful over doing it because I think you can end up irritating the sinuses rather than healing them. Also you want to use filtered water as some parasites live in tap water and while tap water is safe to drink, these parasites can get into your body via the nasal passage. There are cases of this and those parasites are dangerous, even if rare.

Posted by Katie (Westport, Ct) on 12/24/2011

[YEA] Hydrogen peroxide and sea salt in a neti pot - A big YEA for me!!

This remedy is fantastic and gave me immediate relief! Thank you to all who posted their sinus infection remedies. After trying out a bunch of remedies without much luck, this one cured my sinus infection very quickly. I also took grapefruit seed extract as well and I think that helped as well.

A neti pot (or the plastic kind you find in the pharmacy, which is what I used) filled with:
1 teaspoon of sea salt
1/2 teaspoon hydrogen peroxide (3%)
and warm water

cured my sinus infection in a few hours. I did this twice a day and continue to do it at least once a day for my remaining sinus congestion.

I am grateful I didn't have to resort to antibiotics!!!

Replied by Lecialee
Kingston, Jamaica
05/23/2012