Sea Salt
Posted by Cynthdr96 (Litchfield Park, Arizona) on 04/12/2011

★★★★★
My has had eczema for 3 years now. I have tried everything that the doctors have told me to do. Than just this year my started swimming at her friends house. They have a salt water pool... It was amazing, that night she came down the stairs and said look mom!!! I thought oh dear it got worse. But be hold my eyes her Eczema was so much better and almost gone. So since than I let go swim over there, and it is gone now. I just make sure that she put some lotion at night to keep the mositer in her skin. SO do a study on salt water with people with eczema, and see the difference for yourself.
---
Sea Salt
Posted by Sally (Austin, Texas) on 07/18/2009

★★★★★
Sea Salt baths have almost cured my eczema in a matter of weeks. Get a good one that has minerals and put about 3/4 cup into the tub. I've also started taking iodine tablets.
---
Shea Butter
Posted by John (Frederick, Md) on 08/05/2011

★★★★★
Folks, If you want to cure eczema, here is the solution. Go to an organic food store and buy a jar of Shea Butter. It is made from plants and has healed eczema rashes I've dealt with for several years. I no longer am without a jar. You will be 100% satisfied.
---
Shea Butter
Posted by Nat (London, Uk) on 08/05/2011

★☆☆☆☆
I have all natural, virgin organic, unrefined African Shea Butter and used it for months and still can't get rid of my eczema. It was powerful in moisturizing the dry skin but not healing the eczema for me. Topical vitamin E and D and honey and wearing sandles are the only things that soothe it but still don't heal it. My case might be more severe and autoimmune related since I can't keep enough vitamin D in me.
---
Shower Filter
Posted by Trey (Minot, ND) on 05/19/2008

★★★★★
Eczema Remedy: I went to France last summer and my eczema went away in a matter of days. I got back to the US and it came back in a few weeks. I tried to figure out what was different in France that helped my skin. I thought the water might be and that my showers could be making my skin worse. I bought a shower filter which easily attaches right before the head of the shower for $18 at Menards. Within a few days my skin started to clear up and has been better than ever these past few months. My filter recently filled up though and quit doing its job so I had to buy a new one, so make sure you replace them if you notice your skin going bad.
---
Silymarin
Posted by Bob (Cleveland, Oh) on 03/25/2017

★★★★★
Hello everyone, I have had success in curing my eczema using Silymarin, an extract of Milk Thistle. I was diagnosed with eczema on my left hip. For years, it would come and go and it looked a lot like ringworm. Finally, my dermatologist took a biopsy and determined it was eczema. I used apple cider vinegar topically on the rash a couple of times a day and that seemed to help a lot. Then I started taking Silymarin 150mg with Turmeric and it cleared completely. I have been clear for a couple of months now. I take 2 capsules twice a day with food. Silymarin is said to repair liver issues which I may have or had seeing that I am a regular wine drinker. Hope this helps. Bob
---
Soap Nuts
Posted by Faith (Atlanta, GA) on 04/28/2009

★★★★★
Some years ago I saw native people in Indonesia using soap nuts, the dry fruit of the soap berry tree, to wash their clothes. Little did I know that years later I would find them in my local health food store and that they would cure my eczema. I just started looking for a natural laundry soap because I want to clean up my life and get rid of synthetics.. The soap nuts were the only thing in the store that looked really natural. First I noticed the laundry didn't smell like chemicals. It smelled like NOTHING, absolutely nothing. After a few weeks I noticed the eczema on my shoulder blades was almost entirely gone. Getting excited I went back to the store and got soap nut laundry liquid. It contained organic essential oils of lavender, tea tree and lemongrass. It's my new bath soap and a lifetime of eczema is gone. Thanks to Maggie, for sharing the secret.
---
Sunlight
Posted by Alex (Thessaloniki) on 07/27/2022

★★★★★
Sunlight (or UVA and UVB lamps) for Eczema
I've tried many things for my eczema on my lower calves. Nothing worked like sunning. In the summer due to the high temperature and sweating it becomes inflamed. I've learned that there are UVB therapy lamps for eczema. Ultraviolet light can remove white blood cells that provoke an allergic reaction and are under the epidermis. UVA radiation has less energy but goes deeper into the skin. So why don't try UVA plus UVB therapy for free with sunning. Just 5 minute every other day had total elimination of my eczema and very red and itcy spots. While sunning one must gradually increment in order not to get a sunburn.
If one doesn't have a lot of sun here are the UVB ot UVA devices. Doctors say UVB monochromatic 311nm therapy is safer for skin cancer.
https://www.ebay.com/sch/i.html?_from=R40&_trksid=p2380057.m570.l1313&_nkw=uv+therapy&_sacat=0
In the image I added below, shows that my skin is somehow red in the area with red itchy dots like mosquito bites.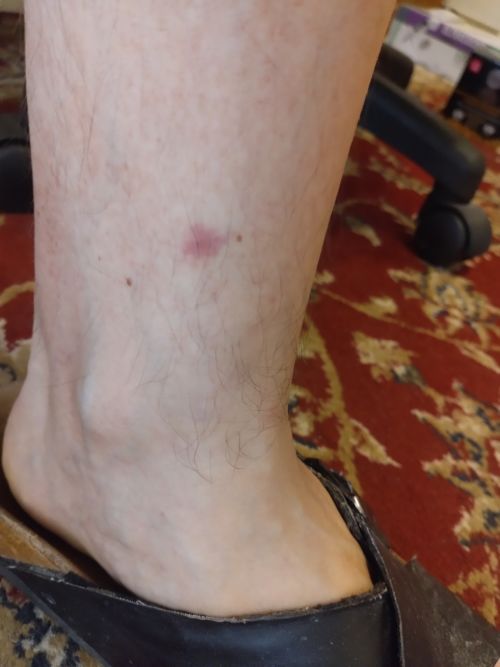 ---
Sunlight
Posted by Trey (Minot, ND) on 05/19/2008

★★★★★
I also notice that summer time usually stops the eczema but comes back in the winter. But chlorine has always made it worse whenever I've gone swimming. I think sunlight might help.
---
Sunlight
Posted by Anna (Elk Grove, California, USA) on 04/28/2008

★★★★☆
i have red blotches of eczema on my arms. It gets really bad in winter and spring. In summer, when I'm out in the pool and sunlight it heals, almost totally goes away. Then comes back again with a vegence in the fall/winter. Does sunlight or chlorine help in healing it?
Replied by Nick
(Grayslake, Illinois)
06/02/2008
★☆☆☆☆
---
Supplements
Posted by Danijel (Minneapolis, Mn) on 10/15/2009

★★★★★
I had problem with my skin excema for years. I started taking vitamin B5 and superoxidants and and my skin started clearing after two weeks. Now I do not have any facial and back skin excema! It is worth a try! Good luck!
EC: B5 is also known as Pantothenic Acid.
Replied by L.b.
(Mansfield, Oh)
04/13/2011
★★★★★
---
Table Salt
Posted by Celene (West Springfield, MA) on 11/18/2006

★★★★★
I tried using a teaspoon of table salt, mixed with a little warm water to form a paste. I applied it to the side of my nose (where the crease is) because i have a very itchy patch of skin there that I can't seem to stop scratching! Putting salt on itchy skin works! It breaks the scratch/itch cycle, but eating garlic everyday will help also!
---
Tea Tree Oil
Posted by Joanne (Chicago ) on 02/17/2020

★★★★★
I had a mysterious rash on my fingers that included swelling, redness, unbearable itching and finally, tiny bleeding blisters. It was like a horror movie. I don't know what caused it. I suspected exposure via a costume jewelry ring, but I had worn this ring before without issue. Anyhow in desperation I tried the tea tree oil. It worked like magic! Within about two hours, the red itchy blisters had turned into a kind of a crust—-then they just cracked off and there was smooth perfect skin underneath.
---
Tea Tree Oil
Posted by Abdullah (Oslo) on 06/02/2016

★★★★★
Tea tree essential oil for eczema and/or dandruff is amazing!!! People must know this is an incredible potent absolute cure!!! It stings when applied and the day after you may experience it falling off as dry flakes. MUST TRY!
---
Tea Tree Oil
Posted by Mcneillmama (Nc) on 03/18/2016

★★★☆☆
Worked Temporarily
WORKED TEMPORARILY
I have developed an acute onset itchy, inflamed rash on my arms and legs. It started as small patches on my left wrist and I thought it was nickle allergy related to a new watch I was wearing. I also have been sick most of the winter with one respiratory infection after the other and all that started with a mild sore throat right before Christmas. I kept a sinus infection from Dec-Feb and finally went to the doctor about it because I was losing sleep from coughing. The doctor said it was virus and gave me a Kenalog shot which helped for about 5 days and then I caught another cold. That was about the same time the rash started on my wrist.
I quit wearing the watch and over the course of three days the rash spread up my left arm, then patches of it started breaking out on my right wrist and both shins and ankles. The itch was so severe at night I couldn't sleep. It looked like Chicken pox. So back to the doctor I went again. I was concerned it was scabies since it is going around the elementary school where I work and I also thought maybe I had the shingles. The doctor said no to those conditions, said it was not contagious whatever it was, he also said it was not RMSF or Lyme. He gave a Rx for triamcinolone cream which did nothing.
So I finally found some tea tree oil soap and tea tree oil and started showering with the soap and massaging the oil in the patches. After the oil is absorbed, I've been covering the areas with a thick ointment called Calmaseptine, which contains 20% zinc, calamine and menthol. This seems to stop the itching and in the mornings when I wake up the rash looks better and almost disappears, but later in the day after I get out in the hot sun or when I just get out of the hot shower, the rash comes back with a vengence. I don't know why heat is bringing it out and making it worse. I have an appointment with the skin doctor next week. I'm sure whatever he prescribes my insurance won't cover and a small tube of anything can cost $80-$300+ I finally understand how King Hezekiah, Job or the Egyptians felt during the plagues.
---