Garlic for Tooth Infection - A Natural Alternative
Last Modified on Sep 26, 2014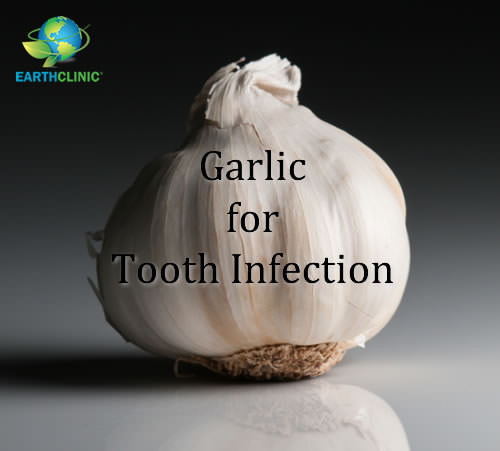 A tooth abscess or infected tooth is often one of the most painful experiences an individual is forced to endure. While most conventional treatment options include invasive remedies and even surgery, natural remedies are typically just as effective, if not more so, without the added discomfort of such treatments. Garlic is one of the most effective treatments for an abscessed tooth and can be done in the comfort of your own home.
Abscessed Tooth Treatment Options
While traditional medicine offers treatments for an abscessed tooth, these options are often only minimally effective unless you go the extreme route. Often dentists or oral surgeons suggest over-the-counter pain medications to relieve the pain without actually treating the underlying infection. And, when a treatment is prescribed for the infection, it often involves surgical treatment or at the very least a root canal.
It is important to note that a tooth infection can become deadly if it spreads to other parts of your body, like your heart or brain. An abscessed tooth MUST be taken care of as soon as possible. Please visit your local dentist or emergency dental clinic if your dental infection is worsening.
Garlic - A Home Remedy for Tooth Infections
Natural remedies, however, can function to relieve pain as well as eliminate infection. This dual-faceted treatment aims at preserving the tooth while still treating the condition. Garlic is especially effective for treating the condition as it functions as both an anti-inflammatory agent as well as a natural antibiotic.
How garlic works:
Garlic is considered a member of the allium family. These vegetables contain a unique combination of flavonoids as well as sulfur-containing nutrients, which make them effective natural health remedies. These unique compounds function in several different ways to treat a tooth abscess. Initially, garlic reduces inflammation, which also helps reduce pain in the tooth. The treatment also helps eliminate infection, so it works to naturally correct the condition.
How to use a garlic:
To use garlic as a treatment, select a fresh garlic clove. Peel the garlic and rinse it with warm water. Then, place the clove in your mouth and crush it with your teeth. As you begin crushing the garlic, you should experience a natural numbing sensation. Continue chewing the garlic until the pain has subsided. Spit out the clove and rinse your mouth with warm water. Consider sipping on water with a few drops of peppermint or clove essential oil in it to freshen your breath.
As uncomfortable as an abscessed tooth is, the condition calls for an immediate remedy. Garlic is a safe, easy-to-use option that helps treat the condition at its core.
Continue reading below for more than 70 positive reviews from Earth Clinic readers who have used garlic successfully to treat a tooth infection. Tried this remedy? Let us know what you think!


Approval Ratings

YEA (72)
94%
NAY (1)
1%
BETTER BUT WITH SIDE EFFECTS (2)
3%
BETTER BUT NOT CURED (1)
1%
SIDE EFFECT (1)
1%
Posted by Carlos (Barcelona) on 09/22/2014
[YEA] Ok so here I am years ago a piece of tooth fell off, my mother asked me to go tot he dentist I didnt want her to pay for that, I got no job..long story short last week I felt some discomfort I looked and it was that big yello thing in my gum. I was scared as heck...
When to the doc today, got an apointment for root canal in 4 days. Just came here hoping for a home solution.
I chewed 1 garlic clove, left it there for a few minutes, this burns like theres no tomorrow. and I have to say I don't have tooth pain whatsoever, just the big inflammation so the pain was very severe to handle without having tooth pain in the first place.
I drank it and went for second round, it burned like theres no tomorrow. I drank it again and now just few minutes later I see inflamation has gone down and I feel a cool refreshing feeling in the area. Definately healing. I'll keep doing this 3times a day and water and salt rinses till my dentist apoinment. Hopefully the abcess is gone by then. All I can say is so far so good.
Posted by Kt (Usa) on 03/31/2014
I was sharing your website with someone who had an abscessed tooth and told her to look for an Aug. 2012 post that encouraged me to tolerate the garlic burning when using the remedy for my abscess. Are we going to be able to pull up old posts to print?
Thanks,
Kathy
EC: Scroll through the entries and you may find the one that you were looking for.  The entry in 9/2012 from Don Quixote talks about how the garlic stung for the first few minutes but ultimately cured his abscess.
Posted by Gabbysue (Haltom City, Texas) on 03/03/2014
[YEA] When my son was 18 he had a root canal. The dentist put in a porcelain tooth. I assume because it was a back tooth. He is now 27. He told me the other day that the tooth had started to fall out and he pushed it back in. He said it didn't hurt. My first thought unfortunately came to light. The next day he woke up with the left side of his face extremely swollen. I was afraid that when he pushed it back in he also pushed bacteria, etc. in. Not having insurance I came here to see if there was a home remedy. I read a tried and true story from Phil in Manchester, UK from 02/23/13. I knew my son would be too skeptical, so I had him read the story. Being in so much pain he agreed to try it. I gave him a sliver of garlic and told him to hold it on the sore gum for at least 3 minutes. Poor guy, his eyes started watering and I could tell it made the pain worse. After 3 mins he spit it out. About 15 or so mins he ran to the bathroom. The abscess had started draining. He stayed in the bathroom spitting and rinsing with water for 15 mins. The next morning he had no swelling or pain. I am so thankful that I found earthclinic.
Posted by Timh
Ky, Usa
03/04/2014
1256 Posts