Garlic for Tooth Abscess, Infected Gums and Teeth
Last Modified on May 24, 2016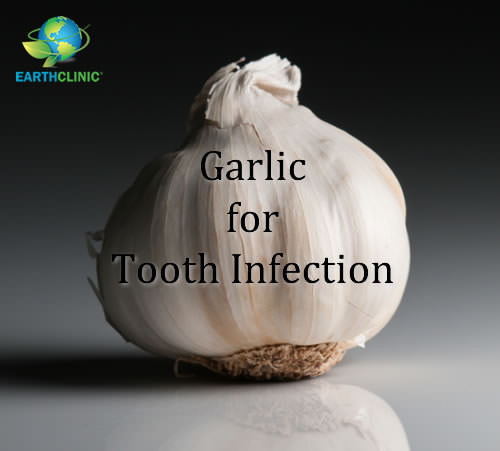 A tooth abscess or infected tooth is often one of the most painful experiences an individual is forced to endure. While most conventional treatment options include invasive remedies and even surgery, natural remedies are typically just as effective, if not more so, without the added discomfort of such treatments. Garlic is one of the most effective treatments for an abscessed tooth and can be done in the comfort of your own home. Over 70 of our readers have reported a cure using garlic to treat their infected gums and teeth.
Abscessed Tooth Treatment Options
While traditional medicine offers treatments for an abscessed tooth, these options are often only minimally effective unless you go the extreme route. Often dentists or oral surgeons suggest over-the-counter pain medications to relieve the pain without actually treating the underlying infection. And, when a treatment is prescribed for the infection, it often involves surgical treatment or at the very least a root canal.
It is important to note that a tooth infection can become deadly if it spreads to other parts of your body, like your heart or brain. An abscessed tooth MUST be taken care of as soon as possible. Please visit your local dentist or emergency dental clinic if your dental infection is worsening.
Garlic - Most Popular Remedy for Tooth Abscess
Natural remedies, however, can function to relieve pain as well as eliminate infection. This dual-faceted treatment aims at preserving the tooth while still treating the condition. Garlic is especially effective for treating the condition as it functions as both an anti-inflammatory agent as well as a natural antibiotic.
How garlic works:
Garlic is considered a member of the allium family. These vegetables contain a unique combination of flavonoids as well as sulfur-containing nutrients, which make them effective natural health remedies. These unique compounds function in several different ways to treat a tooth abscess. Initially, garlic reduces inflammation, which also helps reduce pain in the tooth. The treatment also helps eliminate infection, so it works to naturally correct the condition.
How to use a garlic:
To use garlic as a treatment, select a fresh garlic clove. Peel the garlic and rinse it with warm water. Then, place the clove in your mouth and crush it with your teeth. As you begin crushing the garlic, you should experience a natural numbing sensation. Continue chewing the garlic until the pain has subsided. Spit out the clove and rinse your mouth with warm water. Consider sipping on water with a few drops of peppermint or clove essential oil in it to freshen your breath.
As uncomfortable as an abscessed tooth is, the condition calls for an immediate remedy. Garlic is a safe, easy-to-use option that helps treat the condition at its core.
Continue reading below for reviews from Earth Clinic readers who have used garlic successfully to treat a tooth infection, infected gums and painful toothaches. Tried this remedy? Let us know what you think!
User Ratings

YEA (84)
93%
NAY (1)
1%
BETTER BUT WITH SIDE EFFECTS (2)
2%
BETTER BUT NOT CURED (1)
1%
WARNING! (1)
1%
SIDE EFFECT (1)
1%
84 YEA

|

1 NAY

|

2 BETTER BUT WITH SIDE EFFECTS

|

1 BETTER BUT NOT CURED

|

1 WARNING!

|

1 SIDE EFFECT

|
User Ratings

YEA (84)
93%
NAY (1)
1%
BETTER BUT WITH SIDE EFFECTS (2)
2%
BETTER BUT NOT CURED (1)
1%
WARNING! (1)
1%
SIDE EFFECT (1)
1%
Posted by Paul (Cortlandt Manor, Ny) on 03/22/2016
[YEA] Like many on this board, I came to it after searching for options on 'curing' an abcess rather than having a molar extracted. I have a fear of dentists even at 60, ever since having six teeth extracted when I was about 13, after believing I was in for a filling!
Yesterday, I awoke at 2am with a painful, throbbing gum and excruciating pain whenever anything touched the lower left, filled, molar. I'd also had a headache the previous couple of days which Paracetamol quelled only a little. I was dreading the thought of what was to come, so I tried the Garlic method. I must have gone overboard on the garlic-mash because the burn of raw garlic at one point was worse that the tooth pain! I persevered and, crying tears and dribbling nose, I paced up & down to try to get relief but that garlic stayed on my gums for 30mins before I chewd it up and swallowed the lot. That was about 9am. By 10.30, the burning sensation had abated a little but I noticed less tooth pain and extensive blisters inside my cheek & left side of my tongue, but no throbbing gumline.
I repeated this process again about midday but didn't leave the mash on so long this time but the burn was still evident. Finally, I placed another couple of slivers this time, either side the tooth at bedtime, 10pm and went to sleep. As I write now at 7.45am, I have no gum pain and only a little tooth sensitivity ... and the cheek & tongue blisters ... but none of the intense pain of the previous night AND no headache. I'll continue with the garlic periodically but the method certainly avoided me paying a $6,000 quoted extraction fee (I'm uninsured)!
Thanks to Earth Clinic and all contributors who wrote previously and encouraged me to try the remedy.
---
Posted by Phyllis (San Francisco, Ca) on 02/08/2016
[WARNING!] Hi EC loyalists and followers,
I wanted to raise a red flag of caution to all of you who are prepping and using Garlic for tooth problems. I have relied on Earth Clinic for many health insights and cures. I have been super pleased with my results from so many of you who have taken time to share your cures and offer helpful suggestions. I used garlic just yesterday to address a tiny abscess that I noticed on my gum. I applied several pieces of "raw" garlic to the area (by pressing the garlic against the infected side of my jaw). I left each piece on for approx. 5 minutes and then alternated with a warm sea water rinse and a diluted solution of Hydrogen Peroxide. The boil immediately disappeared after 2 or 3 hours but what happened next sent me to the ER this morning and my condition is still a difficult one.
The garlic blew up the inside of my jaw and the lining looks like a road map to hell. In addition, the swelling advanced to my lip where I now have deep redness, a very unattractive swollen lip and blistering that is 4 times the normal size. I had no idea that garlic could cause such serious damage, certainly not real burns! A little innocent home remedy has led me to an ER visit and a very unsightly 2nd degree burn. I am just reaching out to advise one and all NOT to use garlic in its raw state directly on the inside of your mouth!!
The ER physician mentioned that my burn is equivalent to a chemical burn and she was appalled to know that garlic was the culprit. I am not taking any antibiotics or topical meds for it. I'm just icing it every few hours, praying and applying a little Vaseline and aloe gel on it. Needless to say, whenever I use garlic again, it will be in capsule form. Please take precautionary measures when applying it directly to sensitive gum tissue, I don't want anyone to have to endure what I'm going through right now! I am beside myself and if anyone out there can offer me a suggestion or a proven remedy for how to heal this horrible burn (other than aloe and honey, which has not helped me in the least), I would be sincerely grateful and forever in your debt! Thank you.
Also, I wanted to ask if EC worked with any other "healers" like Ted or would know of a resource bank where I could get help from a respected healer to help guide me around healing this very serious burn?
Thank you and continue the incredible work that you do for humanity.
I look forward to your response.
Phyllis F.
San Francisco, CA
Replied by Jim
Frostburg
02/09/2016
Replied by Kiwidrdan
New Zealand
05/02/2016

---
Posted by Raqui (San Tan Valley, Az) on 01/31/2016
[YEA] I can't believe this actually worked!
I woke up yesterday, 1/30/16 in PAIN! Now, I don't do that.. pain to me is hardly ever enough to make me tear up, but I was HURTING! Tried a hot water bottle, a hot shower, and coconut oil. Nothing worked. I'm one of those crazy people who can't take a pill. I have had so many adverse reactions to medications, I refuse to take anything that is OTC or prescribed. I have severe psoriasis also.. Anyways... I had these lumps on my gums that were killing me! I looked for the best home remedy and came across this garlic thing. I am still wowed!
I ALWAYS have fresh garlic on hand, LOVE the stuff! So, I first started off with the "eat a clove" idea. Uh, NOPE! WAY too painful! So then I sliced a clove in several little pieces and placed them where the swelling was. I was happily surprised to notice that the pain went away almost immediately, after the burn. Then, I put a peppermint tea bag (hot) over the big bump and instantly felt this "relief" of pressure.. then spat into the trash can only to see the nastiness release... Later on in the evening, I had more garlic and way less pain! As I was talking on the phone with my daughter, I noticed another "relief" and had to start spitting, again. The blood and pus were flowing.. it was pretty nasty! I finished the night by rinsing my mouth with a well known mouth wash and peroxide then brushing with coconut oil.
My mouth hasn't felt this great in a long time! Thank you EC!!!