Garlic for Tooth Abscess, Infected Gums and Teeth
Jul 23, 2016
<< Continued from page 3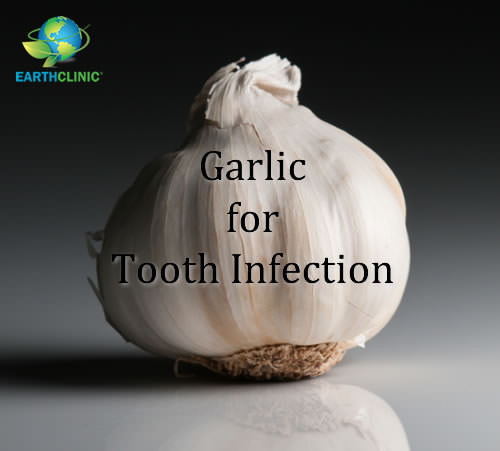 User Ratings

YEA (84)
93%
NAY (1)
1%
BETTER BUT WITH SIDE EFFECTS (2)
2%
BETTER BUT NOT CURED (1)
1%
WARNING! (1)
1%
SIDE EFFECT (1)
1%
Posted by Rifkah6 (Lancaster, Uk) on 03/12/2010

Garlic for gum abscess
I am amazed at the potency of garlic as a nautural antibiotic, and although I had always been aware of this property, I am stunned at how well it has worked on a particularly nasty gum abscess that I had been suffering from.

To cut a long story short(er), I have a grumbling wisdom tooth on my lower right side, and the flap that was partially covering it became infected about 2 weeks ago. By the wednesday of the first week I went to the dentist who informed me that the particularly nasty case of pericoronitis I had would not clear without antibiotics, even using the hot salt water rinses that have cleared more superficial abscesses for me in the past. By the Wednesday evening, I could hardly open my mouth, and I could feel the infection spreading into the muscles that hinged my upper and lower jaws. I knew it was a very deep abscess, but I was determined not to use the antibiotics as I am very much against the routine use of antibiotics unless in emergency situations.

So I commenced with the salt water rinses, echinacea, oil pulling with tea tree and sunflower/sesame oil to arrest the infection, and ibuprofen for the pain. These were working well enough, but, i.e I could feel that the infection was being drawn somewhat out of my jaw muscles over the next few days. I continued this course of action until the Sunday, when I decided to add grapefruit seed extract into the mix. This helped somewhat although worked no major miracles, and by the Tuesday I was ready to try terramin clay packed over the abscess overnight. This seemed to work well as on the Wednesday morning the abscess had come to a head and burst (uber gross!), but it was still inflamed and I could feel the infection was still there. But I continued with the terramin and the rest of my protocol over the next day, and yet again by the Thursday morning the abscess had refilled over night and now had not just one head on it but two!

At this point I came across garlic as a possible magic bullet - this was a real "aha!" moment, cos i knew of garlics efficacy as a natural antibiotic, but I just hadn't considered putting it on my abscess. So i went straight and mashed up some garlic in my pestle and mortar and placed some of the mash on my abscess and drank the rest down with some water. My god, the pain was incredible, so much so that I could not sit still and had to walk around the house inbetween rushing to the bathroom to get rid of the excess saliva my mouth was producing, but I knew that the garlic was getting to work and killing the infection.

Within 12 hours the abscess had reduced by half, and this morning it is looking pretty grizzly, but is almost back to it's normal gum profile with no pain and no refilling with that god awful pus. I am continuing with the garlic protocol until I am sure this is completely healed (and the oil pulling too as i think this is invaluable for gum health), but all other treatments I feel are now unnecessary - garlic is the magic bullet for oral problems :o)

All in all, I think that the salt water rinses, oil pulling, echinacea, grapefuit seed extract and terramin arrested the infection and drew it to the surface of my gum, but it was the garlic that actually killed it.
---
Posted by Drugfree (Trenton, Nj, USA) on 12/21/2009

just 2 days ago i was in pain all day long. it was keeping me up all night. even advil wasn't working. had 4 fillings done at the dentist and even a month later i couldn't drink cold drinks because it would hurt right away and i couldn't drink juice without brushing right away because it would hurt really bad 30 minutes later. noticed a bubble on my gums. found out it was an abscess. started researching tooth abscesses. while searching the web found earthclinic which helped me before with hypothyroidism, for that i used coconut oil. noticed that garlic really works for infected teeth and abscesses. at first i just rubbed half a clove of raw garlic sliced in half on the abscess. didn't really help. so i chewed 1/4 clove of garlic and let the garlic juice sit on the infected area for at least 10 minutes, sometimes 30 minutes. by the 3rd night all the pain was gone. now i can drink cold juice without the pain like before although if i do drink cold juice and don't brush its still a 1 on a scale of 1 to 10 for pain. thanks to everyone who posted their testimonials. can get back to my life now. earthclinic is a real lifesaver.
---
Posted by Lashonda (Atlantic City, New Jersey) on 11/21/2009

Ok...When I had my last daughter, I've been suffering for 3 years with dental issues. She took a lot of calcium during my pregnancy. As usual, the dentist couldn't abstract the teeth because I was pregnant. I lost most of my back teeth top and bottom. The crowns are gone and all thats left are the root part of the teeth. I will need extensive surgery to correct the problems.

I have been to the hospital on several occassions for this. Each time, they prescribed me clyndamycin (I pray that is spelled correctly) because I am allergic to pennicilin. Needless to say, I would have to take those for 15 days consecutive until all the antibiotic was gone..The pain killers they gave to me were Percocet, Oxycodone, Tylenol 3, and Vicondon.( not all in one, separate times) All of these made me sick.

What gets me is once I believe that one abscess has gone away, another pops up. This is the reason that I can not get the surgery yet. Not to mention, I am self employed and currently do not possess health and dental insurance. Paying for hospital bills and medication has strained my pocketbook, dress slacks, and bank accounts...

There have been way too many times that I suffered sleepless nights, missed meals, and tears from the excruciating pain. I am telling you, the pain was so bad that I often suffered hearing loss, eye and headaches(on the infected side), chest and arm pain. This pain was so bad that I called my mother in North Carolina a few times. I have never experienced such pain in my life. I'd rather have a million babies than to sufffer tooth pain..

What brought me to this site was after viewing my finances and my medication, I knew I couldn't afford to go to the hospital nor pay for the medicine.I had just taken my last antibiotic and the swelling and pain started all over again. On last night, I googled home made antibiotics for tooth abscess and this site was on the top of the search engine. I heard about clove oil was good, but when I saw garlic here, further reading was needed..

As I begin to read others story, many of them I related to. Thank you everyone for your testimonies. Most people said use fresh garlic. Well I didn't have fresh garlic in my home. I tried the next best thing. GARLIC POWDER. It did burn at first even throbbed a little. But after the burning the pain went away. I went to sleep and woke up with most of the swelling gone. I repeated the process again when I woke up this morning, once this afternoon, and doing it now as I type.

Garlic works in any form I believe. The pain is gone, but the swelling is still there but not as much. Most people say do it for three days. That is advice I will continue to use.

Downside to using garlic is bad breath. But when you are in pain, bad breath is the least of worries. I didn't have to do much speaking or talking so that was a blessing. If any of you know what I can do to get rid of the garlic breath, please inform me. Everything I eat has a garlic backdrop to it...don't like that too much.