Povidone Iodine
Posted by Rob (Kentucky) on 04/14/2021


Povidone Iodine "the Silver Bullet" Nasal Irrigation for Chronic Sinus Infection
Great, I started off the 2021 spring season with a horrendous sinus infection when the tree's started to pollen. I've been struggling with my sinuses for a few months. I'm normally ahead of the season drinking gallons of nettle tea to help cope with the pollen but got off to a late start and the season came early.
I ended up with blood coming out in my snot. Pain around my eye orbits and cheeks, top of my teeth hurt, drainage in the back of my throat, both ears had fluid, etc... There was no way the antibiotic was going to work fast enuff to heal my sinus infection. It would have cost a small fortune and the doctors in my area are dumda$$'s. So, here is what I did.
I bought a bottle of Povidone Iodine 10% (PVP-I) and started using it as a nasal flush, but not as a neti-pot flush like most people including me are taught to do.
The nasal cavities in your head are very vast with pockets where infection and polyps can grow. Here is a video to show you.
Tour of the Nasal Passages 3D https://www.youtube.com/watch?v=m5vDsPUpOGg
How to make the PVP-I solution:
- Add 1 1/2 ounces of distilled saline water to a clean cup.
- Add 1 teaspoon Povidone Iodine 10% (If you want a stronger solution to deal with candida infection simply add more PVP-I but never more than 1:1 ratio, see chart below)
- Stir mixture is ready to use. It won't take much solution to do one treatment.
How to use it:
A web tutorial by DMRPub gave me the idea but my sinus issues mainly were pain in the forehead and behind/between the eyes with fever and a lot of nasal congestion and nasal swelling. His technique was not helping me.
DMRPub sources: https://www.dmrpublications.com/2018/01/natural-sinus-infection-remedy/
A "neti-pot" sinus rinse will never get into the Frontal Sinus Cavities (located behind the eyebrows) or the Sphenoid or the Ethmoid Sinus Cavities (located between the eyes). The main reason is because your head is tilted to the side. Water flows in the direction of gravity. Saline from a neti-pot will go in one nostril, make a turn downward with gravity around the nasal cavities turbinates and out the other nostril. It never makes it into the frontal and sphenoid cavities. If your infection resides in those cavities, this technique will NEVER WORK.
A new technique to ensure that you reach these cavities plus the nasal larynx area is to stand in front of the kitchen sink and look up at the ceiling and inject the PVP-I diluted solution into each nostril using a "Kids Oral Medicine Dropper for Kids/Toddlers 5ml".
While keeping my head tilted up, repeat injecting the solution into each nostril at least 2-3x til the solution comes pouring out of my nostrils. This will ensure that the disinfectant will reach all the cavities and pockets in your sinuses. This also reaches the back of the nasal larynx where infection causes chronic sinus drainage.
Once my sinus cavities are filled up. I roll my head to the left and right to ensure the liquid reaches all the cavities in my cheekbones. Then lean my head forward over the sink and allow the PVP-I liquid to drain out naturally. Blowing my nose to get any thick mucus out. Then I repeat again until all the PVP-I solution in the cup is all gone. I repeat this 2 to 3x a day.
I am now into day 5 and I have no fever in my forehead. Breathing thru my nasal passages are clearer. A little bit of drainage but on a scale of 1-10 I would say I'm at about 8. I will continue this for another 5 days to completely clear up my sinuses since this was the worst I've ever had it and I now know how to fix them. I've never been a big fan of oral antibiotic since every time I taken them. My digestive tract will be screwed-up for a month afterward, and I always develop candida infection from antibiotic use.
The money I saved for a doctor visit for people without insurance cost between $50-$200 or more. No insurance allergy shot cost $100. No insurance for antibiotics cost $30 for amoxicillin or $150 for doxycycline.
Cost of Povidone Iodine 4oz $4. Kids oral syringe $2. Distilled water $1. Sea salt and baking soda to make saline water free (already had).
Povidone-iodine (PVP-I) is a broad-spectrum antiseptic with activity against bacteria, fungi, and viruses. It has been previously used in both intranasal preparations against Methicillin Resistant Staphylococcus Aureus (MRSA) as well as oral preparations in in-vitro studies of Severe Acute Respiratory Syndrome Coronavirus (SARS-CoV), Middle Eastern Respiratory Syndrome Coronavirus (MERS-CoV), influenza H1N1, and rotavirus with good efficacy. This study will evaluate the efficacy of PVP-I as prophylaxis in Coronavirus Disease 2019 (COVID19)-negative front-line health care workers and hospital patients.
Iodine is a deadly enemy of single cell microorganisms thus it can be our best friend in our fight against the most dangerous pathogens. Nature and evolution have given us an important mechanism to control pathogenic life forms and we should use it and trust it to protect us in ways that antibiotics can't.
Source: http://hbnshow.com/moreinfo/swine_flu_treatments.pdf page 14.
Iodine is able to penetrate quickly through the cell walls of microorganisms.
Table 4: Microbiological Efficacy Activity of PVP-Iodine versus Bacteria, Yeasts and Molds, Actinomycetes and Rickettsia
| | | |
| --- | --- | --- |
| ORGANISMS (NO. of STRAINS) | RANGE OF PVP-I IN ppm AVAILABLE IODINE | CONTACT OF KILL TIME IN SECONDS |
| Proteus (41) | 100 - 2500 | 15 - 180 |
| Staphylococcus (36) | 66 - 2500 | 15 - 80 |
| Pseudomonas (36) | 25 - 2500 | 15 - 900 |
| Streptococcus (25) | 200 - 2500 | 15 - 30 |
| Escherichia (23) | 200 - 2500 | 30 - 120 |
| Salmonells (9) | 1000 - 2500 | 15 - 60 |
| Candida (8) | 3.75 - 2500 | 10 - 120 |
| Serratia (6) | 200 - 2500 | 60 - 120 |
| Spores-Baccillus; Clostridium (6) | 10,000 | 2 - 5 Hours |
| Trichomomonas (5) | 400 - 2500 | 30 - 60 |
| Enterobacter (4) | 1000 - 2500 | 60 |
| Klebsiella (4) | 500 - 2500 | 60 |
| Clostridium (4) | 1000 | 30 - 60 |
| Shigella (3) | 1000 - 2500 | 60 |
| Corynebacterium (3) | 2500 | 60 |
| Diplococcus (3) | 1000 - 2500 | 60 |
| Mycobacterium (3) | 1000 - 2500 | 60 - 120 |
| Bacillus (3) | 7.5 - 2500 | 10 - 30 |
| Sarcina (2) | 500 - 2500 | 60 |
| Trichophyton (2) | 1000 | 60 |
| Aspergillus (2) | 1000 | 30 |
| Mima (1) | 2500 | 60 |
| Herella (1) | 2500 | 60 |
| Edwardsiella (1) | 2500 | 60 |
| Citrobacter (1) | 2500 | 60 |
| Providencia (1) | 1000 | 60 |
| Acienetobacter (1) | 3.75 | 10 |
| Epidermophyton (1) | 1000 | 60 |
| Microsporum (1) | 1000 | 60 |
| Pencillium (1) | 1000 | 30 |
| Nocardia (1) | 2500 | 60 |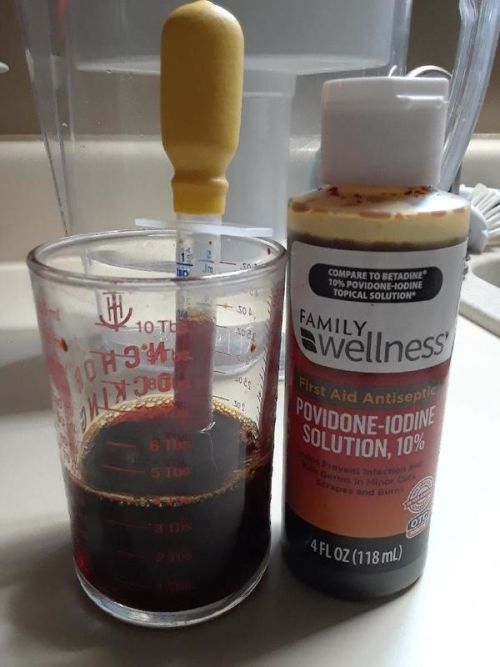 Replied by Beverly
(Texas)
01/05/2022

---
Probiotic Drink
Posted by Mickey (Canberra, Act Australia) on 11/22/2010

I have just had my first sinus infection. Painful and the smell was like a dead kangaroo rotting in the sun. I went to a stupid doctor and asked for something to help but asked him to ensure it was something that would not cause anxiety as antibiotics (and all pharmaceuticals) very often can. He prescribed something that could cause palpitations, nervousness and depression (and you know how pharmaceutical companies disguise the worst of it). No thanks.
Out of desperation I drank Yakult (a probiotic drink in tiny little bottles). When I gargled it and put some in my nose, there was an exponential improvement almost immediately. The bacteria obviously eat the infection. You have to be very careful with your nose obviously but I just gently let a bit drip into my nose from my hand. No fair dinkum it's awesome. Tomorrow I'm going to try the apple cider vinegar as well and hopefully that will help to completely knock it on the head. Gosh isn't sinus infection horrible!!!
---
Probiotics
Posted by Laurel (Garberville, CA) on 04/19/2008


I've had a sinus infection for 1 1/2 months now and took 2 rounds of antibiotics and tried all kinds of remedies but the only thing that seemed to finially work was taking Probiotic Supplements ( acidophilus pills). If youve taken 1 or more rounds of antibiotics and they don't cure the sinus infection it usually means that the infection is fungal, not bacterial.When you take antibiotics they kill all the benificial baceria in your stomach and intestines which the Probiotics replenish. I started taking Probiotics and started feeling better the first day.
---
Probiotics and Kefir
Posted by Danie (Seattle, WA) on 02/02/2015


I had severe sinus infection for a couple years, so bad I could hardly open my eyes due to the pressure and all the horrible symptoms. I tried everything! I read something about probiotics and sinuses. I started taking acidophilus bifidus, high 10 billion CFU probiotics, and drinking kefir, and I put distilled water in neti pot and emptied the capsule of probiotics into the neti pot and I added some baking soda into the neti pot this get rid of any stinging sensation in the nose. I did this daily for seven days sinus infection finally gone!
---
Quercetin, Bromelain
Posted by Maria L. (UK) on 01/19/2018


I agree, the Quercetin with Bromelain combo helped me with my sinus infection, it was not until I decided to take this combination that my sinus infection started to finally go away, I had a very nasty infection that was hurting my ears as well, my head felt like an Air Balloon and had dizzy spells, loud tinnitus and vertigo. I recommend this along with ACV and Honey (I would drink 2 tablespoons, lukewarm water and also would do some gargles as well) also add Oil of Oregano if you can which is anti viral and gives extra punch to the Quercetin. The Quercetin/Bromelain really reduced the inflammation, I used a formula which has both plus vitamin C and other stuff, it is a bit expensive like 18 bucks but worth it in my opinion. In less than 2 days I was basically cured.
---
Quercetin, Bromelain
Posted by Lilianne (Corona, California) on 08/14/2011


Just had to let people know about this supplement. I've had a chronic sinus infection for 3 weeks now. First I went to the doctor and got the usual antibiotics and was told to take zyrtec-d. After 10 days I felt no relief. My head, cheeks and jaw were pounding from the pressure. I started doing sinus rinses, acv, and purchased nature's rite sinus relief. After 5 days, I felt some relief but I still had pressure and lots of mucous coming out. I bought quercetin-bromelain from the vitamin shoppe for $25 because the worker said it worked really well so I figured why not? Omg, within the first half hour, I started breathing through my nose, my sense of smell was coming back, no mucous was coming out and absolutely no pressure. I was in heaven. Gonna take this on a daily basis. Did some research and it looks like this stuff is good for a whole bunch of other stuff. I can finally sleep at night!!
---
Red Wine Vinegar
Posted by Dolly (Melbourne, Vic, AU) on 03/22/2007


I went to the doctors re severe sinusitis becoming a bronchitis infection 3 weeks ago and got a cocktail of antibiotics. Recently got results of blood tests which showed I had a virus which of course antibiotics don't treat, doctor had nothing to give me for it. Don't know if it was the virus symptoms plus after effects of penicillin antibiotics. Last night my gland engorgement and bloating in stomach and pain in upper abdomen, swelling in neck and kidney with pain, had got severe I looked like I was in advanced pregnancy! There was another episode where my face and neck swelled in the night. Out of frustration and desperation to find a cure found this web site, (and because I didn't have any ACV, drank some red wine vinegar in water, and periodically cleaned my sinus's with FESS sinu-cleanse can, (contains salt). This morning everything is nearly back to normal. Is it possible that the properties in ACV are the same in all vinegars? My stomach bloating has gone down, sinusitis relieved, kidney pain usually intense in morning down) throat glands are no longer strangling me.
---
Reishi, Cayenne, Oregano Oil, Garlic
Posted by Logan (Montreal, Quebec, Canada) on 02/16/2009


I always make tea with a japanese/chinese mushroom called reishi (ling zhi in chinese - it is the best for boosting the immune system) and I had been chewing on a few cloves of garlic (this really helped, but only temporarily) but this wasn't cutting it alone for this sinus infection I had. So after checking this site, I decided to do a combo of many of the ideas. I added cayenne pepper to the tea. I also got some wild oregano oil which I both consumed and I inhaled the steam. Basically for 2 days I constantly chewed raw garlic, inhaled steam from the tea, drank the tea, repeat. This is the third day and I now feel almost back to normal... I feel no pressure and no blockage in my nose or allergy irritations, just a very slight drip. My sinus infection had started 3 weeks ago, and before this weekend it was actually getting much much worse.
---
Rhubarb
Posted by Avi (London, United Kingdom) on 01/26/2009


Thanks so much for the info on Borax, its doing an amazing job on my chronic candida infection. Sinus infection has been a big, BIG, painful problem, causing the kind of headache that occupies everything from the neck up. I recently learned that sniffing up 3% H2O2 can shift that, but I find it really painful and so I tried the advice of a local herb gardener who said to sniff up rhubarb juice, and it worked magnificently.
Stings a little bit, but clears out a lot within minutes and keeps working all day, so you might be slightly sniffy, but great relief, and doing it once every day keeps the sinuses clear, although I don't think its a cure, just a great way of expelling toxins. Mixing 50/50 RAW rhubarb juice and colloidal silver [in distilled water] removes the sting but isn't quite as effective as just rhubarb juice. Anyway, variations on that theme give me immediate relief from sinus headaches. This is useful to me when I detox too fast, maybe it can be useful to others.
---
Riboflavin, B2
Posted by Karen (Alpharetta, Georgia) on 03/25/2008


Riboflavin B2 100mg right before bedtime will take care of sinus drainage.It will work in about 20 minutes. If not,try up to 250mg. I had severe sinus drainage for years.I found it hard to sit through meetings,church etc, without coughing my head off. I would eat and have a reaction to food and start coughing uncontrollably.Sometimes medications worked,sometimes not. Sometimes I would double up on medication. Now I take NOTHING!
---
Sage
Posted by Prov31J (Somewhere Over The Rainbow (KS)) on 11/06/2019


I was ALWAYS having sinus infections after ice creams especially in the 80's and 90's... at some point, I read of sage helping with sinus infections... Worked great and I've not had as much of the sinus infections (of course, I rarely eat ice cream and the chemically enhanced soft serve type "frozen desserts" either...).
Even the kitchen spice bottle like you use for cooking Thanksgiving dinner - just plopped a teaspoon in hot tea water and let it steep 3-5 minutes or longer.
At first I wanted it with stevia or honey to deal with the sage astringency/flavor - but now I can just shoot it straight. Be prepared to spend some time in the restroom bringing all the phlegm up - doesn't sound pretty, but the pain goes bye-bye with every glob that I spit up and out into the trash (I shouldn't have to tell you all to not "recycle" it by swallowing whatever you cough. It only buys you a little time until it comes back up so you still need to clear it out of your sinus passages!!).
---
Replied by Vanya
(Pretoria, South Africa)
08/18/2008

Sea Salt and Honey Solution
Posted by Katherine (Mobile, Al) on 09/13/2016


I should be getting my hydrogen peroxide delivered today... but I use sea salt and Raw unfiltered honey in distilled water in a nasal mister I bought on Amazon ... was very very ill last week when I took my doctor recommended OTC Delsym (never again) all day in bed.... in the evening I mixed my Raw Honey and sea salt and started using it and my sinuses started draining all the gunk out next morning I felt much better... and by that evening incredibly better. My sinuses are still draining junk as I continue to use my sprayer.. going to give the HP a shot today...
---
Serrapeptase
Posted by Kayla (Pdx) on 08/27/2015


I had chronic sinus infection for three years. I saw three ENT and had sinus surgery which resulted in scar tissue and option of another surgery to remove scar tissue.
I can across a study on Serrapeptase. In a double blind study, 97.3% success rate in the serrapeptase group as compared to a 21.9% in the placebo group. That is pretty amazing results! Take serrapeptase religiously for two weeks to a month.
I took one three times a day on an empty stomach for a little over month. Cured!
---
Sniff Warm Water
Posted by Diane (Foley, AL) on 12/02/2008


I work with crafts nearly every day and more during the months of November and December working with fine glitter. That's when my sinuses start getting a little congested. When I am through with the work I walk into the bathroom wash my hands and then fill my hands with luke warm water and sniff the water into my sinus cavity and blow several times and Walla all clear. If I don't get to do it and an infection starts I use a few drops of peroxide and it's clear within 10 to 15 minutes. It took a couple of years to realize it was what I was working with that caused the problem. Yes, I wear a mask most of the time but that stuff just flies everywhere.
Replied by Beverly
(Texas)
01/05/2022

---
Sphenoid Sinus Infection
Posted by Mel Bee (Winter Haven, FL) on 02/07/2022

Could someone please help? I saw a post in either Sinus Infections or Chronic Sinus Infections regarding an infection in the SPHENOID. I can't find it now and desperately need to read it again. Thank you.
---