Hydrogen Peroxide
Posted by Man (Sojouring America) on 02/27/2014


Worked Temporarily

I have a painful under fingernail unhealing thing going on. I spray Hydrogen Peroxide on them twice a day and it heals but then the issue returns.The stinging of the H2O2 under the finger nails is every time I spray H2O2. Like an infection under my finger nails, all of them). I have a wound on the thumb, a slight cut that will not heal. It keeps on painful and comes and goes. It heals and then if I do any work with my hands, the thumb wound opens up again.
---
Hydrogen Peroxide
Posted by Jack (Mosier, OR) on 05/21/2008


I have been using H2O2 for ear infections, to prevent colds and flu from taking hold, tooth whitening and healing wounds for over 4 years. It has never failed. I use 3 drops in each ear when I feel any symptoms of a cold or flu. I rinse my toothbrush in it prior to brushing. I also use it directly on wounds to prevent infection. It is truly wonderful.
---
Iodine and Honey
Posted by Mama To Many (Tn) on 05/18/2018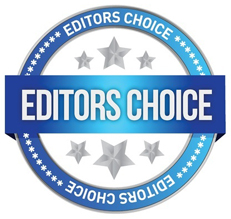 An adult son of mine cut his finger at work with a utility knife. The blade was a new one and the cut was to the bone. He had a hard time getting the bleeding to stop but eventually taped it up and kept working.
I dressed the wound each night with iodine an honey. A friend of mine had cautioned me that a bone infection could result if the bone had been nicked.
Each night, when he got home from work and after showering, I put one drop of 5% iodine in the wound and then a few drops of honey. I covered this with a fabric adhesive bandage and secured it with cohesive tape. He wore a splint on the thumb for the first 5 days because movement was likely to re-open the wound. I think I did the iodine and honey treatment for 6 or 7 days total.
For the first two nights I also applied a cooled, blanched plantain leaf before the adhesive bandage since that would not stick to the wound at all. Plantain also helps with pain relief and wound healing.
He does have a scar but the wound has healed nicely and never had a single sign of infection. And he is currently working outside in the heat, so the bandage would be wet all day from sweating.
He was making sure he had full motion of his finger. With deep wounds there are many risks, including nerve and tendon damage, infection, etc. I did ask if he wanted to go get stitches but he did not.
Iodine is a great antimicrobial and so is honey. Honey is also excellent for wound healing.
~Mama to Many~
---
Jalapeno Powder
Posted by Robert Henry (Ten Mile, Tn) on 09/30/2018


HI U OLD PATOOTS DOIN,,,,,,,,,, my pastor told me that he cans Sweet Jalapeño Peppers....... Never tried that so picked a bunch at the garden and proceeded to slice them with my Tractor Driver's vegetable slicer. Since the holder was too big, I just held the peppers with my thumb and fore finger....... wrong thing to do. Finally got the blood stopped and cleaned with H2O2 and thought of the pictures in a recent EC post and I had a choice. Coat the cut with Habanero @ 400,000 Scoville units or Jalapeño @ 50,000 units. I chickened out and used the Jalapeño powder. No pictures, but it is healing nicely. Finished the job the old fashioned way... with a knife.
Gonna be smart in 3 years at age 85.
====ORH====
---
Kelp, Himalayan Salt
Posted by Hercy (Brownwood, Texas) on 07/20/2013


A skin wound on my forearm became infected. The arm swelled up to the elbow, and an angry red color ensued around the site. The Ocean has healing power, so in West Texas, I adventured to prepare a solution of Ocean Water:
I combined Kelp and Himalayan salt in water, dipped my arm in solution covering the wound site for approx 15 minutes... Amazing how the swelling was descending, so repeated soon thereafter. Then the next morning I prepared a fresh solution of "Ocean Water". Repeated treatment thru a 3rd day, and the problem was solved.
Today we use this solution on any fresh wound to accelerate healing.
---
Mama's Scalp Wound Remedies
Posted by Mama To Many (Tn) on 11/20/2017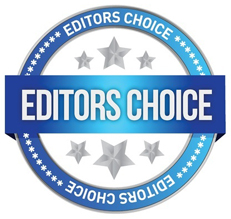 My husband cut his scalp a couple of weeks ago. I used the principles of moist wound healing to treat it. We took pictures to monitor the progress. I have posted at the bottom; sorry the first one is pretty icky! He took the picture with his phone and texted it to me to ask what he should do for it. We didn't begin treating it until he got home from work and showered. In the shower, he removed the piece of skin that was still sticking to the wound. (He scraped off a layer of skin climbing into a work trailer.)
After the initial cleaning and removal of dead skin, all we did was use a dressing of a healing salve I make (we keep it on hand for daily use) and a large fabric bandage. We usually changed the bandage every evening. He would leave it open for an hour or two after his shower each night and then we would re dress it. Once or twice we left the bandage on for 2 days. We did this for a total of 10 days. Perhaps the dressing was not needed the last few days but we wanted to give that tender skin a little longer to heal. He is hard on his head at work (He keeps it shaved) as you will see by the additional cut in latter pictures.
I messed with the wound as little as possible. He was rinsing it in the shower. I would apply a very thick layer of healing salve to the bandage – not the wound, so I wouldn't have to mess with the wound. The layer of salve was probably 3-4 mm thick. The salve and bandage never once stuck to the wound. New skin cells and evidence of healing were noticed within 24 hours!
Some advantages to moist wound healing include less pain, faster cell regeneration, reduced tissue death and dehydration, and reduced scarring. Pretty nice advantages!
https://www.ncbi.nlm.nih.gov/pubmed/8109679
https://www.ncbi.nlm.nih.gov/pmc/articles/PMC3842869/
Additionally, herbal healing salves contain nutrients that the body can use to heal. The salve I used has plantain, which helps with pain and comfrey which promotes skin cell regeneration. The olive oil and coconut oil base contain nutrients also.
We have seen other things used for moist wound healing with great results as well.
Honey is amazing for wound healing. When my mother was elderly and near death, she had bedsores that were not healing. The nurses used honey on the sores and there was actually an improvement in the wounds, even in my mother's severely compromised state of health.
Lanolin is used for breastfeeding moms to heal cracked nipples with a great reduction in pain and faster healing.
I have not tried it but I suspect that lanolin and honey mixed together would make a nice wound dressing.
Herbal salves and honey are also used for burn treatment with great success.
A dozen years or so ago my daughter had a bike accident. She basically tore many layers of skin off of the bottom of her foot as it rubbed along a bike tire. (She was about 4.) It was very, very painful. The doctor I took her to introduced me to Advantix bandages. Daily I changed the dressing. I was only using those bandages that did not stick to the wound (and pull of new skin cells as dry dressings do.) (I think I had a layer of Advantix then gauze then cohesive tape, but not positive.) This dressing worked well and she was not experiencing pain with it and her healing was pretty easy.
Deeper wounds are more complicated because of fluids the wound produces – they need a place to go. But there are protocols to benefit from moist wound healing from them, but I am not suggesting that my methods here would be appropriate.
There are manuka honey bandages and colloidal silver bandages available too. It is good to know about these options before the need arrives. I try to keep a decent supply of first aid supplies at home.
Picture 1 - right after the injury
Picture 2 - 48 hours later
Picture 3 - 4 days after injury
Picture 4 - 10 days after injury
~Mama to Many~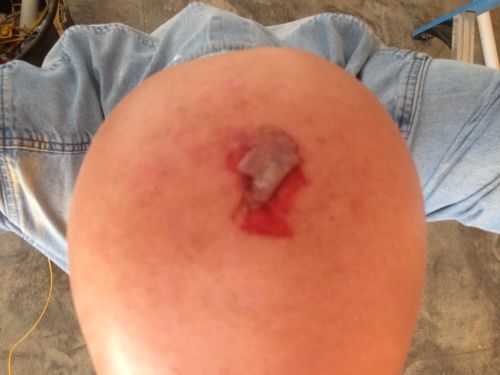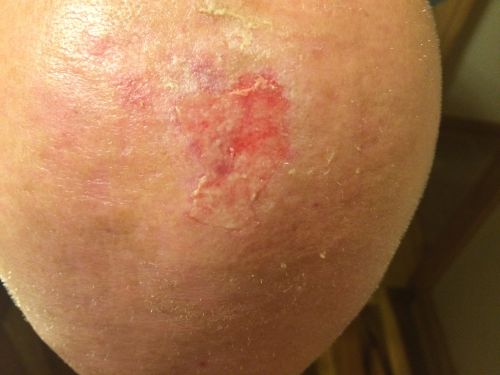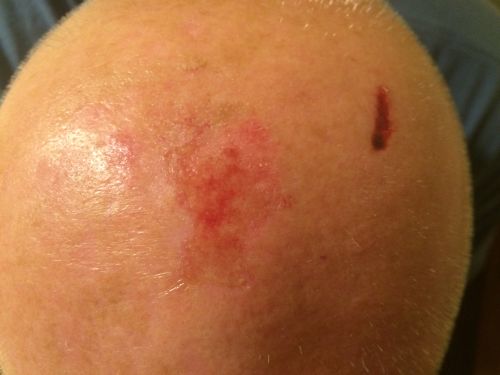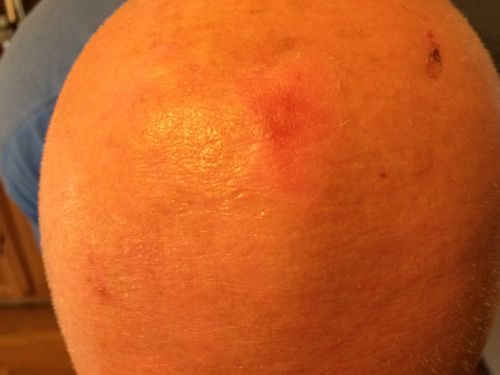 ---
Multiple Remedies
Posted by Miracles (Santa Monica, Ca, United States) on 07/11/2013


Warning

So I've used Earth Clinic for a few cures since I discovered it and loved it! I even turned on my clients to this wonderful site - as I totally believe in holistic healing & alternative medicine - and would prefer to do something natural than put chemicals into my body!
But something happened this past week that made me think, I must first listen to and follow my intuition! In my excitement to "test out a remedy" from EarthClinic, I ignored my intuition and pain - I have a high tolerance for pain!
One week ago, I was not paying attention to where I was going (another message to pay attention and stay in the moment! ) - and I slipped on asphalt while wearing my barefoot tennis shoes. I scraped both knees and they were bleeding profusely. I cleaned it up with apple cider vinegar (or so I thought! ). And put comfrey and calendula on the wounds. Then I went about my merry day working out and having fun! I wasn't sure whether to keep the wound dry or wet so I kept a bandage on it and then, removed it to let it air out!
A week later --- one of the knees healed beautifully and started scabbing. The other knee, however, got infected and it was hurting even more. I was tempted to not go see a Western medicine doctor - but when I visited a homeopathy pharmacy, both technicians there recommended I go see one as it looked infected. I immediately went to Urgent Care!
The Urgent Care doctor said I must keep my knee wet at all times - covered by a bandage - and clean it with just water and soap three times a week - then, apply the antibiotic ointment he prescribed (stronger than Neosporin which I had been using as well).
In short, all is great and healing - but I just wanted to let everybody know - first and foremost, run every remedy by your intuition - and don't risk your health or anybody else's. Each person must listen to his/her intuition when it comes to his/her body's wisdom.
Thank you so much to Earth Clinic and everybody who writes in with their remedies/cures!
---
Mustard
Posted by R.K. (Biloxi, MS) on 10/07/2006


IT HURTS LIKE HELL BUT IT WILL CLEAN IT AT LEAST 3 TIMES FASTER. THAT'S ALL I USE... I DONT WASTE MONEY ON NEOSPORIN, ETC.
Replied by Sharon C
(Sparks, Nv)
05/07/2021

---
Neem Juice and Tulsi
Posted by Mary (Phoenix, AZ) on 02/27/2007


There are two more treatments i have heard used in india for bacterial infections:
1.neem juice. neem or other name is margosa it seems to be king of herbs
2.holy basil. its called tulsi in india. somewaht related to basil herb in US. but i dont know if the basil herb available in US has same medicinal properties. they both smell similar but they appear different.
---
Olive Leaf
Posted by Teena (Melbourne, Australia) on 04/20/2019 235 posts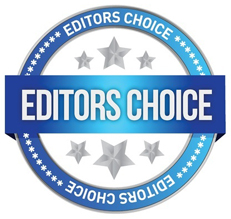 My son's (10) thumb became severely infected, had swollen to three times the size, and a large yellow mass of infection was clearly visible in the centre. I was giving the occasional vitamin C, but unable because of work to do the usual two hourly dose, also increased zinc and attempted to soak in mineral rich water, again he would not sit still for the required 6 hours, which was what it took for healing to begin for mine previously.
The pain was increasing so I took him to our doctor, who very carefully pieced each side of the swollen thumb and expelled much pus and infection, until the pain became too great. The skin also split between the two piercings, flesh extruded, it looked quite horrific. He wrapped it in gauze. I enquired, "Will you put some iodine?" "No point." he said, "it is already infected, he needs antibiotics." I thanked Dr, and left with the script.
At home I decided on olive leaf. I could have chosen many things, garlic, GSE, ginger, oregano oil, the most important factor is the frequency it is given.
Gave him the 2 olive leaf capsules (antibiotic), one Bromelain capsule (for tissue trauma and pain) added about a half tablespoon colloidal silver to his drinking water, and gave a heaped teaspoon of organic coconut oil. To the fleshy mess of his poor thumb, I applied a paste of castor oil and turmeric, because I know turmeric is great at pulling out infection, applied fresh guaze swab and bandaged it well. I changed the dressing every 24 hours after shower, and I am pleased to report the infection was drawn out and significant healing has occurred. We are at day 8 and there is only a small hole in his thumb, and after 4 days it was well enough that the intensive regimen below was stopped, both internally and externally. Olive leaf capsules every 4 awake hours, with alternating vitamin C, zinc, Bromelain, colloidal silver or probiotics X3 capsules. This was for the first two days, days 3,4 was olive leaf and vitamin C 1000mg. There was no pain from the first treatment on.
*If I had not had such immediate improvement I would have used the Dr's antibiotics, well no, I would have first given OLE every 4 hours including waking up at night to administer, and increased the probiotics intake. Fortunately for my little boy's gut health, this was not required.
Best to you and yours
---
Onion
Posted by Tammt (Al) on 11/03/2016


Wow the post about potatoes for blood poisoning
! Luv to hear other things u grandma used. I know I have seen the fine skin of a white onion stop bleeding.
Replied by Karen
(Michigan)
12/12/2016

---
Onion
Posted by Leriejane (Seattle, Wa, Usa) on 07/17/2010


If you have a cut, putting a piece of onion skin, the transparent film, onto it will stop it from bleeding immediately. I got this tip from a magazine and tried it when I cut myself chopping vegetables. The onion instantly stopped the bleeding. The cut was no longer than 1 inch, and not seriously deep, just enough to gross one out.
---
Oregano Oil
Posted by Michelle (West Palm Beach, Florida) on 03/05/2008


I couldn't find this one so here goes. Best for kids, as it helps whatever is causing the fever, especially virus. Two drops of Oreganol Oil, on each foot rub it in and fever will break in a matter of five (5) minutes. I have four kids and have used this on ALL of them. It has absolutely always worked.
You can rub a few drops on chest for congestion or sinus trouble too. I have used two drops behind ear (rub all around area) for curing ear infections, ear pain, etc.
You can't beat it for cuts, they will never get infected! Best for little finger cuts as they are hard to keep clean! Also cures toenail fungus, especially seriously infected ones, drop several drops around nail bed, under nail, and around affected toe, with in hours, the pain is gone! Three times a day and the toe infection will be gone in a few days. My friend 6'11" male, was about to go to the ER when I told him to try this, he could barely walk! It was easy to walk in a matter of hours and completely cured in a few days! Three times a day several drops. Epsom salt soaks help to draw out infection and help pain too.
Earth Clinic is my Favorite for everything!
---
Plaintain and Slippery Elm Powders
Posted by Mama to Many (TN) on 10/02/2021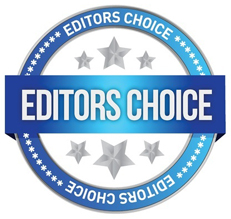 My family was at a wedding reception last evening at our friend's home. When things were winding down I was helping in the kitchen with some clean up. While putting away a knife on one of those magnetic knife holders, something jerked and my finger grazed another very sharp knife which effectively carved off much of my fingernail, leaving the nailbed open and bleeding.
In spite of ice, elevation and pressure, the wound bled for 2 hours. Bandages were useless. Once I was home my husband mixed up a teaspoon each of plantain leaf powder and slippery elm powder. We sprinkled the dry powder on the still oozing nail bed. I covered that with a bandaid with a salve on it. It did not bleed or leak another drop of blood.
Even with ibuprofen, I had to sleep with the finger iced and elevated.
I am sure my friend had cayenne pepper and I considered trying it for bleeding, but I knew it would initially sting and I was already in a lot of pain. I was afraid I would pass out at my friend's house. I don't usually get faint but was feeling ill over the cut. Fingers are so sensitive.
Today I am keeping a bandage and healing salve (made with plantain, comfrey, mullein, and burdock). I will keep this up for a while. I assume the rest of the nail will fall off. Ick.
Possibly just plantain would have stopped the bleeding. And the powder did honestly hurt quite a bit.
Moral of the story? Keep some plantain powder on hand and don't keep your knives too sharp. :)
~Mama to Many~
---
Plantain
Posted by Mary Lou Rogers (Brighton, Michigan) on 05/09/2009


As a child, I fell riding my bicycle. The handlebar, on which my face hit, did not have a protective grip and the metal sliced my cheek completely. The wound was sutured and subsequently became infected. My mother applied plantain leaves to my swollen, red, painful wound. Within hours, yellow purulent drainage poured out of my cheek wound. The relieve and healing were rapid. It's been a long time, but I think I was better in two days, no antibiotics. My mother calles them pig leaves and learned of them from her Lithuanian mother. As a nurse, I so wish I could use them on the horrific wounds I see.
---