Apple Cider Vinegar
Posted by Garry (Mtn Home, Ar) on 08/15/2017

★★★★★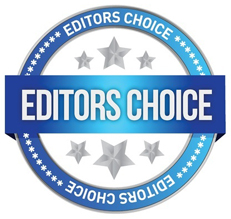 This is for my 10 mo. old Pit Bull. She was covered in little bumps and almost looked like a rash and scratched herself furless. None of the vet trips did anything for her and I was told she was allergic to flea bites. I was advised (by a friend) to use ACV, 50/50 also, but to also substitute boiled lemon water for the mix. I sliced up a lemon and brought it to a boil and then let it sit and steep overnight. I then used it to cut the ACV 50/50. I've since seen the same recipe online, along with the suggestion to add a drop or two of either cedar or lavender oil as repellent. I have used the mix and can say that it indeed kills fleas and ticks here in the woods. It has definitely also gotten rid of the scratching fits, as well as the fleas and ticks I find are dead or dying. She looks a lot better with fur.
---
Apple Cider Vinegar
Posted by Kittyhelp (Tallahassee, Fl) on 06/13/2017

★★★★★
My 9 month old tux kitty had a dry patch on his ear that was getting bigger. I have a spray bottle of 1/2 water and half mother vinegar. I sprayed a cotton swab and dabbed on his ear daily for a few days and it started getting smaller and very soon was gone. Another time he had a spot just below his ear he had scratched until it was bleeding. I suspect it was a tick. I again dabbed this solution on that spot daily, it dried up and in a very short time was gone. This works great. However, he does not like it at all.
---
Apple Cider Vinegar
Posted by Sallie (Md - Maryland) on 12/20/2016

★★★★★
I have a Jack Russell that had broken out in sores on face and feet. After spending about $600 and he wasn't getting well. The Vet was talking about putting him down. Of course that was not an option for me. I went home and prayed about Romero's condition. I heard the spirit of the Lord say vinegar. I am thinking Lord that can't be right but I heard the spirit vinegar again. So I got up and went to the computer and looked Apple cider vinegar and how it help dogs with skin conditions. I used it on my dog and within 24 hours my dog was getting better. It really does work. God loves the Animals too. EarthCLINIC thank you for helping the animals.
EC: Sallie, 
Thanks for sharing! We are assuming that you used diluted apple cider vinegar, which is what we recommend for topical use. 50% vinegar plus 50% water.
---
Apple Cider Vinegar
Posted by Nicole (Pottsville, Australia) on 03/16/2013

hi I have a two year old pug x jack russell, Izzy. She has been itchy and scratchy for it seems like forever. She has a rash at the moment that looks like pimples in her groin area and she is continually chewing /licking her feet and scratching her chin ears and eyes. Where her tail joins to her body she gets dry scabs. She also has an odour. I have taken her to the vet several times about this and they give her prednisolone and antibiotics. This seems to help for a little while but her coondition comes back as soon as she has has finished prednisolone and antibiotics. I am currently feeding her a BARF diet. Thank you for the info on ACV I will try it and see if this helps her.
Replied by Judy
(Denver, Co)
08/03/2013

Replied by Debbiefudge
(Brighton, Uk)
08/18/2013

Replied by Meile
(Dallas, Ga)
11/05/2013

Replied by Theresa
(Mpls., Mn)
11/06/2013

Replied by Fiona
(Tustin, Ca)
11/12/2013

Replied by Ba
(Ohio)
03/22/2014

Replied by Jan
(London, Ontario)
03/22/2014
★★★★★
Replied by Theresa
(Mpls., Mn)
03/24/2014

Replied by Pennie
(Northern Wisconsin)
11/16/2015
★★★★★
Replied by Amanda
(Tennessee)
09/12/2016

---
Apple Cider Vinegar
Posted by My Little Zeus (Dallas, Tx) on 10/16/2012

★★★★★
WOW is all I can say. I have an American Bulldog puppy who is currently 5mnths old. He has suffered from skin allergies since we got him, we have been told it's in the breed. He's been on anti itch meds for three months now, with some help, but it just doesnt work. I read the reviews on the ACV and all I can say is it's amazing!! He's on a gluten/grain free diet and we also put fish oil on his food for his coat. I mixed in some of the ACV in his food (think the fish oil hides the taste) and he just munched it down. I have also sprayed him down with a diluted solution and it worked just as well as liquid benadryl. Six hours and it's made an amazing difference.
I've been reading the threads and many have asked how to get them to eat it, try some Omega3 Fish oil capsuls over their food and mix in the vinegar. The smell of the fish oil (oooohhh it's bad, bad) can cover anything I think. Good luck!!
---
Apple Cider Vinegar
Posted by Lisa (Bourbon, In) on 07/25/2012

★★★★★
After this hot spring and summer in the Midwest, our Belgian Sheepdog, pure black, was having terrible itchy, blotchy skin. A round of anti-biotics and benadryl helped but not enough to really notice. Next step was diet and went gluten free and raw with added Omega3 and eggs. Didn't notice huge difference, but there was a change. And her stools and urine were better. (hate to say it but healthier looking). Then started rinsing after bath with ACV. After more research decided to put the ACV IN her food and found the ____ Organic ACV at the health food store. Started putting it in her breakfast as well as the cats (smaller dose) and her itching has literally stopped. The dry flakey skin has disappeared after only 2 weeks. Husband and I started taking a Tbsp in the morning also and we notice changes in ourselves as well. I would recommend that if your pooch has skin trouble, try the ACV!
---
Apple Cider Vinegar
Posted by Nettie (Salem, Mo., Usa) on 05/04/2012

I have a 18 lb Dachshund with sensitive stomach and coat. Can I use Organic (raw, unfiltered)ACV mixed 50/50 with water to spray on him for the rash and flaky skin? I just bathed him and rinsed him with plain water then sprayed the 50/50 solution on him and let him drip dry outdoors...... Is this correct? Also, with this help to deter ticks? He has seizures that seem to occur after treatment with "Frontline" or "Advantix". I need a cure for ticks. We live in a wooded area very bad for ticks!!!
Replied by Laura
(Vancouver, Bc, Canada)
05/07/2012

Replied by Lisa
(Texas)
08/12/2020

---
Apple Cider Vinegar
Posted by Sue (Saratoga Springs, Ny) on 03/05/2012

★★★★★
My dog has skin that has black spots and smells bad, it is mostly on her abdomen. I wipe the areas with a cloth soaked in cider vinegar. This seems to offer imediate relief for itching and fades the spots a bit, and the odor disappears as well!
Replied by Yarnaholic1963
(Galveston, Texas)
03/20/2012

Replied by Marianne
(Berlin, Germany)
03/20/2012

Replied by Brooke
(West Salem, Wi, USA)
09/16/2012

Replied by Debbie
(Brighton, Uk)
09/18/2012

Replied by Diamond
(Salisbury, Ma.)
09/27/2012

---
Apple Cider Vinegar
Posted by Kate (Courtenay, Bc) on 02/28/2012

Hello, I've read so much great things on this site about apple cider vinegar and how it pretty much saved a lot of animal's lives. We are a big believer in natural cures in everyway and are very weary when it comes to going to the vet. Not only because they cost so much just to get a check up, but also because most of the time they give you useless antibiotics.
I have a wonderful calico cat that, unfortunetly, has strange small red spots on her lower belly and spreading to her legs. I'm not exactly sure what it is, but I know it's not ring worm and I'm hoping ACV will help. I am just not sure how to apply it on her neck or paw, whether or not just to apply it to her belly at the area and how properly to dilute it. Beause when it come to our furry family, we don't want to take a chance. Thank you so much and thank ACV.
Replied by Sharon
(New Orleans, La, Us)
02/28/2012

---
Apple Cider Vinegar
Posted by Caran (Katy, Tx) on 08/01/2011

My Shih Tzus are suffering from skin allergies. Have tried the vet route which hasn't worked. I have switched their food from Taste of the Wild to Natural Blance L.I.D. (duck & potato). I put 2t ACV in their water daily. I can't seem to heal my male's right front paw (in between his toes). The back one was a challenge, but is doing fine to date. I have tried sprays for the licking and now have resorted to the e-collar (soft) and back to the ozonator daily treatment. Shall I add the ACV to their food as well as the water and if so, how much? Or, eliminate the ACV at the moment? We are in the midst of the elimination diet.
Your help will be greatly appreciated!!!!
Thanks.
Replied by Peg
(Katy, Tx, Us)
08/26/2011

Replied by Tammy
(San Antonio, Texas)
04/30/2012

---
Apple Cider Vinegar, Coconut Oil, Yogurt
Posted by Reine's Mom (Cambridge, Ohio, Usa) on 05/11/2012

★★★★★
My 4 year old black pomeranian has suffered with allergies for years and would dig and itch until she had large bald patches. It seemed like nothing would work until I found this site. She was already on a gluten free, by-product free food; but we saw no improvement until I started adding ACV, yogurt and coconut oil into her diet. In just 7 weeks she has no bald spots and her black hair that had been turning reddish is now going back to the beautiful blueish it should be. I am imagining she will be in full glory by the end of the summer and all because of these little changes that cost next to nothing. Thank you so much for all your advice, for her it has truly been life changing!
Replied by Janice
(Toms River, New Jersey)
09/14/2012

Replied by M
(Burbank Ca)
11/08/2015

---
Apple Cider Vinegar, Oregano Oil
Posted by Madonna B (Cypress, Texas) on 03/19/2011

★★★★★
My female cat started developing the lesions on her belly that were slimy and feverish to the touch. She licked them constantly and they began to spread all over her belly and lower legs. We took her to the vet and he immediately diagnosed her with Eosinophilic Granuloma. What that means is that her white blood cells think there is a foreign object in her body that needs to be attacked. However, there is no actual foreign object and her body is essentially attacking itself. We were told there is no cure and that the most they could do was give steroid shots periodically to relieve it, but that the steroid shots would eventually kill her because they suppress the immune system.
I researched everything I could find and everything I read said what the doctors did. I tried ACV from the mother diluted 50-50 and used a spray bottle to spray her tummy. It helped a little. (NOTE: diluting ACV with tap water has to be refrigerated because the tap water makes it go bad.)
Then my husband had an inspiration to put straight ACV with a dropper full of Oil of Oregano (food grade). Oil of Oregano is a natural anti-fungal, anti-biotic, anti-germ. I've used it on myself. We researched it first to make sure it wouldn't hurt the cat, but every traditional site said not to use it. We reasoned that the steroid shots would kill her and therefore really had nothing to lose either way.
The ACV with Oil of Oregano WORKED!!! We started seeing immediate results! The lessions started diminishing, the cat herself became energetic again.... She is once again the sweet, social cat she was before. It took several months to get rid of all it. We sprayed her once a day in the evening every day. We always made sure we petted and loved on her afterwards so that she wasn't too stressed. She would always lick it off some, but never had a bad reaction to it. She was miffed at being wet though, that's for certain.
Interesting thing I would like to note - we had her fixed 8 yrs ago and the area on her belly which they had shaved for the surgery had never grown back the fur. Since treating her with the ACV/Oil of Oregano combo, all of that fur has grown back!
Replied by Shasta
(Portland, Or)
01/09/2012

---
Black Walnut
Posted by Rroo (Greer, S.c) on 08/29/2016

★★★★★
I have found that black walnut works for my dog that has skin allergies. Black Walnut is anti parasite, antifungal etc. Make sure you give the correct dosage for your dog's weight.
---
Borax
Posted by Erika (South Africa) on 12/07/2013

I have a black bull terrier bitch who has a bad skin disorder. Will the borax help her?
Replied by Theresa
(Mpls., Mn)
12/08/2013

---
Borax and Hydrogen Peroxide
Posted by Alanc (Perth, Australia) on 09/28/2016

★★★★★
Hi All,
Just to add my 2 cents. My dog is a six year old Shih tzu cross, had him three years. Always had a patch on his lower back ("blackheads" in the pores and on the hair). Not obvious unless clipped short.
I would paint the area with chlorhexidine and forget about it until the next clipping. A few months back I noticed dried blood. The area has started to ulcerate and spread up his back. The area is itchy and he does not like you touching it.
Now I had to look more carefully, many possible reasons (and there can be primary and secondary causes):
1 Allergies
2 Fungal
3 Bacterial
4 Mites
5 Fleas and tics
As the affected area was on his back where soap is applied when bathed, I changed to a low allergenic shampoo and reduced the frequency of baths from 2 weekly to 6 weekly (he is not a smelly dog! ).
-> No change after three months, getting worse so we discounted an allergic reaction (although we did not try an antihistamine).
We then hit him with a round of antibiotics and chlorhexidine wash.
That cleaned up the skin infection but no improvement beyond that.
So when on holidays for a week and upon return and his next bath the condition had worsened. He starting to loss hair and the skin quite ulcerated and bleeding.
Okay, off to the vet (the vet is useless, her diagnosis was flea bite dermatosis but at least we got another round of antibiotics).
So we clipped the area so we an see it better and started the another round of antibiotics and chlorhexidine wash.
After two days the skin was looking better so we painted the area with borax and peroxide solution with a cotton swab.
After the treatment I examined the cotton swab and the remaining discoloured solution under a mag-light (my eyesight is not very good anymore) in a white plastic container. Although the mag-light is only x2 I could see a couple of the mites wiggling in the solution (tiny black carrots a fraction of a millimeter in length).
That night the skin looked better and some "blackheads" where now "whiteheads".
The next day he skin was a bit scaly. After the second treatment I could only see only dead mites in the contaminated solution. An hour or so later, some of his "blackhead" pores had opened up.
So it is working very well so far. Not all the blackheads are gone but they are disappearing.
We intent to do a full dip of all our dogs in the next few days.
I chose to use borax and peroxide over other remedies because they are both safe to use on "your own" skin.
Regards AlanC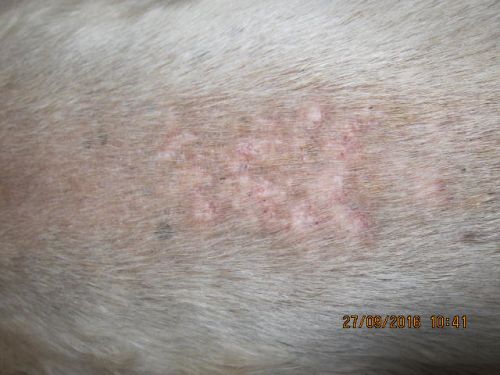 ---