Glyco-Thymoline (aka Listerine)
Posted by Rob (Kentucky ) on 03/17/2021


Glyco-Thymoline (aka Listerine) for Sinusitis
This paper is based upon the study of 193 Edgar Cayce readings (1901-1944) wherein Glyco-Thymoline (aka Listerine) was prescribed in one or more ways.
Glycol-Thymoline dates back to the late 1800's, when it was advertised as: An alkaline, antiseptic, non-irritating, cleaning solution for the treatment of diseased mucous membrane, especially nasal catarrh.
Listerine is a common item found in almost every drugstore and supermarket. It has many of the same ingredients as Glyco-Thymoline (see below). Listerine, named for Dr. Joseph Lister, was invented it as a surgical antiseptic and disinfectant in 1879, and has been used as a treatment for gonorrhea, post surgical wounds and even as a floor cleaner, among others. Despite its long and varied history, it didn't become known exclusively as a mouthwash until the 1970s.
Both products were cutting edge technology in their day. Glyco-Thymoline can be purchased thru Amazon.
A medical paper entitled "Chronic Nasal Catarrh and what the General Practitioner Can Do for it, " presented in May, 1893, mentioned that Kress introduced Glyco-Thymoline to the medical profession around that time.
Over the years, advertisements for Glyco-Thymoline focused primarily on treatment of the nose and throat. One, from December 1899, included this quote from the March 1898 issue of the Chicago Medical Recorder.
In acute and chronic rhinitis and post-nasal catarrh it will be found specially effacious, diluted in from one to three parts of water, and slightly warmed before using. As a gargle in diphtheritic inflammations and other forms of pharyngitis, its bland and non-irritating properties render it most soothing and curative to the inflamed membrane.
Many early advertisements promoted the use of Glyco-Thymoline in concert with a nasal applicator called the Birmingham Douche. (A precursor to today's Neti Pot?) Their 1899 advertisement printed in the American Journal of Surgery and Gynecology was one that promoted them together under a single process. The application of Glycolic-Thymoline (Kress) to the nasal passages with our Birmingham Douche, obviates the danger of drawing Muco-Pus into the Eustachian tube.
https://baybottles.com/2019/05/05/glyco-thymoline-kress-owen-co/
Edgar Cayce readings about Glyco's use as a pack and nasal spray for sinusitis, and inflammation of the air cavities (sinuses) in the skull that open into the nasal cavities. For frequent sufferers, this ailment is painful experience: congestion, headaches, pain when touching the forehead and cheeks—even toothaches, fever, or chills are often part of the uncomfortable symptoms. A person may also feel sick in general if the infection has spread beyond the sinuses.
Sinusitis is caused either by an allergy or by a viral, bacterial, or fungal infection. During a cold, the mucous membrane of the nasal cavity will swell, blocking the sinus openings. Then air from the sinuses is absorbed into the bloodstream, decreasing the pressure inside the sinuses and resulting in a painful negative pressure. The vacuum created by this condition provides a breeding ground for micro-organism's. As white blood cells and more fluid enter the area to fight the microbes, pressure increases, creating more pain.
Glyco-Thymoline, according to Cayce readings, it can be used as a treatment for mucosity (abnormal excessive mucous secretion) and for several other types of internal and external application. Glyco-Thymoline, can be used as a nasal spray, nasal douche (neti-pot) or as a gargle, acts to detach and help remove sticky, mucous accumulations from nasal and throat passages. Also suggested as a soothing, cleansing, non-irritating solution for feminine hygiene, oral hygiene, babies' simple skin irritations, minor burns, poison ivy, sunburn, and chapping. https://www.si.edu/object/nmah_209672
Glyco-Thymoline contains all natural ingredients. Its previous label stated "Treatment for Mucosity, " but its present label denotes it as a "Mouthwash and Gargle." Most often it is used in small amounts or in diluted form (equal parts with water or one part Glyco-Thymoline to two parts water) when used in cavities of the body. For oral hygiene, for example, it can be used full strength. The manufacturer reports that, though the label was redesigned to conform to Food and Drug Administration regulations, the formula has not changed since Cayce's day. A number of directions for its use as given in the Cayce readings closely coincides with the manufacturer's recommendations.
Glyco-Thymoline Ingredients. Water, Glycerin, Alcohol (3.27%), Sodium Borate (Borax), Sodium Benzoate (widely used food pickling agent), Sodium Bicarbonate (Baking Soda), Carmine (natural red 4), Sodium Salicylate (is a sodium salt of salicylic acid), Oils of Menthol (Peppermint), Eucalyptol (Eucalyptus), Abies Sibirica (Fir Needle) Oil, Thymol (Thyme), Methyl Salicylate (Wintergreen).
Listerine Active Ingredients: Eucalyptol (Eucalyptus) 0.092%, Menthol (Peppermint) 0.042%, Methyl salicylate (Wintergreen) 0.060%, Thymol (Thyme) 0.064%
Inactive Ingredients:
Water, Alcohol (26.9%), Helps to dissolve the oils in mouthwashes
Benzoic acid, Prevents microbial growth and helps adjust pH in the product
Poloxamer 407, Helps mix the oils and water and helps remove food particles
Sodium benzoate, Provides sweetness to enhance the flavor
Caramel, coloring agent
Note: Dollar Tree discount store has a spearmint mouthwash with similar ingredients to Listerine but at 21% alcohol level. This is what I use.
Preparation and Use of Packs
According to Edgar Cayce reading and the preparing of Glyco-Thymoline pack, these general suggestions were included with the reading:
"Use 2 to 3 thicknesses of cotton cloth well saturated with the commercial strength Glyco-Thymoline and apply over affected areas, or areas specified for your particular case. An electric pad may be used to keep the pack warm. A piece of oil cloth (or plastic) may be put over the pack, after it is placed on body, to prevent soiling linens, etc. Apply for 20 to 30 minutes, to an hour at the time. In cold weather, place the bottle of Glyco-Thymoline in a pan of hot water to take the chill off before using it for the pack" (Cayce)
Length of time for the packs and their frequency of use varied as people's individual physical conditions warranted. Depending upon one's health needs, Glyco packs could also be placed along the spine before osteopathic treatments were administered to "relax the area to be adjusted" (Cayce)—across the sacral area "to aid in eliminating the accumulations there, through assisting the system to absorb poisons" (Cayce), and over the abdomen for a variety of intestinal and bladder ailments.
Except for a few instances in which the person specifically was told not to use heat, Glyco-Thymoline was to be applied as a warm compress across the face, covering the forehead, nose, and upper cheeks, under which the sinus cavities rest. According to one reading, "…the heat causes the certain oils in the elements to loosen themselves, so as to enter into the cavities of the nasal passages and into those areas so distressed at times" (Cayce). This fifty-four-year-old woman had a chronic sinus condition and was advised to use a nasal spray as well as a pack two to three times a day. In several other cases osteopathic adjustments were to be undertaken in conjunction with the packs. Cotton cloth or gauze was the recommended material.
Preparation and Use of Nasal Spray
Add 1:1 ratio Glyco Thymoline to distilled saline water mixed with baking soda into 1 oz nasal spray bottle. Spray each nostril several times daily til infection is gone.
source: https://www.edgarcayce.org/the-readings/health-and-wellness/holistic-health-database/therapies-glyco-thymoline/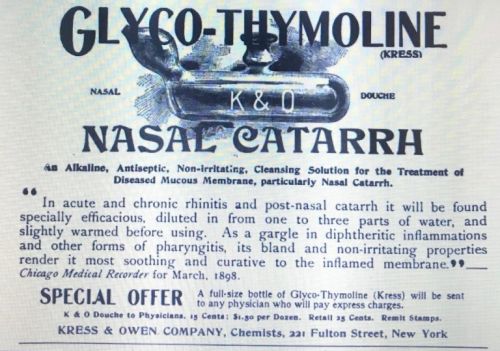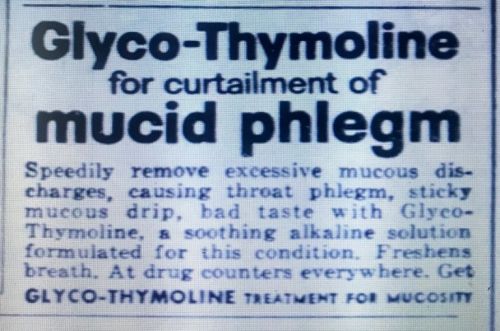 ---