Oil Pulling with Sesame Oil for Health
Last Modified on May 23, 2015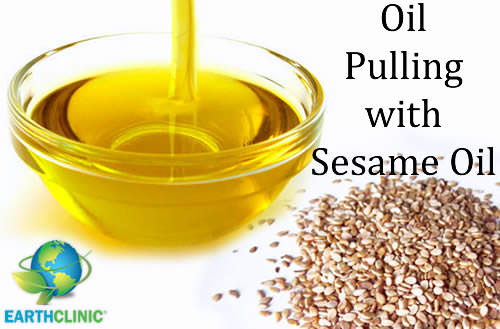 When most people here the term "oil pulling," they typically do one of two things – (1) cringe, knowing that the practice literally involves pulling or swishing oil through their mouths, or (2) run to the kitchen to "pull" the oil out of the cabinet for cooking. Ok, so these aren't literal reactions, but my point is proven that there is some confusion about this underused health remedy. Hopefully we can clear up some of that confusion and address what the practice actually is and why you should go do it right after you finish reading.
What Is Oil Pulling?
While oil pulling has gained popularity as a more common health trend, it is actually nothing new. The treatment is an age-old Ayurvedic health remedy used to clean and detoxify the teeth and gums as well as the rest of the body. The process actually involves swishing oil around the mouth or pulling it through the teeth to cleanse the oral cavity. However, the process does more than just clean the teeth and gums.
How Does Oil Pulling Work?
The process is actually pretty straightforward and is even relatively easy to do, once you get past the initial texture aversion. As you swish the oil around in the mouth, you should also be moving your chin up and down as if you are chewing. All of these motions combined increase the salvia in the mouth and activate digestion. These processes help naturally draw the toxins from the body and mouth and cleanse the system.
What Is Oil Pulling Used For?
The type of oil used determines the exact effects of oil pulling. Sesame oil is considered one of the most effective oil options and is capable of:
-Eliminating bacteria
-Whitening the teeth
-Freshening breath
-Treating migraines
-Alleviating chronic pain
How Do I Do It?
The process should be done prior to brushing and on an empty stomach. Take 1 tablespoon of sesame oil in the mouth and swish it around for 10 to 20 minutes. Spit the oil out, rinse the mouth with warm water, and brush normally.
While the oily sensation and unusual taste are a natural aversion factor for most, the health benefits of oil pulling far outweigh the momentary discomfort. Who knew good health was as simple as swishing some oil around in your mouth?
Continue reading below for more than 125 reviews from Earth Clinic readers who have tried oil pulling with sesame oil. Some of the feedback will astound you! Let us know what you think!




Approval Ratings

YEA (77)
60%
NAY (8)
6%
BETTER BUT WITH SIDE EFFECTS (20)
16%
BETTER BUT NOT CURED (3)
2%
WORKED TEMPORARILY (1)
1%
SIDE EFFECTS (20)
16%
Posted by Op Newbie (Delhi, India) on 10/13/2014
[BETTER BUT NOT CURED] I have done OP with sesame oil 3 times now, does make me feel lighter, energetic and a deeper breath, which is quite a relief given I have chronic rhinitis. However doing it for 20 mins on my first attempt was quite taxing and I reduced it to 8-10 mins over the next two trials and every 3-4 days. I have now noticed some of my earlier symptoms of throat and sinus infections coming back, which I hope is the detox effect. Would appreciate any suggestions on the frequency I.e. should one do this daily or is ok to do after 3-4 days.
Replied by Suchitra
New York, US
12/01/2014


Posted by Kay (Jax, FL) on 06/05/2014

[YEA] I wrote to earth clinic back in October 2013 with some very bad news from my dentist. I had a severe gum disease and my dental "pockets" in my gums were pretty bad. I went to two Peridontists who wanted to charged me in the thousands of dollars for gum surgery and than said why not pull all your teeth than you won't have the issue anymore! I went to a specialist in dentures who talked me out of pulling all my teeth. Now forward to now. I have been oil pulling with sesame oil since Oct. My gum pockets have decreased in size and my gums do not hurt anymore. My teeth are whiter and healthier. I have one deep pocket left which all dentists say, I should have the two teeth pulled as the gums around these teeth are decayed. I may end up doing this, but I am still counting on my oil pulling which by the way none of the dentists or specialist had heard of it! They probably had heard but that would cut into their income if they offered this suggestion to their patients. So my vote is YES for oil pulling. It has worked for me.

Posted by Emaya77 (Denver, Co) on 03/02/2014

I've been oil pulling for 2 weeks and the first few days I noticed a huge difference in my energy levels and my sinuses cleared up a lot. But ever since, I've been extremely tired and there has been no difference in the color of my teeth (they have not become whiter). I've been using organic, unrefined sesame oil, pulling for 20 minutes. Also, I swish and pull thru teeth the whole time, but when I spit, the oil is never white, it's always still a bit yellow. How long does it take to feel great and your teeth to become whiter? How long does the healing crisis last normally?

Replied by Mike62
Denver
03/02/2014