Apple Cider Vinegar  
Posted by Flor (Aurora, USA/Philippines)


Yes! Apple cider vinegar is also important for opening a stagnant plant bud like in roses. I tried it and it worked perfect. I tried mixing 2 teaspoons in a 5 glasses of water and watered it to my potted plants specially when the soil is fresh just brought from the market. You can do it once every 6 months.
---
Blackstrap Molasses  
Posted by Gretchen (Wheeling, WV) on 10/25/2008


My friend uses blackstrap molasses to keep the bugs off his fruit trees. He said in early spring he paints the base of the tree up to about 12 inches high and he never has to spray his trees and he does not have bugs! He said he would repeat the procedure in June. He said his apples and peaches were great. He learned it from his grandfather.
---
Composting  
Posted by Michael (New Zealand) on 07/28/2017


Hi there!
A photograph for you at long last! (Won't do away with the proverbial 1,000 words though!! ). Others will illustrate bins to the right later on.
I thought I might take a leaf out of ORH's book and try to encourage others to take up gardening OR at least compost some of their green "waste" as opposed to sending it to the "dump" or landfill space which is a crime on several fronts. You know the drill there I imagine.
As a central component of gardening, it cannot be beaten.
To explain the photo: the lethal contraption on the left is a "Compost Tumbler" which is just a bigger version of the LOTTO gadget that will hopefully make you a millionaire one day!! Into it goes most of our kitchen scraps (minus the bits that shouldn't be composted- can't go into that here). Just don't wear a tie whilst you are spinning it the recommended four to six times per day. You should also include 50% dry / brown / carboniferous stuff to dry it out a bit and to make it aerobic rather than the dreaded anaerobic (which pongs ). I use ground-up twigs from my shredding machine, which I store for this purpose and for mulching. The rats haven't yet found a way in so far! One of my better decisions a few years ago this one. You alternate the use of the two compartments.
The large bins alongside are our garden waste bins and were quite expensive to buy and were a bit of a headache to install, what with chopping out the fronts, installing a sliding batten system and concreting in the four front posts as guides for the batten system. Never mind-done now. Non-treated timbers naturally!!
Because it is the rainy season / winter currently in N.Z, they have their roof on to stop them getting sopping wet and to keep them a tad warmer. (Old roofing materials).
There is no technical "layering" on these ones. Our volume of green waste is quite daunting - hence the need for several bins - some out of sight here.
You can set yourself up with a much smaller operation, naturally and a worm farm is a great option these days. Maybe more on that option later.
The philosophy is that we "Are what we Eat" and we like to grow a certain portion of our food in our garden for various reasons you will no doubt be familiar with. Also I have been trying to MAKE my own soil by composting on a grand scale and hopefully altering my unforgiving, clay soil to make it more suitable for growing vegetables, flowers and fruit trees. Hence the need for a large operation also.
By the way, you can see a tall hedge for shelter but the bins are no longer totally shaded, so they get pretty hot in the summer time during mid-day.
Cheers for now and happy composting folks.
Remember the age-old adage : "The Answer lies in the Soil".
Michael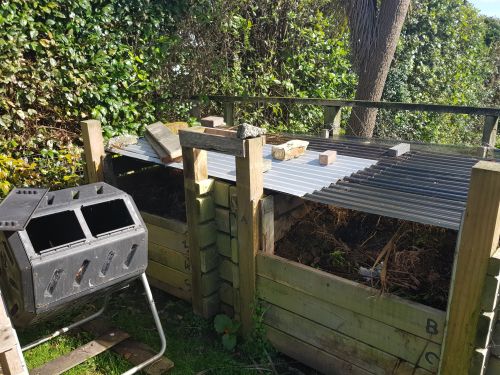 Replied by Robert Henry
Ten Mile, Tn.
07/29/2017

Replied by Michael
New Zealand
07/30/2017

---
Fungus Control  
Posted by Earth Clinic on 09/30/2012

PLANT ROTATION — Rotating your plants every few years can break the disease cycle if particular microbes are returning annually to attack specific plants. Moving that crop to a significantly different location for a few years might break the cycle in that particular patch of soil. Ideally, give yourself about ten feet of separation between the new and the old plot.
---
Posted by Staff (Earth Clinic) on 09/08/2009

Roses are not the only popular flower and garden plant to often be affected by a powdery white-to-gray layer of fungal spores from the White Powder Fungus, also called powdery mildew. The happy news is that, while unsightly, white powder fungi are not particularly damaging, and each fungus is particular to a type of plant, so other species in your garden ordinarily won't be contaminated. White powder mildew spreads in cool, moist environments and will take advantage of weak plants. There are organic treatments for white powder fungus, including cinnamon either sprinkled on dry or sprayed on; and baking soda seems to work as a preventative while Neem Oil might help to get rid of the powdery mildew. Copper sprays are the most common commercial treatment, but although copper is a natural and essential mineral, its concentration in the spray - along with the other chemicals that might be riding alongside - could not quite be called organic. Fortunately, the most effective step in combating white powder fungus is to carefully clip off affected leaves and dispose of them in such a way as not to spread the fungal spores or allow them to infiltrate your garden any further. A truly hot compost pile will take care of the spores, but throwing them in the trash might be your best bet. Then keep your plants watered from the base in dry times (don't water in the evenings), spaced out to improve airflow, and well fed with natural fertilizers.
---
Posted by Staff (Earth Clinic) on 08/04/2009

SOLARIZING — Here's a trick for killing off a fungus or other pathogen that seems to have infested your soil. After carefully removing the infected plants in the area, thoroughly water the area to be treated and give it time to seep in (overnight is a good idea), then cover the affected area with a clear plastic sheet and use weights or ties to keep the edges down. The idea is to more or less bake or steam out the infection, so over several weeks the soil should reach between 130 and 140 degrees F. Remove the plastic sheet after a month or two, and your soil should be back to normal.
---
Replied by Ava
California
05/04/2015

Gardening Tips  
Posted by Robert Henry (Ten Mile, Tn) on 04/01/2015

HI U OM, , , , , , got 6 containers of Red Pontiac potatoes planted today. Just do enough to have new potatoes. Once grew a 100' row of Kennebec potatoes for storage, but too old for that nonsense now. Dip them in powdered sulfur to prevent rot and keep them on the acid side. Soil is mushroom compost so all is natural.
Would go into my poverty routine that we pore and jus barely getting by, but most see through my line of stuff.
Blueberries are blooming along with our three pear trees. Folks should not wait until they retire to get started. Then it's almost too late.
Will keep you posted on our goings on... if it does not upset the bosses. As Hippocrates said, " let your food be your medicine".
Your friend, , , , , =====ORH======
Replied by Robert Henry
Ten Mile, Tn.
04/05/2015

Replied by Robert Henry
Ten Mile, Tn.
04/06/2015

Replied by Robert Henry
Ten Mile, Tn.
04/09/2015

Replied by Robert Henry
Ten Mile, Tn.
04/10/2015

Replied by Robert Henry
Ten Mile, Tn.
04/12/2015

Replied by Robert Henry
Ten Mile, Tn.
04/28/2015

Replied by Timh
Ky
04/29/2015

Replied by Mmsg
Somewhere, Europe
04/29/2015

Replied by Gertie
Canada
04/29/2015

Replied by Robert Henry
Ten Mile, Tn.
04/29/2015

Replied by Robert Henry
Ten Mile, Tn.
04/29/2015

Replied by Mmsg
Somewhere, Europe
04/30/2015

Replied by Robert Henry
St George Island, Fla.
04/30/2015

Replied by Mmsg
Somewhere, Europe
05/01/2015

Replied by Gertie
Canada
05/01/2015

Replied by Sweet Pea
Usa
05/01/2015

Replied by Robert Henry
St George Island, Fla.
05/02/2015

Replied by Sweet Pea
Usa
05/03/2015

Replied by Robert Henry
St George Island, Fla.
05/03/2015

---
How to Keep Plants Healthy  
Posted by Suseeq (Sydney Australia) on 05/01/2015

Re Garden Tips - I was wondering could we have a section for keeping plants healthy, particually the unusual tips
EC: Update on Gardening Section:

We'll be making creating pages this week for our new "organic" section and moving posts from these old pages into the new ones.
Replied by Suseeq
Sydney Australia
05/03/2015

---
Improving Garden Soil  
Posted by Rebel (Somewhere Usa) on 05/04/2014

Hello all. I had found a post on here once, that was to what I can best remember was by a gentleman. He talked about getting the soil balanced with all the correct minerals. He also provided his e-mail for us to contact him. I can not find this post or remember what his name was. If any of you know what I am referring to, please let me know where to look.
There has been a lot of talk about the old timers use to dump their ashes from the fire into the garden area and this would make the soil rich in minerals. I am not sure if this is what he was referring to or not.
Thank you.
EC: Hi Rebel,

We have to search our old computers for that post! It was probably on the Earth Clinic Planet sister site. Unfortunately, we took that site down a couple of years ago and still have to find the time to copy all the old posts from that site back to this one!
Replied by Om
Hope Bc Canada
05/04/2014

Replied by Sunshine
Canada
05/07/2014

---
Paramagnetic Rock Dust  
Posted by Cindy (Illinois, Usa) on 04/30/2015 89 posts


I can't say enough about "paramagnetic" rock dust. I'm not much of a gardener but have a small patch that is basically an 8 foot tall "raised bed" on three sides that gets full sun all day and is right in the path of a sort of wind tunnel created by this hilly area, so it's dry as a bone and, I discovered a couple of years ago, full of earwigs! YUCK!! Those are creepy little things!
Anyway, it's only about 20' x 20' and rock dust made a world of difference. I also put it around the foundation along with some diatomaceous earth because I was a little concerned about where those evil-looking little buggers ran off to and didn't want them coming into the house. LOL! So far so good!
---
Slugs and Snails  
Posted by Michael (New Zealand) on 08/04/2016

For the "Organic Gardening Section" and "Dealing with Slugs and Snails".
I don't garden on a large scale but have been gardening and composting for many years and still learning. When I mentioned a few years ago to a neighbor that I was having trouble with the above critters, she gave me some Chinese vegetable protectors. You probably know about them? These are round, green, plastic jobs about the size of a saucer. They taper outwards towards the top and then curve over at the top to point slightly downwards. I have never had a problem with my few lettuces or brassicas since then, by gently pressing them into the soil. I used to protect my young seedlings from the wind, the cold, slugs and snails by cutting out the bases of large fruit or baked-bean tins but these Chinese things last longer and are more efficient. Wouldn't be without them now. But our Army Worms devastated our crops this year. Best way is to go out an hour after sunset with a torch and laboriously go round picking them off with long-nosed pliers and dropping them into soapy water.
I am still battling white fly and will try to invent a solar-powered, yellow light to attract them away from my Kale. Yellow sticky pads cannot keep up with the sheer numbers we have. Any good suggestions would be appreciated. Thanks.
---
Posted by Staff (Earth Clinic) on 09/30/2012

You want to grow a nice organic garden full of pesticide-free goodness, but the snails and slugs are always claiming the first bites on everything! What's to do? From the shear number of folk remedies available to combat them, you can easily see what a problem snails and slugs can be in the garden. Their aesthetic failings aside, these munchers can ravage a plant's leaves in no time at all. Prevention goes a long way. First remove the clutter from your garden, including decorative elements that give these guys shelter. Morning watering allows the soil to dry before night-feasting snails can come out to enjoy the moist environment. Rough mulches can deter these pests as well. Then give some of those folk remedies a try, but remember that what works in one place might not be right for another set of pests and conditions. Try, try again!
Replied by Timh
Louisville, Ky, Usa
10/01/2012

---
on 04/12/2009


Alan from Boulder, CO writes: "No one here has mentioned the beer trap yet, so I figured I might as well post it. It works for me out here in Boulder, but I guess it's not foolproof. Anyhow, the idea is that the slugs and snails are attracted to the yeast and sugar in the beer, but the alcohol kills them. Or dries them out. Here's my set up: a Frisbee turned upside down and filled with about two centimeters of cheap beer. I push the Frisbee down into the soil a bit, so that it's easy enough to crawl into. Whatever container you like, it should be shallow and fairly smooth. Something the slugs or snails won't mind climbing on. I leave a can of beer open in the refrigerator when I'm trying to kill them off, because you want the carbonation to be out of it. Bugs don't like bubbles, I guess. Toss the beer and the trapped slugs out every morning, then refill the tray with beer every evening until the problem goes away. It's a home remedy, for sure.
04/25/2009

---
on 03/23/2009


Michelle from Miami, FL writes: "After trying everything under the sun to deal with snails in my flower garden, on a friend's recommendation I tried used coffee grounds (not fresh). I sprinkle the grounds around the base of the plants that the snails love and voila, no more holes in my plants! They simply don't like the smell and move on. I like this much better than drowning the poor creatures in a can of beer or watching them melt with salt.
---
on 03/11/2009

T from Maryland, USA writes: "I've been 'stockpiling' egg shells for a few months now in anticipation of my new veggie garden. Rinse the shells well and air dry them, then put them in a large plastic bag, crush them up a bit, and store in the freezer. Add some to the soil for nutrients, and sprinkle some around plants as they come up to deter slugs.
---