Composting
Posted by Michael (New Zealand) on 07/28/2017


Hi there!
A photograph for you at long last! (Won't do away with the proverbial 1,000 words though!! ). Others will illustrate bins to the right later on.
I thought I might take a leaf out of ORH's book and try to encourage others to take up gardening OR at least compost some of their green "waste" as opposed to sending it to the "dump" or landfill space which is a crime on several fronts. You know the drill there I imagine.
As a central component of gardening, it cannot be beaten.
To explain the photo: the lethal contraption on the left is a "Compost Tumbler" which is just a bigger version of the LOTTO gadget that will hopefully make you a millionaire one day!! Into it goes most of our kitchen scraps (minus the bits that shouldn't be composted- can't go into that here). Just don't wear a tie whilst you are spinning it the recommended four to six times per day. You should also include 50% dry / brown / carboniferous stuff to dry it out a bit and to make it aerobic rather than the dreaded anaerobic (which pongs ). I use ground-up twigs from my shredding machine, which I store for this purpose and for mulching. The rats haven't yet found a way in so far! One of my better decisions a few years ago this one. You alternate the use of the two compartments.
The large bins alongside are our garden waste bins and were quite expensive to buy and were a bit of a headache to install, what with chopping out the fronts, installing a sliding batten system and concreting in the four front posts as guides for the batten system. Never mind-done now. Non-treated timbers naturally!!
Because it is the rainy season / winter currently in N.Z, they have their roof on to stop them getting sopping wet and to keep them a tad warmer. (Old roofing materials).
There is no technical "layering" on these ones. Our volume of green waste is quite daunting - hence the need for several bins - some out of sight here.
You can set yourself up with a much smaller operation, naturally and a worm farm is a great option these days. Maybe more on that option later.
The philosophy is that we "Are what we Eat" and we like to grow a certain portion of our food in our garden for various reasons you will no doubt be familiar with. Also I have been trying to MAKE my own soil by composting on a grand scale and hopefully altering my unforgiving, clay soil to make it more suitable for growing vegetables, flowers and fruit trees. Hence the need for a large operation also.
By the way, you can see a tall hedge for shelter but the bins are no longer totally shaded, so they get pretty hot in the summer time during mid-day.
Cheers for now and happy composting folks.
Remember the age-old adage : "The Answer lies in the Soil".
Michael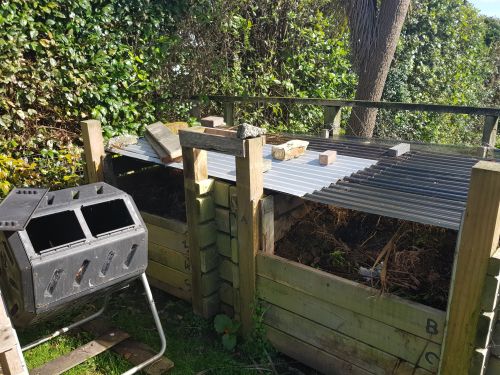 ---