Laser Treatment
Posted by Sandra (Ottawa, Ontario) on 09/29/2011

★★★★★
Hello everyone! I lived in the UK for 3 years and found the best remedy for Skin Tags, Lazer Treatment. It takes 2 minutes and it falls off in a couple days. It seems we don't have this method in Canada!
Replied by Lori
(Pahoa, Hawaii)
08/04/2012
★☆☆☆☆
---
Lavender Oil
Posted by Cori (Plainfield, Nj) on 05/11/2010

★★★★★
I had an annoying skin tag right near the inside corner of my eye. It was about 1/8" and I was beginning to be able to see it. I used straight lavender oil because I often use it for skin problems and I prefer the scent. It worked within a few days. Just be very careful around sensitive tissue like eyes and genitals. What a relief!
---
Lavender or Garlic Oil
Posted by Eva (Chicago) on 04/21/2016

★★★★★
For skin tags, use Lavender 100% essential oil or 100% garlic oil. The skin tags have roots, feeding off of your capillary blood. These oils kill the roots. Garlic is stronger then Lavender both they both work. Google : what essentials oils remove skin tags?
---
Lugol's Iodine
Posted by Aforrester (London) on 06/03/2020

★★★★★
Lugol's iodine is great for skin tags. I had 5 pop up after going out in the sun getting some vit d top up. I recently purchased a 1940s violet ray tesla device and it had a little glass wand so I gave them all a dose of nikola tesla electricity they changed colour I then finished off with a dab of lugol's on each one. lugols will work alone but you have to dab on 4 times a day. the violet ray just speeds things along violet ray device can be used for many different ailments
---
Moxa Mini-Cones
Posted by Rob (Kentucky) on 03/08/2022

★★★★★
Moxa Mini-Cones (Korean) for Skin Tags
Back in the early-mid 1980's, I had a skin lesion that was not responding to conventional treatment. I showed it to my Aunt and she put this "mini cigarette looking thing with a sticky cushion on one side" (I later learned it was called a mini-moxa used in Chinese medicine). She stuck it over the lesion and lit the cigarette and it burned for about 5 minutes. Stung alittle bite at the end of the burn cycle then she removed it and it left a brownish stain on my skin. A few days later, the skin lesion was gone.
Fast forward 40 years to today, I bought some mini-moxa online. I am using them for flat warts(?) I think that they are not responding to any treatment. Mini-moxa sticks contain mugwort, wormwood and sage.
A friend of mine was complaining about the skin tags he had around his neck. I looked at them and determined that the mini-moxa sticks would fit over them.
Here are the results from just one 5 minute treatment:
Day 2: Tags turned a white color.
Day 3: Tags turned black and hard.
Day 6: Tags fell off!
Video: What is Moxa sticks & How to use it
https://www.youtube.com/watch?v=j3OIbmn_1MU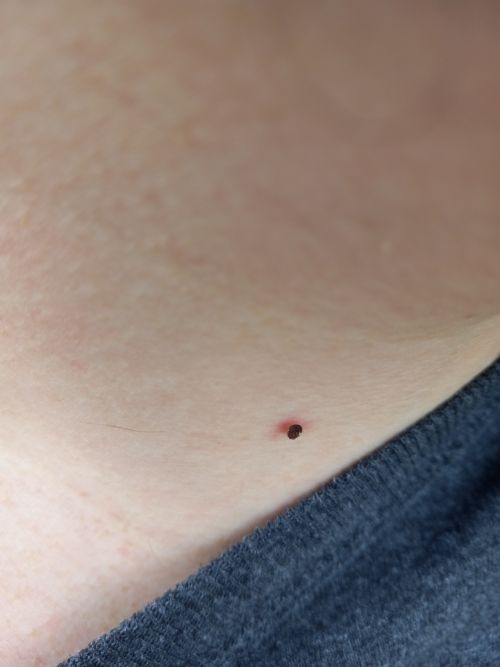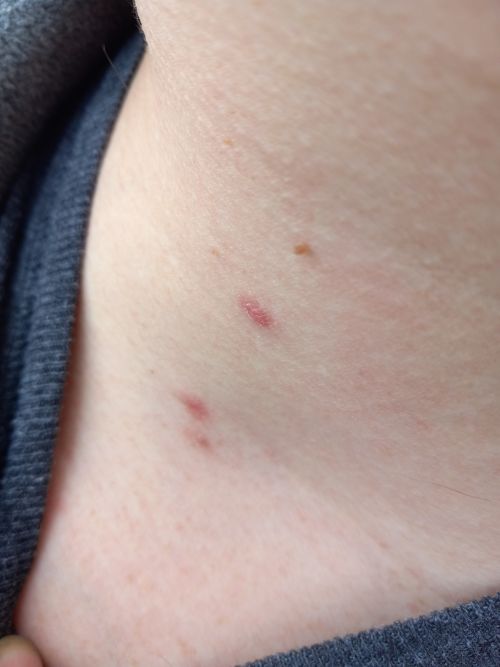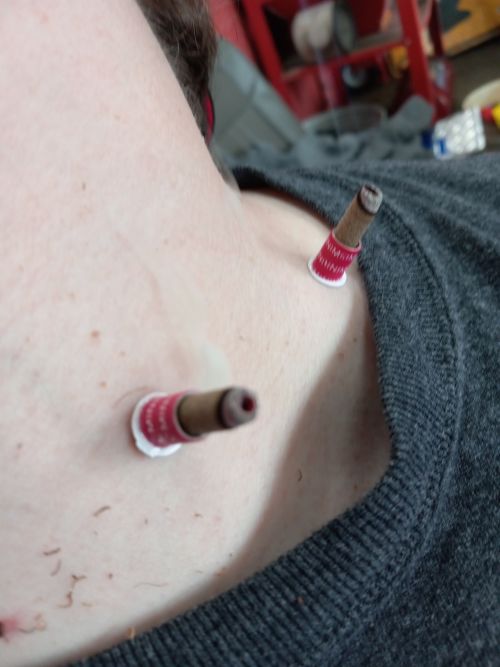 Replied by Betty
(CA)
03/09/2022

---
Nail Polish
Posted by Kelly (Erie, PA) on 07/28/2009

★★★★★
I used clear nail polish on my skin tags and they dried up & fell off. Put clear nail poilish on each skin tag once or twice a day till it falls off .. could take 4-10 days depending on the size of the tag, but it really works!
Replied by Ashely
(Toronto, Ontario)
10/19/2012

Replied by Trinity
(Toronto, Ontario)
11/03/2012

---
Nail Polish
Posted by Gojan (Phoenix, AZ) on 06/10/2009

★★★★★
Putting nail polish on a skin tag will kill it in a few days. Make sure you get it around the neck of the tag so it hardens and chokes it off. If the color of the polish bothers you, put a band aid on it or make up a good story.
Replied by Umm
(Madina, Eastern Province, Saudi Arabia)
08/25/2009

Replied by Kelly
(Erie, Pa)
09/07/2009

Replied by Tatyana
(Cordova, Tn)
06/22/2012

---
Oregano Essential Oils
Posted by Specialkincha (Chattanooga, Tn) on 10/05/2015

★★★★★
Essential Oils can remove skin tags in no time. Best results I have had are with undiluted organic essential Oregano Oil, dab on tag only trying not to get on healthy tissue twice a day. Tags will turn black and fall off within a week to 10 days. Some people's bodies do not react well to Oregano oil, then I suggest Lemon Oil but it takes 5 weeks sometimes for the skin tags to fall off.
Replied by Faye
(Cambridge, Ontario, Canada)
05/14/2017

---
Oregano Oil
Posted by Christine (Lancaster, Ca/ Usa) on 06/30/2011

★★★★★
I have several tiny skin tags around my neck/collar area. One was getting very irritated from my shirt. A friend told me about oil of oregano for these. I started applying to the skin tags twice a day(morning and evening). I applied one drop to each tag with my finger. In eight days, the tags were gone. Talk about saving time and money.
Replied by Darla
(Lisbon, Nd)
07/01/2011

Replied by Bigmoose
(Ocala, Florida)
08/18/2012
★☆☆☆☆
Warning
WARNING!
---
Oregano Oil, Tea Tree Oil
Posted by Lilly's Mom (New Jersey) on 01/23/2014

★★★★★
I have a few flat, mole-like skin tags that I have had for years, but I recently developed one not quite under my arm that had a stalk and was tender to touch. I applied oil of oregano a couple times a day, alternating with tea tree oil whenever I thought about it.
It's been maybe two weeks, and I just noticed the thing is gone! I can't even tell where it was. I'm going to try it on the larger ones. I wouldn't try this for anything around the eye. I hadn't seen anyone mention oil of oregano, but since it has anti-bacterial, anti-fungal and anti-viral properties, as does the tea tree oil, I figured the two together couldn't miss.
---
OTC Wart Remedies
Posted by Melissa (Walworth, New York) on 03/05/2008

★★★★★
I took the advice I found on this site, and bought Wart Off for my skin tags on my neck. With in days they fell off and were gone. Cheaper then what I had paid ny doctor to due it in the past.
---
OTC Wart Remedies
Posted by Steve (Hernando, MS.) on 02/21/2008

★★★★★
I have removed a eraser sized black Mole with Wart freeze after 3 applications also works on Skin tags. No Blood it will fall off. works great no scars where tags were.
---
Rubbing Alcohol
Posted by Cristy (Wisconsin) on 05/18/2016

★★★★☆
I am having a hard time getting rid of a skin tag that is on my eye lid. It is directly on top of my lower eye lashes. I do not want to go to the eye doctor and have them cut it out, (which is what they want to do). I have been using rubbing alcohol on it for a couple days and it has shrunk. I am fearful of freezing it and cutting it just because it's so close to my eye. Any other suggestions on what I can do?
In the picture, it appears that one is already turning black, the other one is slowly getting there.


---
Salicylic Acid
Posted by Claudia (Sydney, Australia) on 03/14/2008

★★★★★
Great site, love all the remedies. Salicylic Acid helps remove skin tags! Ok I have been using salicylic acid on partner's skin tags, applied once daily (bedtime) for almost 1 week, most darkend in color and look like they will fall of any day now. He said it stings a little but for a minute or two.
Replied by Marsha
(Chicago, IL)
09/21/2008

Replied by Janet
(Palm Coast, Fla)
09/24/2008

Replied by Andrea
(Lawrenceville, GA)
12/05/2008

Replied by Kathryn
(Myrtle Beach, Sc)
05/08/2011

Replied by Kathryn
(Myrtle Beach, Sc)
05/09/2011

Replied by Will
(Rome, New York)
09/03/2012

---
Scissors
Posted by Chuck (London, Uk) on 12/06/2012

★★★★★
I developed skin tags in my armpits some 20 years ago (gawd) and they have always been a source of embarrassment for me. I would say 10-15 on each side; not big and they didn't bother me at all. Actually, I had (hee hee) one big one on each side - big as in 1cm long and thin.
Also, I have (sorry, had :)) one medium one and about 4-6 small ones on my neck.
Anyway, as you might imagine I hated them. I am just remembering now that when I was 29 I went to the GP (Family Doctor) and he pulled a face and said that there were "too many" to do anything with (he should be struck-off - he really failed me; I wonder how many other people he has really failed also. All while taking a big fat salary and pension). If I was embarressed before, I was now mortified... I have been meaning to do something... But what. I have been so busy and they weren't bugging me (until my sister... SISTERS! ... Said on holiday once, in a very loud voice "Ughhhhh... what are those").
Over the years I have tried all sorts - alcohol, Tee Tree Oil, lots. Anyway last week I came across this site (magic! ) and I decided to try the iodine - I had some in the cupboard (I put it on the kids for any scrape / cut). Two days of hiding in my bedroom slathered in iodine... Go on, it is funny (the family were off seeing relatives). They did look a bit bothered, but not anywhere near bothered enough for my liking. Iodine on my shirt, on the floor, pyjamas and the towel... ughhh.
Now, I don't have heaps of time to spend on this. I want them gone, but I can't sit around for hours slathered in this and that; I have kids and a job and a wife etc etc. So, I spied those scissors in a pot in the bathroom... Hmmmmm... These little fellers have bothered me too long. I decided to cut off one of the big boys (1cm, not really big) and see about the pain / blood. I rubbed iodine into the scissors (I am sure that there are better ways - boiling / alcohol, but I was on a roll and there was to be no stopping me) and into/around the skin tag.
'Snip', almost no pain ( not even a pinch's worth) and almost no blood. I put a plaster on it and the.... The mad glint in my eye... this was good, really good (should have done it years ago - silly me).
I snipped all the ones on my neck off (fabidoodah). Yes, a little bit of blood - much less than a cut finger. Probably all amounted to 2 drops. Slapped plasters on. There was one that was half mole and half skin tag... you got it, that came off too (not the mole bit).
Actually, I should have gotten better scissors - I do have some, it's a question of finding them. I had to 'trim' a couple of them back a couple of times to get the whole tag off. And one was a bit tough and needed to be snipped by the sharper bit of the scissor blade. Afterwards I trimmed a bit of my hair... I only mention this (as I had evidently gone mad - joking) as it became about the same level of 'intervention', if you like.
This all happened 10 minutes ago and I am now sitting here with about 10 plasters on and happy, happy, happy.
This is phase 1. The underarmers (phase 2) will go either with scissors (which I am really happy with) or with string (which I am intrigued by).
The big thing is though, I am back in control. And it feels good.
Thank you Earth Clinic - I clearly needed some encouragement.
One last bit of advice - I am an expert now, remember. It would be easier if you could get someone else to do the snipping... I didn't as I am too embarrassed about them and the moment of their demise came and I had to do it then!
Anyway, don't wait - Go for it NOW and in 10 minutes you will be sitting there with a few plasters on and the hugest smile.
Replied by Patglad
(West Chicago, Il)
12/16/2012

Replied by Dan
(Uk)
12/30/2013
★★★★★
---