Iodine
Posted by Stephen (Houston, TX) on 05/18/2006


A skin tag had developed on the side of my neck about 2 maybe 3 years ago. It was a rather small protrusion but in the last 2 weeks I noticed that it seemed to have increased in size and I became a bit more concerned than I had been previously. I read a few testimonies your website how some people used iodine to remove moles so I thought what's the worst that could happen. I applied iodine for about 3 days and what can I say... it worked.
---
Iodine
Posted by Joan Marie (Shenandoah Valley Virginia) on 03/25/2006


Painted iodine cured my tag and wart. Both dried up and fell off but you must be consistent - apply 2 or more times daily for a month before giving up. Surrounding skin area can be tender, so be careful to coat just the tag or wart.
---
Iodine
Posted by Robin (USA) on 02/22/2006


The skin tag was on the upper eye lid.. kinda in the fold. After reading the info I started using Lugol's iodine on the affected area. I applied Lugol's Iodine with a Q-Tip to a good sized skin tag on the upper eye lid in the fold.The tag was good sized so it took approximately two weeks before it dropped off. During the process it did sting a bit.. But it WORKED!!! Thank you Earth Clinic!
---
Iodine
Posted by Dorinda (York, NY) on 01/30/2006


I used Iosol Iodine for 4 days on a skin tag and it disappeared.
---
Iodine
Posted by Brenda (Bear, DE) on 01/18/2006


Iodine is excellent for toenail fungus, ringworm, fever blisters, moles and skin tags, hangnails, etc. Just a few drops on a q-tip is all it takes. Use daily until the "boo-boo" is gone.
---
Iodine
Posted by Teresa (Lowell, North Carolina)


I had a raised mole to come up on my face and several skin tags to appear under my arm. I was embarrassed by the mole on my face, but didn't have the money to have it removed. Using a q-tip, I rubbed iodine on both the mole and skin tags at night before going to bed. Within 3 to 7 days the skin tag dried and fell off while the mole went away. I have shared this information with my sister who has removed several as well.
---
Iodine
Posted by Glynda (Springfield, Missouri)


I tried iodine on a mole,it dried the skin out so badly around it that it felt like scales! And the mole is still there. Is this someone's idea of a joke?!!!
Replied by Lauren
(Chtown, USA)
06/28/2008

Replied by Lisa
(Lafayette, La)
09/26/2010

---
Juicing
Posted by Glen (Derby, Ny) on 01/05/2013

I'm 50 and had a rather large skin tag on my bottom eye lid for some time which began looking like a head of cauliflower. I started juicing vegetables several weeks earlier for basic better health reasons and to my amazement the tag is complete gone. I juice carrots, apples, kale, parsley, garlic, ginger and sweet potatoes. If this is the result from juicing I can only imagine what it has done for my insides. This is the only possible reason since I have not made any other changes. Good luck to all.
Replied by Steve H
(San Diego, Ca)
01/27/2013

Replied by Ed2010
(Oakville, Canada)
01/27/2013

---
Laser Treatment
Posted by Sandra (Ottawa, Ontario) on 09/29/2011


Hello everyone! I lived in the UK for 3 years and found the best remedy for Skin Tags, Lazer Treatment. It takes 2 minutes and it falls off in a couple days. It seems we don't have this method in Canada!
Replied by Lori
(Pahoa, Hawaii)
08/04/2012

---
Lavender Oil
Posted by Cori (Plainfield, Nj) on 05/11/2010


I had an annoying skin tag right near the inside corner of my eye. It was about 1/8" and I was beginning to be able to see it. I used straight lavender oil because I often use it for skin problems and I prefer the scent. It worked within a few days. Just be very careful around sensitive tissue like eyes and genitals. What a relief!
---
Lavender or Garlic Oil
Posted by Eva (Chicago) on 04/21/2016


For skin tags, use Lavender 100% essential oil or 100% garlic oil. The skin tags have roots, feeding off of your capillary blood. These oils kill the roots. Garlic is stronger then Lavender both they both work. Google : what essentials oils remove skin tags?
---
Lugol's Iodine
Posted by Aforrester (London) on 06/03/2020


Lugol's iodine is great for skin tags. I had 5 pop up after going out in the sun getting some vit d top up. I recently purchased a 1940s violet ray tesla device and it had a little glass wand so I gave them all a dose of nikola tesla electricity they changed colour I then finished off with a dab of lugol's on each one. lugols will work alone but you have to dab on 4 times a day. the violet ray just speeds things along violet ray device can be used for many different ailments
---
Moxa Mini-Cones
Posted by Rob (Kentucky) on 03/08/2022


Moxa Mini-Cones (Korean) for Skin Tags
Back in the early-mid 1980's, I had a skin lesion that was not responding to conventional treatment. I showed it to my Aunt and she put this "mini cigarette looking thing with a sticky cushion on one side" (I later learned it was called a mini-moxa used in Chinese medicine). She stuck it over the lesion and lit the cigarette and it burned for about 5 minutes. Stung alittle bite at the end of the burn cycle then she removed it and it left a brownish stain on my skin. A few days later, the skin lesion was gone.
Fast forward 40 years to today, I bought some mini-moxa online. I am using them for flat warts(?) I think that they are not responding to any treatment. Mini-moxa sticks contain mugwort, wormwood and sage.
A friend of mine was complaining about the skin tags he had around his neck. I looked at them and determined that the mini-moxa sticks would fit over them.
Here are the results from just one 5 minute treatment:
Day 2: Tags turned a white color.
Day 3: Tags turned black and hard.
Day 6: Tags fell off!
Video: What is Moxa sticks & How to use it
https://www.youtube.com/watch?v=j3OIbmn_1MU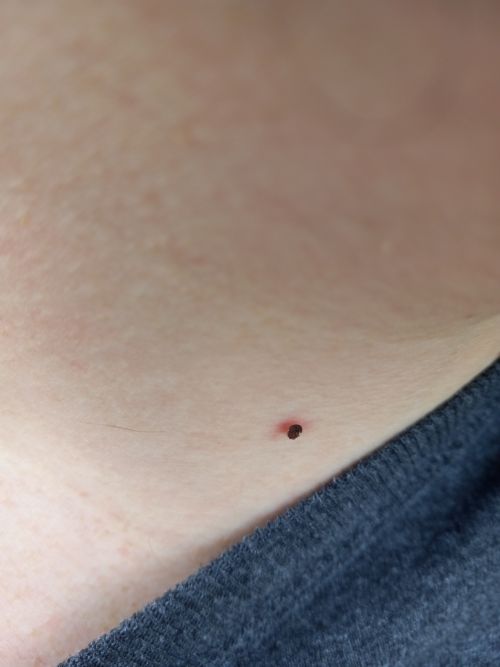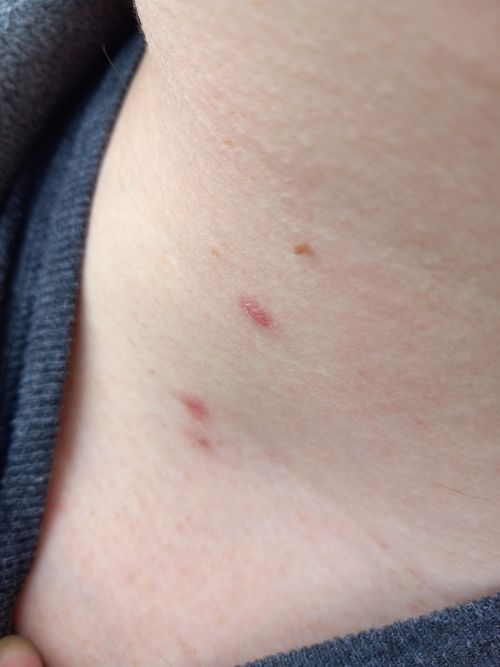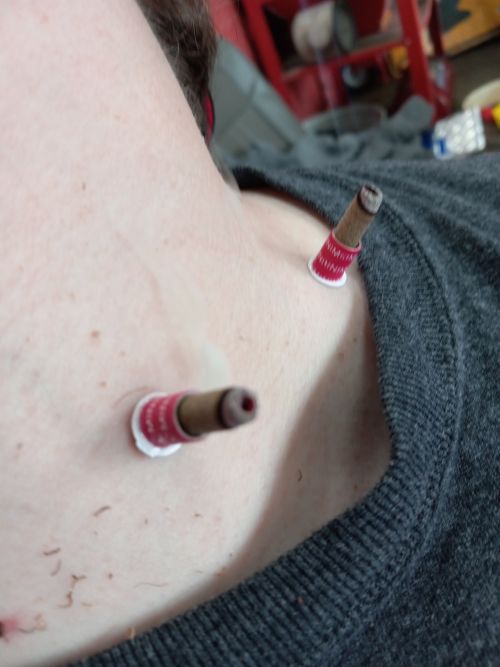 Replied by Betty
(CA)
03/09/2022

---
Nail Polish
Posted by Kelly (Erie, PA) on 07/28/2009


I used clear nail polish on my skin tags and they dried up & fell off. Put clear nail poilish on each skin tag once or twice a day till it falls off .. could take 4-10 days depending on the size of the tag, but it really works!
Replied by Ashely
(Toronto, Ontario)
10/19/2012

Replied by Trinity
(Toronto, Ontario)
11/03/2012

---
Nail Polish
Posted by Gojan (Phoenix, AZ) on 06/10/2009


Putting nail polish on a skin tag will kill it in a few days. Make sure you get it around the neck of the tag so it hardens and chokes it off. If the color of the polish bothers you, put a band aid on it or make up a good story.
Replied by Umm
(Madina, Eastern Province, Saudi Arabia)
08/25/2009

Replied by Kelly
(Erie, Pa)
09/07/2009

Replied by Tatyana
(Cordova, Tn)
06/22/2012

---