Coconut Oil
Posted by Suzanne (Norman, Ok) on 09/04/2017


Rub skin tags with tiny amount coconut oil twice a day. It works slowly but it does get rid of them.
---
Cotton String and Apple Cider Vinegar
Posted by Tanja (Los Angeles, CA) on 12/30/2020


I have had this large hanging skin tag in the front of my shoulder for at least a decade and I tried removing it several times in the past years with iodine, apple cider vinegar and even 35% hydrogen peroxide and a tooth floss tied around it. I tried all the remedies from here and I could not get it to work.
Last week I got so sick of it I tied floss around it - soaked it in iodine and apple cider vinegar alternating the two and it just got irritated and got bigger - DAAAMN. Clearly the floss was not cutting off the blood circulation to the tag (and I knew that since I had tried it before....).
BUT THEN I took REGULAR COTTON STRING (like the kind you sew clothes with) and tied that underneath the floss closest to the root of the tag and THAT was the thing that changed everything.
I tied it tight and within 12 hours the tag had started to turn black.
In order to speed up the process. I also soaked a cotton ball in apple cider vinegar and taped it on the skin tag for several hours each day and TODAY, THREE DAYS AFTER TYING THE STRING THE SKIN TAG FELL OFF.
I AM SO HAPPY IT IS GONE OMG! . So USE REGULAR COTTON STRING TO CUT OFF THE BLOOD SUPPLY AND SOAK THE TAG IN APPLE CIDER VINEGAR SEVERAL TIMES A DAY AND SAY BYE BYE TO BIG SKIN TAGS. My skin did get red from the apple cider vinegar but it will heal but you definitely can use vaseline to protect the base of the skin if you have irritated skin.
THANK YOU EARTH CLINIC FOR PROVIDING THIS COMMUNITY!!
---
Dry Ice
Posted by Stuman (Oceanside, Ca) on 12/29/2016


Dry ice is effective for removal of skin tags. When applied, I crack the larger piece of dry ice to make a pointed piece that I can hold in a towel. I touch the dry ice to the skin tag until it becomes white and frozen - about 3-5 seconds. The skin tags usually fall off within the week.
This technique has risks for freezer burn of the surrounding skin.
Under the thread skin tag theory I found sugar may be the cause. I thought this was important so I'm posting here as well.
It's Dec 29 and I just noticed some new skin tags on my neck. One in particular is large and itchy; it wasn't there last month. The association between sugar and skin tags seems to be true for my body type. During this holiday season, I've been drinking ginger beer which has a lot of sugar.
Replied by Ckeller
(Lake Placid)
09/02/2017

---
Dry Ice
Posted by Scott (East Texas, Texas) on 02/09/2009


Skin Tags -- Dry Ice! It is so simple, yet you must be careful with it. I discovered the use of Dry Ice when I was searching for the cause and cure for "little blood blisters" on my scrotum. I found someone who said that breaking dry ice into slivers and putting the end of a sliver directly on a blood blister and then counting..."one thousand one, one thousand two...all the way to one thousand five" gave the time to "fix" it. About five days later, the blood blister had dried up, and finally fell off. The skin underneath was lighter in color after the scab fell off. But, the final result was phenominal. I was embarised, not any more. Anyhow, After my success with blood blisters on my scrotum, I decided to try dry ice on my wifes skin tags under her arms. They were ugly, some were large. I put the points of dry ice directly on the skin tags and pressed down firmly for about 5 seconds. After about 8 to 10 days, they dried up and fell off. You will have slight scarring which lightens up over the course of several months, but the skin tags have not came back.
YOU MUST BE CAREFULL WITH DRY ICE. USE COTTON GLOVE WITH THE RUBBER DIPPED ON THE PALM AND FINGERS to prevent burns. YOU MUST ONLY TOUCH WHAT YOU WANT TO FREEZE OFF, AS ANY OTHER SKIN WILL BE BURNED.
You can get dry ice at your local grocer. for less than a dollar, you will have enought to "freeze" your tags and blisters, and play with the rest. I havn't tried this on moles, but it may work as well there. Try this on one or two areas not seen outside of your clothing, and see how it works out for you. God Bless!
Replied by Dennis
(Rio De Janeiro)
05/03/2011

---
Essiac Tea
Posted by Jane (Campbell, Ca) on 10/18/2010

Essiac Tea removes skin tags. I was drinking 2 ounces of brewed Essiac tea twice a day for 3 months and noticed that all the skin tags on my neck had just disappeared. I was taking Essiac tea just to boost my immune system. I had skin tags on my neck for about 5 years and was amazed that they just disappeared. Essiac tea is available on the internet in tea form, as tea bags, and in bulk (3 pound) herbs. When you buy in bulk the price is significantly less.
---
Garlic
Posted by Suzanne (Montreal, Canada) on 05/03/2013


Another home remedy for warts or skin tags is Garlic! A girlfriend of mine told me about the garlic a long time ago for warts. My daughter at that time had a really bad wort on the bottom of her foot. I tried the most popular wart removal agent fromthe pharmacy on it and they still didnt remove wart. I then tried the Garlic. Take a fresh slice of garlic preferably from the middle of the clove. Apply directly onto wart then cover the garlic slice that is on top of wart with bandaide. Making sure no area of wart or garlic is exposed. So put a second bandaide on top in opposite direction of first bandaide to make sure garlic doesnt fall off. Do this at night and leave on overnight. Wart should be gone by next day, if not repeat the following night. Guarentee it will be gone. The same can be done for skin tags! You will notice that it has shrunk in size by the next day. You most lijely need to repeat again until completely gone, depending on size of the skin tag. Hopes this helps others. This has been the most effective and cost efficient and least painful of all options.
---
Greater Celandine Tincture
Posted by Anne (Australia) on 12/26/2021


I noticed a skin tag near my private area a few months ago. Came onto earthclinic and followed some advice offered. I started with tea tree - neat on the skin, a few drops on the palm and then transferred direct and neat onto the skin tag. Did it twice a day, once in the morning and again at night. I kept at it for about two weeks and much as I would like believe otherwise, it didn't shrink. I gave up with tea tree and left it as is I then tried iodine. I have Lugol's iodine 2%, again, onto my palm and then neat onto the skin tag. Did it on and off every few days but I noticed it got bigger. It seemed to have swelled up and got bigger. I gave up with iodine. I left it as is and figured, at some point in time, I'll head off to the doctor's clinic and get them to nitrogen it. Didn't do anything else for a few more weeks but it definitely got bigger.
By chance I found a bottle of greater celandine tincture in my drawer. I knew it was warts and stuff but not sure about skin tag and keloids. It was a 15 year old bottle of tincture and I figured there was nothing effective about it but before I threw the bottle out, why not do something with it. I applied again, a few drops to the palm and transferred to the skin tag. Some days later, I checked it and it was shrivelling. The 'plumbness' that it felt was shrivelling. I applied it again. Left it for another two days. it shrivelled more. I applied it twice more, a few days apart each and yesterday, having forgotten about it over the festive season, I could barely find it. It was the size of a raisin previously and it was definitely less than 1/5th of the original. I will apply it again and I am quite confident I can rid of it.
---
Hydrogen Peroxide
Posted by Pd (Oregon, US) on 08/13/2014


I am 62 and a skin tag / mole popped up on my right shoulder out of the blue --- so I had my husband ruff it up with a emery board -- just slightly and then put a drop of hydrogen peroxide on it and within doing this for a week --- IT IS GONE ---- easy and no surgery --
---
Hydrogen Peroxide
Posted by Deb (Plymouth, Indiana) on 03/08/2009

I have a pyogenic granuloma and was told 35% peroxide would remove it and that it would also would work on removing skin tags.I cannot deal with anything being surgically removed unless i am completely under anesthesia. will this work?
My physician wants to remove it but says it is not in her realm of expertise. I am not comfortable in having her do this procedure. I want to try other things before having it removed. If she were able to do it that would be different but when she told me she would like to do it but its not in her field or expertise then i dont think she should do it.
Replied by Maria
(Silver Spring, Usa)
12/15/2010

Replied by Beentheredonethat
(Sudbury, Ontario Canada)
12/18/2011

Replied by Wisdom Ace
(Port Huron, Michigan)
12/26/2012

---
Hydrogen Peroxide
Posted by Glenn (Rohnert Park,CA) on 03/31/2007


A nevus is little black pigmented spot on the skin, sometimes called a beauty spot. Mine was flat, about 6-7 mm in diameter and near my neck and slightly elevated. It's been there for probably 20 years.
I dipped a q-tip in 35% food grade hydrogen peroxide and applied it to the nevus only for a few seconds and then mopped the excess with the dry end of the q-tip. It burned a little, especially on later applications. I applied liquid vitamin A a few minutes afterwards to decrease the burning and promote healing. I did 3-4 applications over a period of a week. It fell off completely after a week and has not returned. My wife was very impressed. I'm not recommended this approach, but simply reporting my personal experiment. I've been experimenting with Bill Munro's inhaling approach for a little over a week. It appears to be working well. My energy has just about doubled and I'm breathing much better at night.
---
Iodine
Posted by RM (Montana) on 01/09/2022


50 year old male. Got some cheap povidone and applied a couple of times a day to the skin tag with a cotton swap. Just a red spot left after a few days.
---
Iodine
Posted by Stuman (Oceanside, Ca) on 12/29/2016


Lugol's iodine 5% does remove the skin tags but for me it took over a week of daily application for them to fall off. I put a mini-drop on each skin tag and let it dry to allow the iodine to concentrate on the skin tag. Sometimes the iodine burns but not always.
I believe the skin tags to be caused by a virus because dry ice will remove skin tags. This technique has more risk due to possible freezer burn of the surrounding skin.
Under the thread skin tag theory I found sugar may be the cause. I thought this was important so I'm posting here as well.
It's Dec 29 and I just noticed some new skin tags on my neck. One in particular is large and itchy; it wasn't there last month. The association between sugar and skin tags seems to be true for my body type. During this holiday season, I've been drinking ginger beer soda and eating other foods loaded with sugar.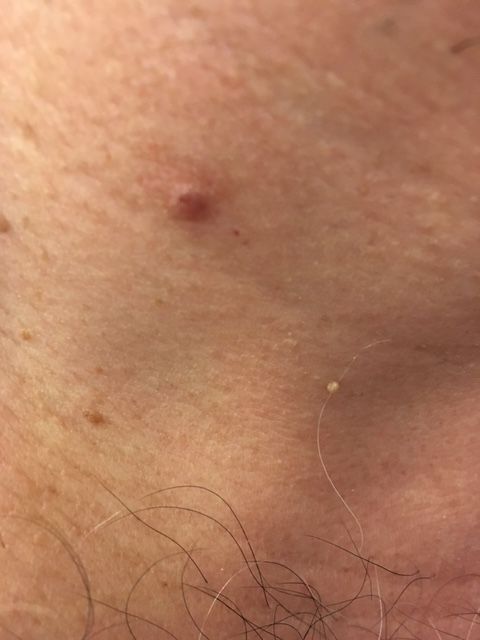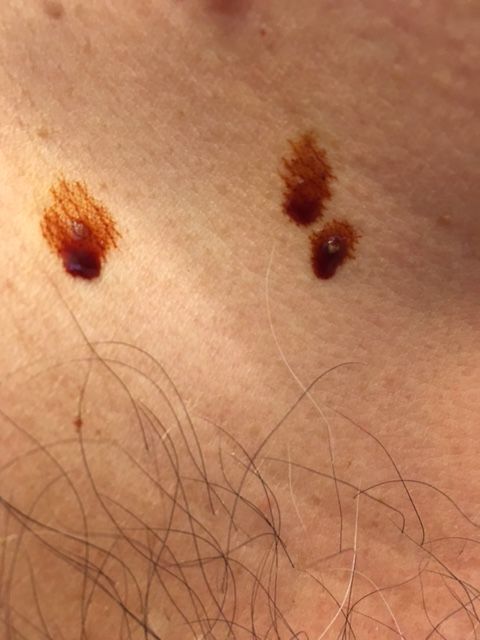 ---
iodine
Posted by Nancy (Buena Vista, Co) on 06/26/2016 1 posts

Suffering from skin tags over my life, I thought I would add what I think on the subject. They are caused by the herpes virus in your body, which is in 98 percent of the population. Always use Vaseline to protect your good skin underneath. Once I tried to remove a lump of skin that was in my mouth, pressurized there from wearing braces, detached the corner of my mouth which has been very disfiguring and impossible to fix so far. I try to plump that area with glycerin and exercise. Viruses travel in one direction in the body and you will notice that oftentimes skin tags lean also in one common direction.
I think that applying iodine to skin tags is a great way to introduce iodine into the bloodstream thereby reaching the virus which lives at the base of your spine, manifesting itself as chicken pox, mononucleosis.shingles and in two percent of the population throat cancer.
Be careful with overdosing we all have a "full tank " capacity when it comes to muradic. acid/ iodine. God bless you! 😇.
P.s. T he thyroid regulates the level of iodine to cleanse the blood and calcium to provide energy to the body through the blood so get enough calcium or your blood will leach your teeth and bones to get enough.
---
Iodine
Posted by Es (New York) on 01/03/2013


I recently noticed a small skin tag on my chest. I'd never had one before. I came right to earthclinic, read about Lugol's and ordered a bottle online for a couple of bucks. I applied it for about 3 days, about 2x a day, I just painted it on with a q-tip. It actually worked, within a few days the thing was gone. It did dry some of the surrounding skin from the breast which flaked off, so perhaps I overdid it a bit. I attempted to put some oil & or vaseline around it as someone here suggested, to prevent the staining etc from the surrounding area, but that didn't work. The skin did come off the area but it wasn't a wound, just a bit raw and sensitive, but it's healing just fine, with a bit of jojoba oil to moisturize and heal the skin. Anyway, the thing may have grown and so I'm really glad this worked, at least I know if I ever get another one (which I hopefully don't) I will know exactly what to do. Thank you for the wonderful solution earthclinic! You rock!!!
---
Iodine
Posted by Annette (Branford, Ct) on 10/19/2012

Years ago I used tincture of iodine to remove skin tags.
---