Baking Soda
Posted by Faith (Finger Lakes, NYS) on 07/01/2020


In the beginning of the Covid virus, I had watched a video on YT where a women said that during the 1918 Pandemic, her mother gave them 1/2 tsp. of baking soda in water and no one in her family got sick. So I did this for two weeks. Prior to this, I had a sore inside my nostril on and off for many years and recently it had spread. I couldn't see it, but I could feel it. I was going to see a doctor about it when Covid started. Interestingly, after the two weeks on water and baking soda, the sore was gone. Completely gone. I was so relieved, I thought for sure I was going to need to have half my nose removed for melanoma. I am sold on baking soda and water. I love Earth Clinic!
Replied by Pam
(Texas)
07/05/2020

Faith
(Finger Lakes, Nys)
07/06/2020

---
Bloodroot
Posted by Sumner (Auckland, New Zealand) on 08/26/2011


Hi, I'm healing skin cancer using bloodroot. I have great pics if anyone is interested.
best, Sumner
Replied by Stephanie Natthan
(New Haven, Florida)
11/19/2011

Replied by Ag
(Miami, Fl)
12/04/2011

Replied by C.a.
(Pd, Fl)
10/10/2012

Replied by Sienna Fontaine
(Queensland)
04/02/2016

Replied by Michael
(Concord, California)
07/02/2016

Replied by S. Simpson
(Montserrat, West Indies)
05/16/2017

Replied by Arlene
(Mississippi)
08/22/2017

Replied by Dawn P.
(America)
03/01/2018

Replied by Michele
(California)
05/09/2018

Replied by Mmsg
(Somewhere, Europe)
05/10/2018

Replied by Elaine
(Indianola, WA)
04/28/2021

---
Bloodroot
Posted by Penny (Oregon) on 12/16/2006


Our doctor used it on my husband's nose... He had been to a dermatologist, found out this spot was cancer, and instead of letting the dermatologist cut it out, he went to our naturopathic doctor The doctor put a very tiny amount of concentrated bloodroot on the spot, about the size of a pin head, no more. Then slapped a Band-Aid on it... Two days later the spot is black, it ate ALL THE CANCER away, and left a big hole... The hole eventually closed in... Be careful with this stuff it is very potent, but it does work.
Replied by Mon
(San Juan City, Metro Manila, Philippiness)
03/28/2011

Replied by Kelli
(Oregon)
06/02/2015

Replied by Russ
(Oregon, USA)
07/17/2015

---
Bloodroot
Posted by Mike (USA) on 12/05/2006


I tried Cansema #100 from The Original Cream Company. www.altcancercream.com. It healed two spots of skin cancer on my head and I also removed a funny growing mole on my left side. This has been 2 years or more ago and nothing has returned. The salve came as a kit it took about 2 minutes to make. Their website had a lot a information and a great FAQ section. I have talked with them by phone and they have always been helpful when I had a question. I believe you will find them a wonderful company to work with.
Replied by Michele
(Wolcott, Ct)
08/13/2010

Replied by Zencleanse
(Usa)
08/29/2013

---
Broccoli Sprout Juice, Vitamin C, Alkaline Diet
Posted by Susanj (Uk) on 11/17/2017


Hello
My daughter had 2 melanomas (5 years ago when she was 12 years old) and we removed them with blood root (topical salve), but it was clear when we removed them that one had gone very deep into the blood supply. I switched her to an alkaline diet, gave her large doses of Vitamin C and got her into the sunshine every day to boost her immune system. But I also gave her broccoli sprout juice everyday because I'd read that this actively reduces cancer and I didn't want the metastasized cells establishing themselves.
She ate like this for 5 months and drank what she considered to be horrible tasting broccoli sprout juice. It was a long 5 months and I didn't sleep well, but when we took her back for a scan she was cancer free. I wasn't sure that the broccoli sprout juice had been what had actually that cured her because we had also given her vitamin C until 3 years later.
I discovered that I had cancer (skin cancer, on my face) and I don't trust doctors so I decided to self-heal. I intuited that I needed broccoli sprout juice and to start with I drank about 100ml a day which is a lot then after a few weeks I intuited I needed less and so was drinking on average 50ml a day. After 2 months my lump disappeared and there is now just a teeny faint pink mark to remind me of how this wonderful juice healed me. As a result I drink this everyday and the best thing is, that the pains I had been having in one of my breasts (that I'd been ignoring for years) went away. I have no idea what was in my breast, but I can tell you it isn't now and I can tell you that I'm completely converted to the healing powers of broccoli sprout juice.
Replied by Reed
(USA)
06/03/2021

Jill
(Florida)
07/31/2021

---
Coconut Oil and Baking Soda
Posted by Mgouffray (Alexandria, Va) on 05/20/2018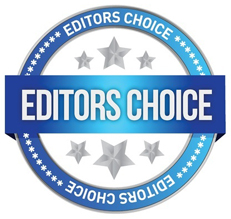 My 80 year old dad recently had 3 health issues going on. Gallbladder needed to be removed, a heart valve replacement as well as a cancerous growth all at the same time. Each doctor said the other issue had to be dealt with first so for 6 weeks his leg cancer grew until the point of doctor saying it required anesthesia and a huge area to be cut out! Because he is 80 I knew he needed a remedy that was easy to use and with something available in the kitchen.
He was becoming increasingly anxious about the painful cancer continuing to grow. After watching a youtube video, I offered a remedy to him and said I could not guarantee results but it was his decision alone. I was only "sharing a solution. The remedy is 50/50 baking SODA (sodium bicarbonate) and coconut oil, applied to area under a bandaid. I suggested changing the bandaid 2x a day. He decided to take a chance a did it diligently.
After 6 -9 days the pain completely disappeared and the sore started to shrink. After two weeks it was 85% smaller and he said he knew it was definitely healing. He didn't track the length of the treatment but I am pretty sure he put this "salve" on for about two full weeks. He said he could feel it working and the baking soda did feel like it was burning some. We decided it would be best to surround any non-cancerous skin with vaseline if he was to do it again. The baking soda somehow worked to create a highly alkaline environment where cancer could not survive and the coconut oil soothed the skin and was protective. I am posting pictures of before and after. Family members didn't really believe it could be true and said go back to the oncologist. My dad did go back in April for a followup and his doctor said 100% cured and that he was absolutely astonished.
So the picture with the purple dots is the area his doctor said would have to cut out under general anesthesia. The other photo is after the treatment.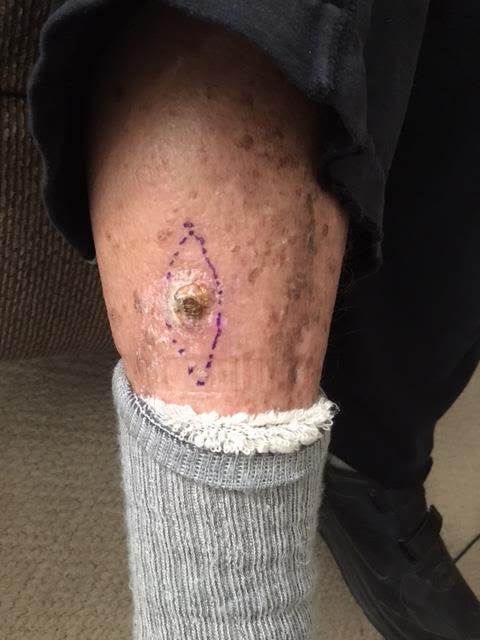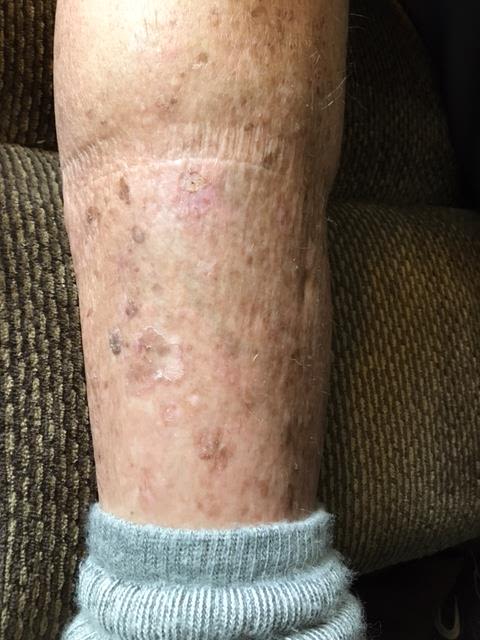 ---
Curaderm
Posted by ORH (TEN MILE, TN) on 03/06/2021


HI U OLE PATOOTS DOIN, ORH here, and a MY-BAD story.
I have had skin cancers forever and should know better. Most I find and solve with CURADERM. Have done that for years. But I do go to a Dermatologist and let him examine me about once a year. I went in November and he found two on my back and surgically removed them. He said my face was good. I felt a spot below my right eye that felt crusty along with two other minor spots nearby.
Almost two months later, I have three holes being eaten out of my face by the Curaderm. It only attacks cancer, not healthy skin. One is getting so deep that it is spooking me. I will handle this, but know that the new medicine soon come to come about and this knowledge will also solve my heart problem. That is, if we win this battle. We will all know in a few months. They do it with frequencies. Just like Royal Rife told us back in the 1930's.
====ORH====
Replied by Debby
(Fairfield)
04/21/2021

---
DMSO
Posted by Cancer Assist (Kampala, Uganda) on 11/10/2013

Looking for help with skin cancer lesions on foot.
My father has cancer on one of his feet, and gout that recurrs on his other foot. He has been on chemo for over a year. When the doctor suggested that the next step is radiation, he has chosen to continue the rest of his life without radiation. He is trying out something called Budwig protocol which is a natural remedy but so far no change after 1 week. We are concerned about the high dosage of omega 3. So I have scouted the site and have read about the use of DMSO to apply. In what form is it supposed to be? I have searched and found one type that is sold as a gel with 15gm of DMSO, 2.5gm D-Panthenol, and 0.33gm heparin sodium. Can this work? How much should we apply? By the way he is totally off sugar foods. He eats fruits as long as they do not have too much citric acid, since he says this triggers the gout by increasing the acidity levels. I have read about bomelain in fresh pineapples and I am going to suggest that he start on these.
Any assistance will be welcome. Thank you.
Replied by Bill
(Albany, Oregon)
11/26/2013

Replied by Cj
(Oregon)
09/09/2016

Replied by Mithera
(Brisbane Aust)
11/02/2016

---
Eggplant
Posted by Lorica (New Albany, Indiana) on 08/13/2011


Earlier this summer I found a little bump on my forehead, about the size of 1/2 of a good sized pea. It was slightly crusty and there was crustiness around that area. I have since seen on the net that this matches one description for a precancerous skin condition.
I tried topical Iodine & hydrogen peroxide with no success whatever.
I am not trying to get religious here but I feel I should give credit where credit is due. I prayed about what to do and felt YHWH brought me the word "eggplant" later out of the blue when I wasn't even thinking about the problem.
You can see on the net that there is an ingredient in eggplant that kills surface cancer cells - and they don't come back.
I started rubbing that bump & much of the surrounding area with a slice of the eggplant every night. I used the white side, not the dark skin. I used no vinegar, just the eggplant slices plain & simple. Within a few days the bump was shrinking. Within a month it was, and still is, totally gone.
Now I am going to get maybe a little bizarre. Since my sister has been found to have pre cancerous lesions in her colon, and since such things are very common, I have even taken to doing 2 retention enemas a week with eggplant added in after its been in the blender. I figure it can't hurt (and it hasn't, though whether it's a coincidence or not I can't say but I have become much more regular) and might help.
Replied by Donna
(Panorama City, Ca, Usa)
05/31/2012

---
Eggplant and White Vinegar
Posted by Caroljw (Thorndale) on 08/24/2016


I have been using the eggplant/apple cider vinegar for 10 days. The small mole is gone and the larger one less than 1/2 size. But I have had no pain. Am I doing something wrong? Not that I want pain, but from what I have read, you have to have it in order for it to work.
---
Eggplant and White Vinegar
Posted by Todd (Dallas, Texas ) on 07/30/2016


I had Mohs surgery 5 years ago on my neck and created a golf ball sized hole. My Dr. here in Dallas was great but after melanoma showed up on my cheek there was no way I was having Mohs again. We did the eggplant and apple cider vinegar application and just after one week....its painful....but we could not believe that the tumors were gone. Try it. It is remarkable. Cheers


EC: Hello, thank you for the photo, but it's rather dark. Can you please upload another one?
Replied by Nh
(Belgium)
04/04/2018

---
Eggplant and White Vinegar
Posted by Nida (Fresno, Ca, USA) on 10/07/2012

I tried the eggplant and apple cider vinegar concoction for skin conditions I suspected were melanomas. One of the scars I treated with the concoction was a kelloid from a surgery I had about 30 years ago to remove an infected fibrocystic cyst on my stomach about two inches from my belly button and around my waistline. The kelloid started getting itchy and an even ugly scar was developing on top of the old scar. I started the daily treatment on September 12 up to this writing, October 6, 2012. My question is this, how long should I do this and how do I know that what I treated was in fact the deadly melanoma because I read a lot of strong warnings of the deadly melanoma. Thank you for any help or clarification!
Replied by Tn
(Us)
12/17/2014

Replied by Chuck
(Fresno)
05/03/2015

---
Replied by Jacqueline
(San Diego Ca. Usa)
08/05/2013

Eggplant and White Vinegar
Posted by Anonymous (USA) on 12/22/2006


A few years back when I was working in a village for aged,part of my job was to take residents to their doctor appointments. On one of these occasions the resident had a suspected melanoma on her leg. The doctor gave us a remedy you can buy in a tube (very expensive) or make it yourself. It got rid of the melanoma in about 2 wks.
Recipe: Ingredients
medium sized eggplant
white vinegar
Method: chop up eggplant & place in a glass jar (not plastic) Pour in enough vinegar to cover eggplant, cover with a lid & place in the door of the fridge for 3 days.
Every time you go to fridge for something, give the jar a little shake. After 3 days the liquid will turn a gold brown colour, strain the liquid & keep refrigerated in the glass jar. How to use: Can be dabbed on to melanoma several times a day or can soak a cotton ball in the liquid, place on top of melanoma & cover with tape (low allergenic kind) change at least twice a day. Need to do this for at least 2 weeks to kill off the melanoma. It only attacks the bad cells. The doctor said if it was a melanoma,after a few applications it could be quite painful when it goes after the nasties. If it didn't pain, unlikely to be of a menacing nature. (it also works on warts) Do it under a doctors supervision though. It definitely works,I have seen the wart disappear & the resident I referred to had a painful healing for a few days but it cleared up after a couple of weeks.
Replied by Linda
(Amsterdam, The Netherlands)
01/16/2011

Replied by J4given
(Phoenix, Az)
06/28/2011

Replied by Raevon1
(Naples, Florida Us)
09/14/2011

Replied by Jas
(Msp, Mn)
06/25/2012

Warning

Tawanna
(New Jersey)
03/20/2021

Replied by Alan
(Amsterdam, Netherlands)
01/07/2013

Replied by Citygirl27
(Richardson, Tx, Usa)
01/08/2013

Replied by Kylie
(Whitianga, New Zealand)
01/08/2013

Replied by Louwrence
(Rustenburg, North West, South Africa)
01/09/2013

Replied by Alan
(Amsterdam, Netherlands)
01/21/2013

Replied by F.
(Boyett)
09/20/2015

Replied by James222
(Nh)
10/31/2015

Replied by Lorna
(Auckland, New Zealand)
01/26/2016

Replied by Cheryl
(Arizona)
02/09/2016

Replied by Catherine
(South Australia)
04/06/2017

Replied by Caroline
(Montreal)
04/20/2017

Replied by Lee
(Tx)
11/09/2017

Replied by Elvira
(Barrie, Ontario)
02/05/2018

Replied by Carolinablueskies55
(Nc)
07/30/2018

---
Essiac Tea
Posted by Paul (Tucson, Arizona) on 04/06/2009


Essiac Cure: I had nodular Melanoma on my finger and the doctor wanted to chop my finger off but I told them I wanted to look around first, I put them off for 2 1/2 months while I tried Essiac that I found on the internet and sure enough I still have my finger and the doctor gave me a clean bill of health after I had finished. All of this started back in sept. 2005, It is now 2009 and my finger is in great shape thank you.
PS I would recomend essiac to anyone.
Paul
Replied by Melanoma Ma
(Staten Island, Ny)
03/22/2011

Replied by Linda
(York County, Maine)
03/23/2011

Replied by Christine
(Shoreline, Wa, Usa)
04/29/2015

---
Freezing
Posted by Robyn (Melbourne) on 07/12/2013

After being homeless in a car for so long forgetting about the sun coming through the glass I now have skin cancers all around my hair line. What's wrong with getting them frozen off? 1 needs digging out.
Replied by Andy
(Monterey, Ca. Usa)
07/13/2013

---