Home Remedies for Stomach Aches & Abdominal Pain
Last Modified on Feb 08, 2016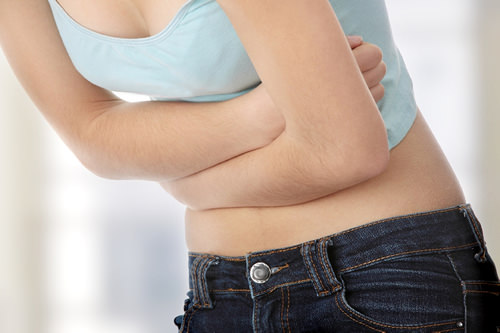 Stomach pain can typically be treated effectively using natural remedies and simple dietary changes. While everyone experiences stomach pain of some sort throughout life, pain in the abdomen varies greatly in terms of cause and severity. Stomach pain can be described as both acute and chronic and is often associated with underlying conditions. However, home remedies like apple cider vinegar, DGL Licorice and Turmeric can alleviate and soothe symptoms.
What is Stomach Pain?
Stomach pain has many causes. Typically, the location of the pain provides insight into the cause. Conditions that may contribute to stomach pain include appendicitis, Crohn's disease, diabetic ketoacidosis, diverticulitis, injury, obstruction, irritable bowel syndrome, lead poisoning and several others.
Natural Remedies for Gastrointestinal Pain
While specific treatment for stomach pain is often determined based on the cause of the issue, several natural remedies are effective for treating a variety of different conditions. Apple cider vinegar, DGL licorice and turmeric are among the most effective options for treating stomach issues naturally. Dietary changes and regular exercise are also effective for helping treat gastrointestinal pain.
Apple Cider Vinegar
Apple cider vinegar is a slightly acidic compound that can treat a variety of conditions. In regards to stomach pain, a tablespoon of apple cider vinegar followed by or diluted in a glass of water aids in the digestive process and calms the stomach. The vinegar also treats a variety of underlying causes of pain and rids the body of natural buildup and toxins.
DGL Licorice
Deglycyrrhizinated licorice is an herbal extract that can be used to treat a number of stomach conditions including problems with digestion, heartburn, stomach pains and irritable bowel syndrome. The compound increases the mucous coating in the stomach and other parts of the digestive system, protecting the internal tissues from irritation. This soothing element relieves stomach pain and prevents damage.
Turmeric
Turmeric is a warm spice that also carries a number of healing properties. Curcumin, the chemical in turmeric, helps relieve inflammation that occurs in the stomach and elsewhere. This compound also promotes effective digestion and relieves pain associated with digestive issues.
Many causes of stomach pain are not serious conditions; however, these issues can be uncomfortable and even painful. No matter the cause, natural treatments are effective for relieving pain and reinstating normal functioning of the digestive system.
Remedies for Abdominal Pain

Add New Post
The Popularity of Abdominal Pain Remedies - Full List
ACV and Salt

3 User Reviews
|

2 YEA
User Ratings

YEA (2)
100%
Posted by Andreina (Roma, Italy) on 12/27/2007
[YEA] In the morning, I mix 1Tbl ACV with a pint of water, and 1/4 teaspoon of salt. I put it in a bottle and drink it throughout the day. I repeat the procedure in the afternoon, so I drink 2 pints a day. It cures everything (my acne, sore throat, stomach ache, dry skin, sore joints...etc) I've been doing this for 3 months, and have dropped 7.5 kilograms! I <3 water! Be sure to mix it with salt and vinegar, so you don't lose vital nutrients, and sodium!
Replied by Dee
Porter, Tx
01/20/2011

Replied by Deborah
California, US
04/21/2015


---

Apple Cider Vinegar


48 User Reviews

|

25 YEA

ACV for Abdominal Pain

Home Remedy Ingredients

Organic Apple Cider Vinegar
6-8 ounces water (optional)

You can drink one tablespoon of apple cider vinegar straight to halt stomach pain due to food poisoning. For any other stomach pains you want to mix a teaspoon to two tablespoon's worth of ACV in a large glass of water. Drunk with meals, this can be a general tonic for chronic stomach pain.

User Ratings

YEA (25)
100%

Apple cider vinegar (ACV) is a more effective treatment for stomach pain than many of the old standbys, such as antacids. You've probably been told that stomach pain and related ailments are caused largely by excess acid and, in turn, need to be treated using an antacid. Actually, this is just the opposite of how an acid stomach should be treated. The stomach is naturally acidic, so pain occurs because of an imbalance or lack of acid in the stomach.

---

Apple Cider Vinegar, Blackstrap Molasses


1 User Reviews

|

1 YEA

User Ratings

YEA (1)
100%

Posted by Renee (Seattle, WA) on 07/04/2009

[YEA] My 11 year old daughter had a severe stomachache the other day that brought her to tears. She has suffered from these from time to time and I suspect it might be gall stones or constipation due to poor eating habits. Too much sugar and refined flour (lots of junk foods). It is tough trying to get her to eat better. Anyway, the pain was so bad she could hardly speak. (She's pretty talkative, so you know she was really hurting!) Anyway, I remembered that ACV worked pretty well for my mom's gall bladder attacks (that's another cure story). So I mixed about 2 tbs of ACV with 1 Tbs of Black Strap molasses for sweeter taste in a glass of about 16oz of water. These are approx measurements, I don't use measuring spoons etc, I just eyeball it. So I gave this to my daughter and had her drink it, She thought it was tasted bad and gagged a little at first, but I forced her to drink it. She complained the whole time, but this was an indication that it was working. She was able to talk well enough to complain! Within about 10 minutes, she was singing and talking again and had forgotten that her stomach was hurting. She had only drank about a quarter of the glass full. She was drinking it very slow because she thought it tasted bad. I kept reminding her that her stomach was feeling better because of the drink so she continued to finish the drink. Very fast acting!!

---

Apple Juice


1 User Reviews

|

1 YEA

User Ratings

YEA (1)
100%

Posted by Cherry B (Flint, Mi) on 09/13/2009

[YEA] Apple Juice for Stomach Ache:

One day after having dinner, my stomach began to ache. I usually keep some form of antacid in my fridge, it seems to taste better cold. Anyway when I opened the fridge, I realized we had used it all. I didn't know what to do. I was in excruciating pain, by now. I looked around, and there was some apple juice on the shelf, so I decided to drink some, thinking "doctor's tell you to give it to babies and childrem when they have colic, so I thought, what the heck, maybe it'll give me some relief. Sure nuff, I drank about a half-a-glass, and "bingo" immediately the pain went away. Just today I ate some spicey food and it caused me to have sharp stomach (gas) pains, I drank some "warm" apple juice - no more pain. I wouldn't be caught without it in my home.

---

Avoid Ibuprofen


1 User Reviews

|

1 YEA

User Ratings

YEA (1)
100%

Posted by Lorraine (Half Moon Bay, CA) on 10/06/2006

[YEA] I had a "frozen shoulder" and the physical therapy was a bit painful. I was told by the physical therapist, and previously by a chiropractor, that Advil was beneficial to help the inflammation. The chiropractor said that 2400 mg daily was okay, and I got into the habit of taking it 3 pills at a time. One day I started having lingering abdominal cramps and heartburn. I went to a doctor and he said there was a sore on my larynx that looked to be from stomach acid. he put me on Nexium and told me to stop taking Advil. He also gave me a list of foods not to eat (tomato, chocolate etc.) My symptoms got better on this program, but my stomach still seems more sensitive than it used to be.

---

Avoid Sugarless Gum


3 User Reviews

|

1 YEA

User Ratings

YEA (1)
100%

Posted by Erin (Weymouth, MA)

[YEA] I used to chew sugarless gum as a substitute to smoking cigarettes and snacking. I discovered I would get sharp pains in my stomach shortly thereafter. I wonder now if this is connected to my acid reflux.
Replied by Andrea
Parkwood Gold Coasgt, Qld. Australia
02/26/2010

Replied by Sandy
Berlin, Nj Usa
01/21/2012


---

Baking Soda


6 User Reviews

|

5 YEA

User Ratings

YEA (5)
100%

Posted by Chris (Long Island, Ny) on 02/08/2016

[YEA] My stomach hurt all day after having two cups of coffee this morning. I tried Pepto Bismol then later Apple Cider Vinegar to no effect. Later in the day, I took a spoonful of baking soda, mixed it into a cup of warm water and drank it down. Within minutes the acid pain in my stomach was gone. It was a miracle.

---

Posted by Kelly (Farmersville, California) on 06/17/2009

[YEA] Baking Soda As Stomach Ache Remedy: About two years ago, a bunch of us went out to dinner, and I ended up eating too much. My stomach began to hurt and I immediately regretted eating the way I did. Afterwards, we all went to my cousin's house to watch the fights on TV. My stomach was killing me the whole time we were there. I tried walking around a bit, but it did nothing to help the problem. My cousin knew exactly what to do about this problem and mixed some baking soda in a glass of water. He told me to drink it down quickly. I drank about half of it and my stomach immedatley rebelled. I, honest to God, thought I was going to hurl! I managed to swallow the rest of the mixture, and before long, my stomach ache was gone. When we got home, I lay down on the couch, and when I got up, I felt much better. Baking soda tastes pretty nasty, but this remedy definitely helped me get over one killer of a stomach ache.
Replied by Shirley
From New York
01/23/2016


---

Posted by Ellyn (Framingham, MA) on 07/06/2008

[YEA] I think my symptoms are/were caused by a stomach bug. I drank the recommended 1 Tbsp of baking soda with water (3/4 cup cold, tasted like very salty alka seltzer) within minutes I burped INSTENSELY several times. I will try eating an apple later tonight to help. I do feel much better.
Replied by

Joyce

Joelton, Tn

07/06/2008

530 Posts
Replied by Teresa
Up North, Indiana
07/08/2008


---

Bitters


5 User Reviews

|

3 YEA

User Ratings

YEA (3)
100%

Posted by Brett (Brooklyn, New York) on 10/02/2007

[YEA] Cure Gas Fast Angostura bitters remedy... I'm a night club dj. On several occasions I've gotten terrible stomach pain just before a gig at a bar. When I say terrible stomach pain, I mean eye watering, agonizing pain that comes in waves. Sometimes it feels like my stomach is in a knot and other times like it's being ripped apart. I've asked bartenders what I should drink. A few have suggested bitters. I'm not sure if this is the same as Angostura bitters, but it's the only thing I remember working. Generally after drinking something with bitters, my pain goes away in an hour or so. Without the bitters, I'm in pain all night and sometimes for a day or two after.
Replied by Jac
East Coast, U.S.
02/12/2012

Replied by Jen
Beijing, China
05/09/2012


---

Posted by Wayne (Port of Spain, Trinidad, West Indies) on 05/01/2007

[YEA] Hi All: I'm from the island of Trinidad in the West Indies. Since I was a child, one of the standard remedies for alimentary disturbances - belly aches, gas etc. - has been a few dashes of Angostura bitters (AB) in a little cool water. AB is made only in Trinidad but is famous worldwide as a beverage taste enhancer. However, it was originally developed by a famous German doctor to treat his wartime patients for alimentary disturbances. Locally it is still used for same especially by "olden" folk. You can look it up yourself on the net.
Replied by Jerry
Miramar, Fl.
07/20/2011


---

Black Tea


2 User Reviews

|

1 YEA

User Ratings

YEA (1)
100%

Posted by Mabel (Kampala, Uganda) on 03/05/2009

[YEA] Hi, first and foremost i would like to thank EC, am so greatful for this website, it's such a blessing! Black tea has always been my remedy for stomachach and menstrual cramps. One just needs to boil a cup of water, add tea bag and take it hot (not very hot though) with no sugar (sour but helps) or add 1 tsp of honey if you cannot stand the taste. This will solve your stomach problems!
Replied by Lim
Singapore
05/26/2012


---

Cardamom


1 User Reviews

|

1 YEA

User Ratings

YEA (1)
100%

Posted by Matt (Charlottesville, VA) on 02/26/2009

[YEA] For stomache ache, reflux, or overfullness, chew or swallow the sticky black seeds of green cardamom pods (breack the fiberous shell by popping between the teeth). Cardamom is a popular spice in Indian and Southeast Asian cooking, and you can find then at Wholefoods in the bulk spice area. I prefer chewing the seeds -- they have a menthol-type flavor -- others who find the taste strong can swallow the seeds like a pill. Without doubt, this is the best stomach ache remedy I have ever found. Seriously, try it -- within minutes you will forget you even had an upset stomache!

---

Cayenne


3 User Reviews

|

2 YEA

User Ratings

YEA (2)
100%

Posted by Lisa (Southeast, USA) on 01/02/2008

[YEA] 2 years ago I finally got healed of an ulcer for which I'd been taking medication for several years. So when I recently began having that telltale burning, gnawing pain in my stomach, I knew exactly what was happening.

I also knew the whole routine...doctor's appointment, upper GI, ultrasound etc etc., just to have them tell me what I already knew. PLUS, they'd prescribe medications which my insurance will no longer cover because there are now non-prescription strengths of them available over-the-counter. Needless to say, I was willing to try an alternative method to save myself the time and expense. If you've ever had an ulcer, you usually don't have to have someone tell you what one feels like.

Anyway, I read somewhere about cayenne's healing effects. A week ago, I was up and down through the night with that burning, and all the antacids I could chew were simply giving me no relief. So Thursday morning I got up, got brave, and mixed a full measuring teaspoon of cayenne pepper into a teacup of very warm water and drank it down on an empty stomach.

It wasn't nearly as bad as I expected! And while I was warm all over and my stomach burned a little more when the fluid first hit that spot, the pain quickly diminished. Within minutes, I felt better than I had the day before, and as the day wore on, I continued to feel even better.

Anyway, I've repeated this every day now for the past week, and by day 3 the burning pain in my stomach was COMPLETELY AND TOTALLY GONE, even first thing in the morning. I'm continuing the regimen for therapeutic and preventive purposes, just to see if it cures my allergies and other problems. I'll probably reduce the daily dosage now that the stomach problem has subsided, but I'm a believer! And I'm a lifelong advocate of that little red pepper...this is news worth sharing!

Thank God for natural remedies.
Replied by Arlene
Jekyll Island, Ga
03/05/2010

Replied by Mark
Las Vegas, Nv
06/20/2010


---

Chamomile Tea


1 User Reviews

|

1 YEA

User Ratings

YEA (1)
100%

Posted by Kathie (Houston, United States) on 05/25/2011

[YEA] For tummy cramps (or the runs) Chamomile tea works wonders- it stops the spasms in your tummy that cause so much pain. Double bag it for extreem measures... If you know what I mean. Roman Chamomile essential oil also works well (just rub it on your tummy). - Do not use the Roman Chamomile for too long or it will stop your bowels. Please note that if you have the runs, your body is telling you that you need to get rid of whatever is inside of you, so do no clog it up too much.

I have also found (from personal experience- with in 30 minutes) that homeopathic ARSENICUM ALBUM works very well for food poisoning (vomiting and the runs), also make sure to take some probiotics to get the good bacteria back.

take care of yourself, KT

---

NEXT