Home Remedies for Stomach Aches & Abdominal Pain
Last Modified on Jun 22, 2014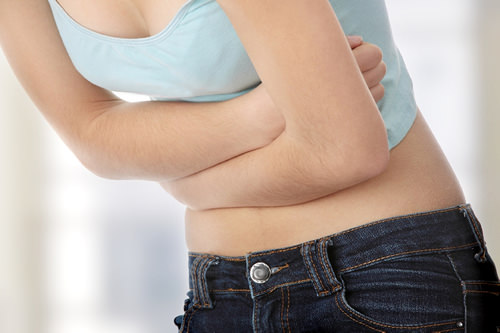 Stomach pain can typically be treated effectively using natural remedies and simple dietary changes. While everyone experiences stomach pain of some sort throughout life, pain in the abdomen varies greatly in terms of cause and severity. Stomach pain can be described as both acute and chronic and is often associated with underlying conditions. However, home remedies like apple cider vinegar, DGL Licorice and Turmeric can alleviate and soothe symptoms.
What is Stomach Pain?
Stomach pain has many causes. Typically, the location of the pain provides insight into the cause. Conditions that may contribute to stomach pain include appendicitis, Crohn's disease, diabetic ketoacidosis, diverticulitis, injury, obstruction, irritable bowel syndrome, lead poisoning and several others.
Natural Remedies for Gastrointestinal Pain
While specific treatment for stomach pain is often determined based on the cause of the issue, several natural remedies are effective for treating a variety of different conditions. Apple cider vinegar, DGL licorice and turmeric are among the most effective options for treating stomach issues naturally. Dietary changes and regular exercise are also effective for helping treat gastrointestinal pain.
Apple Cider Vinegar
Apple cider vinegar is a slightly acidic compound that can treat a variety of conditions. In regards to stomach pain, a tablespoon of apple cider vinegar followed by or diluted in a glass of water aids in the digestive process and calms the stomach. The vinegar also treats a variety of underlying causes of pain and rids the body of natural buildup and toxins.
DGL Licorice
Deglycyrrhizinated licorice is an herbal extract that can be used to treat a number of stomach conditions including problems with digestion, heartburn, stomach pains and irritable bowel syndrome. The compound increases the mucous coating in the stomach and other parts of the digestive system, protecting the internal tissues from irritation. This soothing element relieves stomach pain and prevents damage.
Turmeric
Turmeric is a warm spice that also carries a number of healing properties. Curcumin, the chemical in turmeric, helps relieve inflammation that occurs in the stomach and elsewhere. This compound also promotes effective digestion and relieves pain associated with digestive issues.
Many causes of stomach pain are not serious conditions; however, these issues can be uncomfortable and even painful. No matter the cause, natural treatments are effective for relieving pain and reinstating normal functioning of the digestive system.


Most Popular Remedies:
ACV and Salt
[YEA] 12/27/2007: Andreina from Roma, Italy: "In the morning, I mix 1Tbl ACV with a pint of water, and 1/4 teaspoon of salt. I put it in a bottle and drink it throughout the day. I repeat the procedure in the afternoon, so I drink 2 pints a day. It cures everything (my acne, sore throat, stomach ache, dry skin, sore joints...etc) I've been doing this for 3 months, and have dropped 7.5 kilograms! I <3 water! Be sure to mix it with salt and vinegar, so you don't lose vital nutrients, and sodium!"
Replies
01/20/2011: Dee from Porter, Tx replies: "I have tried ACV & water alone, with orange juice, with tea, with honey, with stevia, with agave, with lemon, and various combinations of each. I couldn't stick with it because I just didn't like the flavor. I tried it this morning with salt and it is so much more tolerable. Thanks for your post. Hopefully I can stick with it now."
ACV for Abdominal Pain
Home Remedy Ingredients
Organic Apple Cider Vinegar
6-8 ounces water (optional)
You can drink one tablespoon of apple cider vinegar straight to halt stomach pain due to food poisoning. For any other stomach pains you want to mix a teaspoon to two tablespoon's worth of ACV in a large glass of water. Drunk with meals, this can be a general tonic for chronic stomach pain.
[YEA] 01/02/2014: Mkontol from Ormond Beach, Fl: "I had the absolute worse stomach ache of my entire 57 years. Even my lower back started to ache. I don't use any commercial remedies and was reluctant to take the ACV with such pain. 30 minutes ago I gave in and took 2 tbs of regular old ACV. The pain is now completely gone. Why I waited so long I don't know, but whatever, it worked. Off to get a good nites sleep now."
[YEA] 10/22/2012: Kingskid from Dallas, Tx: "Had not been sick to my stomach in many years. Contacted a health food store I use frequently for vitamins, explaining I did not know how to stop the problem. He said put 1 teaspoon of ACV in a small (4 oz) glass of water then drink it slower. It worked within 20 minutes - such a relief. If stomach continues being upset, drink 1/2 of the liquid before eating a meal and 1/2 afterwards. When pressure built up in my chest cavity causing much pain, I used the ACV/water solution and it stopped the pressure. Rather than continue using the ACV/water indefinitely, with meals I took 1 capsule of Echinacea 400 mg to break the virus or whatever it was. It worked. But I will remember the ACV/water and use when needed."
[YEA] 08/13/2012: Mrsg from Jupiter, Fl, Usa : "On two occasions when I woke up with a really bad stomach ache (making loud churning noises) and felt nauseous. I took two tablespoons of organic ACV followed by water. Within 10-15 minutes it felt like the stomach acids were getting neutralized. The pain, noise, and nauseous feelings were gone. Works a lot better than the pink stuff."
[YEA] 02/24/2012: Annec from Hendersonville, Tn.: "My stomach was hurting bad, so I went to the hospital emergency room they ran test after test and found nothing. They sent me home hurting. I walked the floor through the night, because it hurt to even lay down. I decided to google. I found this site about ACV. I put two tablespoon of ACV in 16oz bottle of water sipped for 1/2 hr. Pain stopped and l was able to sleep through the night. Thank-you"
[YEA] 09/21/2011: Debbie from Melbourne, Australia : "I woke up last night with stomachache. I took 2 tsp of ACV in water with lemon juice and it subsided within 1/2 hour. On waking this morning it had come back and was painful so took a bigger dose of ACV with a few drops of lemon juice and water and it is subsiding again. I did try to put up with for ages but it was it was too painful so the ACV is definitely helping."
[YEA] 06/12/2010: Tracee from Buffalo, New York: "So I was just lying in bed with a stomach ache that was really bad. I don't get them often but when I do they hurt bad! I decided to look on-line for any quick fix and also in part because I couldn't sleep when I came upon this site. After reading a bit I decided I would try apple cider vinager to see if it actually worked, plus I was desperate. I put one tablespoon with an 16oz bottle of water and began to sip it. I was surprised because it actually started to work! I feel better now and am happy because now I can go to sleep lol! Just had to post my results for everyone. Next time I have stomach pain I'll grab the ACV first! Thanks and good night!"
[YEA] 11/21/2008: Nayd from Istanbul, Turkey: "FIRST I HAD SOME DOUBTS OF ACV BUT AFTER I TRIED IT CURED MY STOMACH PROBLEMS SO QUICKLY . IT IS AMAZING BLIEVE ME AFTER YOU START USING ACV YOUR ILLNESS WILL BE GONE THANKS GOD I FOUND THIS WEB SITE MADE ME MET TO ACV TRUTH..."
[YEA] 04/24/2008: Debra from Turner, Oregon: "I have been having HORRIBLE stomach pain and nausea for months and months since my doc put me on Methadone to get me through until I can get a knee replacement. I have tried EVERYTHING in vain prescription acid pump inhibitors Aloe Vera gel (inner filet) yogurt calcium licorish caps mint All of these helped a little .. but not completely. I was still suffering a lot. Today, after finding this site, I decided to try the ACV. Wow! My stomach feels a lot better and it has only been an hour since I drank about a TBL of it in a half cup of water with a tsp of honey. WOW! Thank you to those who posted before me. Debra"
[YEA] 12/26/2007: Jenna M from Apple Valley, Minnesota: "I have had stomach problems since I was a baby. I got rotovirus when I was three and threw up almost 99 times almost dying. I now have everyday stomach nausea, acid reflux, gas, and just an upset stomach. I came across this site and read many reviews about stomach conditions and how ACV helped. I decided to try it and it actually did help. THank you so much!"
[YEA] 11/24/2007: Sandy from sticks, Nevada: "ACV is the first thing we reach for when our tummies feel out of sorts. A tablespoon of ACV in a tall glass of water has helped us many times and usually very quickly. We try to take it the minute we get that feeling of sickness. Just sip it and take it easy until you start to feel better. I have had it work almost immediately -- sometimes it takes up to an hour. I wish I had known about ACV years ago, as I am prone to food poisoning."
Replies
12/13/2012: Taylor from Sevierville, Tn replies: "I'm having a horrible time with my stomach. I woke up last night feeling very unsettled and then almost immediately I started vomiting and having diarrhea. I can't keep anything down. Not even the smallest annount of water and now I'm dry heaving very badly. I am a firm believer in Apple Cider Vinegar but I'm worried to take it because I just fear I'll throw it up. I need help!"
12/18/2012: Sp from Wb, New Jersey, Usa replies: "Hi Taylor, sounds like a stomach virus or food poisoning. I think there's a virus going around right now. I hope you've found relief by now. If you are still having troubles try activated charcoal. And make sure you drink a lot of water with it or it can be constipating. I buy it in capsule form. One time when Pepto wasn't doing enough for me I tried activated charcoal and found relief. It's very safe."
12/30/2012: Erin from Naperville, Il replies: "My daughter had that happen to her and she too was afraid to drink the ACV for fear she would throw it up. Then I remembered that drinking is not the only way to get fluid into your system. I made ice cubes out of ACV and water and let her suck on them and I put her in a bath where I'd poured in about a quarter cup of ACV. She started feeling better that night."
[YEA] 09/21/2007: Pati from NC, NC USA: "ACV is such a miracle cure for almost everything wrong with you. If you ever have an upset stomach, or eat some bad food...just drink some ACV..It gets rid of food poisoning..!! Its amazing how good this stuff is.. Whoever said an apple a day keeps the doctor away...was talking about apple cider vinegar..LOL God Bless. !! Drink your vinegar...and feel good !!"
[YEA] 08/12/2007: Karla from Okinawa, Japan: "I followed some advice on your website to use Apple Cider Vinegar for my indigestion. I had severe indigestion for hours, and was unable to find any relief via prescription medication or over the counter drugs. I took one tablespoon of Apple Cider Vinegar, and within 5 mins the indigestion began to ease up, and with in 15 mins I felt MUCH better. The bloating began to ease up as well. I was so happy to be free from the discomfort and horrible task of belching every few minutes for hours on end. Thanks so much! I sincerely recommend ACV to anyone experiencing indigestion accompanied with a lot of belching."
[YEA] 07/31/2007: Sherri from Lafayette, NJ: "Hi! My daughter has had stomach pains/problems all her life. After CT scans, lots of x-rays, lots of meds (one with a possible side effect being death!, etc.) and no answers, I decided to try to find something natural to help her. I had given her acv before and didn't notice a difference and had given her baking soda without a difference but, after finding this site and putting them together, she has instant relief every time she takes it. I know she has acid reflux sometimes and this stops it right away. She still feels sick at some point every day (usually at night) and this makes her feel better. I can't say that it's been a complete cure for her since she still feels a little bad every day but, it has been such a wonderful blessing to be able to give her this to relieve her pain instead of having to tell her to try to fall asleep so she won't feel bad anymore!! As I type this I realize that even though she is a little sick every day, it's not anywhere near as bad as it was!! Oh, she is 9 now and we've been doing this for about 3 months. Thank you for posting this info. I mention this link to people with health questions often!"
Replies
11/18/2008: Amy from Marietta, Georgia replies: "My daughter has frequent stomach aches. Can you tell me how much baking soda and ACV you use per day and how you mix it?
Thank you!"
11/19/2008: Marci from Star City, Indiana replies: "Have you tried probiotics for your daughter's stomach pains?"
11/25/2008: Sherri from Lafayette, NJ replies: "To Amy from Marietta -- I was giving her 1/4 t. baking soda, 1 T acv and about 4 oz. water and usually just gave once a day before bed. Now I'm reading that the baking soda isn't really recommended so, will probably try just the acv and water. (she's never had any problems that I know of from the baking soda so I'll still use it if the acv alone doesn't help.)

I'm a big fan of probiotics but, have never seen any visible results. We still use them occasionally and drink kefir fairly often because I'm sure it's doing something good even if we don't notice it.

I hope you find something to help your daughter feel better."
11/29/2008: Sherri from Lafayette, NJ replies: "I have to correct that! I used 1/8 t. baking soda, 1 T acv and about 4 oz. of water. Sorry!"
03/02/2009: Cher from Trenton, MI replies: "Apple cider Vinegar in it organic form (meaning: not distilled) is the best for many ailments! I wouldn't be in the house without it. Also, baking soda mixed with water helps to restore the PH levels in your body, back to normal. I believe both are good for you."
04/08/2009: Bethany from Ann Arbor, MI replies: "ACV may help relieve stomach symptoms. It sounds great. But if your daughter gets a stomach ache every day, I recommond looking up the symptoms of gluten intolerance. She may need to go gluten free."
04/10/2009: Catlin from Austin, TX replies: "I'll be your daughter loves pizza. Well, wheat and milk could be your daughter's problem. I agree with the other responder, check for wheat intolerance. Also check MILK intolerance. Usually these two go hand in hand. I had stomach aches all my life since I was in the 7th grade. I thought everyone had them; I was wrong. I did my research when an adult and learned that I have a wheat and milk intolerance/allergy. I am actually allergic to their proteins. I would look at eliminating all wheat (all grains) and milk from your daughters's diet and stick with fruit, veggies, potatoes, rice, meat. (I couldn't even tolerate oatmeal which I loved but always got stomach aches afterward.) After a few weeks, introduce one item at a time and see if she gets stomach aches. (It took me a year before I could introduce grains and milk safely and I get them again as soon as I go crazy on these foods that are bad for me.) I hope this helps."
11/26/2011: Niyana from Barrie, Ontario, Canada replies: "Try to eliminate all the food containing YEAST. Helped me a lot, after years of nausea. Check labels. You will be surprised to find how many foods contain it. Good luck!"
01/27/2012: Lili from Las Cruces, Nm replies: "I agree that if your daughter has constant pains it could be an allergy. My daughter is 4 yrs old for the past year or more she had pain almost every day. She was tested for gluten and other things. Results were she was gluten intolerant and has a mild allergy to egg whites. Her pain has gone away since I took away eggs and food containing gluten. Hope this helps."
02/28/2012: Jessie from New York City, New York replies: "Regarding gluten allergies or those of you with chronic stomach issues. PLEASE READ! Very important!

Ask your doctor for a Celiac's panel as the official term for gluten allergy is Celiac's disease. It's a blood test but you have to have been eating a gluten FULL diet for the test to be accurate. And if you have Celiac's you have to COMPLETELY cut out all gluten for good!

My husband's grandfather has stomach cancer from not avoiding gluten despite his allergy. He didn't find out he had a gluten allergy til after he was diagnosed with cancer. After researching, I found numerous studies on this. Most prominently, an 11 year study that followed 1, 982 patients from 20 G. I centers in Germany diagnosed with Celiacs Disease. Those who did not follow a gluten free diet had a 200 times greater chance of gastrointestinal cancers and lymphoma than those who followed a gluten free diet. The chances increased with age.

In europe, 1 in 300 are diagnosed with a gluten allergy (aka Celiacs Disease) and in Italy, all children are required to be screened for it automatically as toddlers. In the U.S. only 1 in 3000 are diagnosed SIMPLY because we don't screen for it or recognize it as a possible cause for chronic stomach issues. And since it's hereditary and you don't always present symptoms, if a family member tests positive, have ALL family members tested. My husband's 76 year old Grandfather (with stomach cancer)had 2 siblings who died from stomach cancer. They figured it was the cancer that was hereditary. No. It was the gluten allergy that was. I also know that one of my Dr's medical assistants (was in her 60's) recently died 3 months after being diagnosed with lymphoma. During her autopsy they discovered she had a gluten allergy she never knew about. It's clinically proven that Lymphoma is one of the cancers caused by eating gluten when you're allergic to it. Put your health in good hands... Your own. Get tested!"
12/23/2013: Delaney from Olympia, Wa replies: "Thanks for this post! I've had a lot of stomach noises lately, among other ailments including headaches. It appears ACV is good just about everything, so I mixed 1/2 TBSP in 6oz of water and just took a few sips. The stomach noises stopped right away, but I kept clearing my throat all night, got horrible heartburn and woke up with my stomach burning like crazy. I'm going to see my doctor today, so I'll ask him to do a celiac panel. My Mom died of lymphoma - B cell, when she was 84. She didn't have stomach issues until a few months before passing. She started getting sick in Oct and passed 3 mo later. Any ideas to help the stomach burning?

I personally say nay on ACV, due to my reaction, but I'm a redhead and hypersensitive to everything! A doctor once told me I'm just one big recessive gene:-)"
[YEA] 06/25/2007: Dan from New York, New York: "I got a really bad cold a few days ago, and I could hardly stand not being able to breathe through my nose. Not only that, but the coughing, especially on the second and third days, was unbelievable. Finally my dad told me that he couldn't listen to my cough any more, but I didn't want to take any drugs/medicine. I found this site on Google and, of course, the first thing I saw was to drink Apple Cider Vinegar. I finally found some in the back of a cabinet and put some in a glass with honey. In less than ten minutes my cough had subsided to barely a tickle every five minutes and my nose cleared up so fast I could actually feel it loosening up. Not only that, but ACV also reduced the weird ringing in my ears and helped my upset stomach. I'm not saying that my cold is completely gone, but I'm easily 99% better than I have been in the last month. ACV is definitely the only thing for any kind of illness."