1 User Review
Posted by Susan (Bangkok) on 11/30/2020

Hi!
I contacted Vidhyasom and this is the Borax they have. As I don't read Thai, can you please let me know if this is what I need and safe to take internally? And is ALL Borax safe to take? I've found another place that has it but states not to be taken internally. Thanks and much appreciated.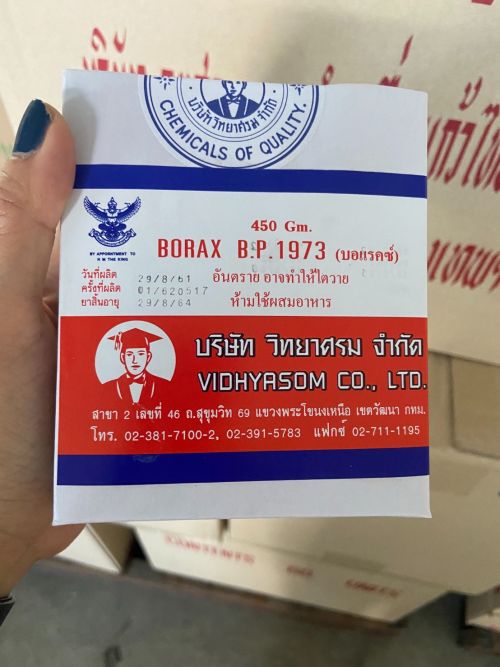 ---
Thailand
Posted by Art (Singapore) on 02/16/2016

You can buy 20 Mule Team Borax at Ace Hardware in Thailand, Malaysia, and Indonesia. But not in Singapore.
Replied by Natie
(Bali)
11/23/2017

Replied by Kavya
(Singapore)
03/31/2018

---
Thailand
Posted by Ted (Bangkok, Thailand) on 12/30/2010 383 posts

Borax is sold by Vittayasom at a pharmaceutical grade (B.P.) borax and is located near Rajadamnern Road near Kaosarn road where most foreigners reside. Most drug stores in Thailand knows Vittayasom also but I am doubtful they will order for you.
Ted
Happy New Year 2010
---
Thailand
Posted by Stuart (Ban Amphur, Chonburi, Thailand) on 10/26/2009

Hi Ted, been out looking for Borax in Ban Amphur & Pattaya - no pharmacies or hardware have it that i can find. Where do you find it in Thailand?
Regards,
Stuart.
Replied by
Ted
(Bangkok, Thailand)
11/01/2009
383 posts
Replied by Kallot
(Phuket, Thailand)
01/06/2011

Replied by Ed
(Pattaya)
07/14/2017

Replied by Coop
(Jomtien)
07/06/2021

---