Colloidal Silver Brand Comparisons
Posted by Marty (Wisconsin) on 09/10/2017

I just pulled out this old bottle of R-Garden brand of Colloidal Silver in my cupboard and after watching your video, was curious to see if it was ionic silver or colloidal silver. I bought it at least 4-5 years ago and forgot about it. When I poured it onto a spoon it looked clear so I put it into this glass jar and then out in the sun with white paper underneath. Turned out it wasn't clear but pale yellow, but definitely not a baby shampoo color. It also tastes metallic, it's not tasteless like you said it should be.
The label says it contains 8.8 ppm of 99.999% pure colloidal silver. The dosage on the bottle says 1 teaspoon daily. From posts I have been reading it sounds like 1 teaspoon is far too little to do any good? Also, if it tastes metallic, what does that mean? Is it a bad batch of CS? Thank you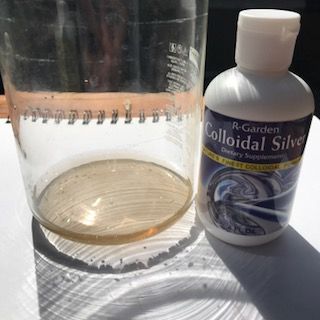 Replied by
Art
(California)
09/10/2017
1676 posts
Replied by Alika
(Alberta (Ca))
10/07/2017

---
Convert Ionic Silver to Colloidal
Posted by Tim (Brisbane, Qld Australia) on 02/05/2018

Hi, I recently bought some colloidal silver online. supposed to be 20ppm, but it is clear, which makes me think it's Ionic silver. How can I convert this to Colloidal as it's supposed to have a gold tint? I received 500ml. Is there a ratio in the process I can use for any amount?
Thank you for this site, great info here.
Tim
Replied by
Art
(California)
02/08/2018
1676 posts
Replied by Tim
(Brisbane, Australia)
02/08/2018

Replied by Bill
(Pa)
02/09/2018

Replied by Star
(New York)
04/29/2021

Art
(California)
04/29/2021
1676 posts
Replied by astrid
(Abu Dhabi)
09/20/2022

Art
(California)
09/20/2022
1676 posts
---
Ionic Silver
Posted by Jane (Australia ) on 02/19/2023

After watching Earth Clinic's video on the difference between colloidal and ionic silver. I have realized that my partner has most likely been spraying ionic silver up his nasal passages, not colloidal silver. Is he in any danger?
Replied by
Art
(California)
02/20/2023
1676 posts
Replied by Rob
(Kentucky)
02/21/2023

---
Ionic Silver
Posted by Martin S. (Placerville, Ca. 95667) on 10/19/2021


Friend, I have also been using ionic silver and producing it myself since 1999, I used to have the same problems you were having and since I started using it I have had amazing health, I am 74 and I would put colloidal silver against any man made drug out there, I know it works for everything including pain from burns, I have never had an infection from cuts or anything else. Ionic silver is as safe as drinking water.
---