VRM2  
Posted by Chrisk (Port Republic, Md) on 05/20/2017


In Jan 2017 my 20 pound beagles snap test was positive for heart worms. The year before it was negative. I saw the info here and called Systemic Formulas about the VRM 2. They suggested I give her 1 tablet once a day for 10 days. I did three rounds of 10 on 5 off. When I had her retested with a snap test in May 2017 it was now neg for heart worms!! Thank you for the info here.
Replied by Raye
Houston, Texas
07/24/2017

Replied by Theresa
Mpls., Mn
07/25/2017

---
Posted by Jennifer (North Carolina) on 10/22/2016

I just started (Lexxi a 1.5 year old rescue who tested positive for heartworms) the VMR2 on Lexxi. She weighs 54 lbs. I was told 1 in the morning an 1 in the evening. I put the pills in peanut butter and she loves it. I'm also using CQ-10,2 a day, and Renagen DTX, 2 a day. No exercise, she's kept in a crate at all times, except to go to bathroom. I'll keep updating as we go through this journey.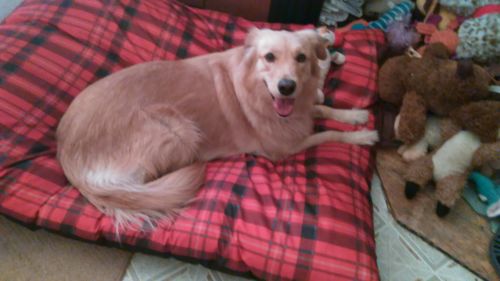 ---
Posted by Mymadame ( Lafayette, Louisiana ) on 11/28/2015


I have administered the VRM2 treatment three or four times now in the last year; so many days on followed by so many days off. (10/5 program, and 14 days straight program) My Catahoula Pits weigh 60 to 65 pounds. I used six pills per day.
At the annual check up this summer, the male dog infection was about the same; the female is worse.
Do you have reports from people that say this doesn't work for their dogs?
Replied by Bempierre
Ca
05/23/2016

Replied by
Irina
Ca
07/24/2016
11 posts
---
Posted by Faye (Tennessee) on 09/06/2015


I have used the VRM2 for my small dog and it has worked to get rid of the heart worms.
Has anyone had any success with eliminating the fluid buildup around the tummy area? I have used Lasix without success. Any suggestions would be appreciated. Thank you.
Replied by Shannon
Fl.
11/02/2015

Replied by Lorie
Oregon
11/16/2015

Replied by Megs888
Tennessee
11/28/2015

---
Posted by Ginny (Memphis, Tn) on 07/02/2015


Hello,
I've been giving my dog HeartGuard as heartworm prevention ever since she was a pup. Her last vet visit indicated a heartworm positive test. She isn't in the advanced stages, but I already knew giving her the "traditional" treatment was not going to be an option for me. She's on a predominantly raw food diet and is eating fine. She's almost 10 years old too.
After reading this website, I felt intuitively I should start with the VRM2 that so many talked about here. So I ordered 2 bottles from the chiropractor and started her 3 days ago. I'm also giving her a clove of garlic in her food every day.
This morning I took her out and noticed she was acting a little strange - sitting in the middle of the yard, not running around as usual. When I looked closer, I noticed she had what I thought was just some leftover grass/poop hanging on her butt (sorry - I know kind of gross! ), and she totally freaks out when something is hanging there so I grabbed a leaf to take care of it. What I noticed were these long strings hanging there. At first I thought it was just long pieces of grass but after researching a bit further I now realize these are heartworms coming out of her. After only 3 days on the VRM2!!! I was amazed. Now she's not completely comfortable so I think more are going to be coming out, but I honestly believe giving her that VRM2 is working. When this happens again I'm going to put it in a baggie to show my vet just to be sure. I'm convinced that what's happening though so I wanted to share here.
I'm going to make a spray of tea tree or melaleuca oil and water to use on her anus area for relief too. I'll continue the VRM2 treatment for 11 more days as suggested here and I'll have her tested again after.
Dosage I'm giving her is 1 capsule in food (taking contents out of capsule and putting directly in food). She's 65 lbs.
Replied by Theresa
Mpls., Mn
07/03/2015

Replied by Ginny
Memphis, Tn
07/07/2015

Replied by Julie
New Orleans, La
07/18/2015

Replied by Jill
Hixson, Tn
07/31/2015

Replied by Theresa
Mpls., Mn
07/31/2015

Replied by Ginny
Southaven, Ms
08/20/2015

Replied by Trill
Atlanta, Ga
12/20/2015

Replied by Brenda
Cali Former San Antonio
01/18/2016

Joyce
California
02/16/2016

Joyce
California
03/01/2016

Replied by Brenda Turner
Ca Previous San Antonio
01/18/2016

Replied by Maureen
Il
02/06/2016

Replied by Juanie
Florida
05/04/2016

Replied by Irina
Port Costa, Ca
07/12/2016

Replied by
Irina
Ca
07/13/2016
11 posts
Replied by Maryellen
Boston Ma
08/02/2016

Replied by Theresa
Mpls., Mn
08/02/2016

Replied by
Irina
Ca
08/02/2016
11 posts
Replied by Theresa
Mpls., Mn
08/03/2016

Replied by Joan
Texas
09/16/2016

Replied by
Irina
Ca
09/17/2016
11 posts
Replied by Lisbeth
Pensacola, Fl
10/14/2016

Replied by
Irina
Ca
10/14/2016
11 posts
Replied by
Irina
Ca
12/29/2016
11 posts

Replied by
Irina
Port Costa, Ca
07/14/2017
11 posts
---
Posted by June (Pa.) on 03/20/2014


I gave my cocker spaniel her first dose of vrm2-sm, 1/2 capsule, in less then half an hour she started coughing and panting worse then ever, is this a normal reaction maybe that it`s working? Thank you for any feed back.
Replied by Theresa
Mpls., Mn
03/21/2014

Replied by June
Pa.
03/21/2014

Replied by Deb
Greensboro, Nc
07/30/2014

Replied by Theresa
Mpls., Mn
07/30/2014

Replied by Courtney
Dyersburg, Tn
03/10/2015

Replied by Bonnie
Bandera , Texas
03/13/2015

Replied by Theresa
Mpls., Mn
03/13/2015

Replied by Gbear
Martinez, Ca
03/15/2015

Replied by Bonnie
Bamdera, Tx
03/16/2015

Replied by Kelley Hudson
Texas
04/07/2015

Replied by Blake
Texas
04/30/2015

Replied by Theresa
Mpls., Mn
05/02/2015

Replied by Jaquie
Houton, Tx
06/01/2015

Replied by Theresa
Mpls., Mn
06/02/2015

Replied by Mars
Texas
07/22/2015

Replied by Gina
Tx
01/05/2016

---