Incline Bed Therapy for Acid Reflux, GERD & Circulation
Last Modified on Sep 03, 2015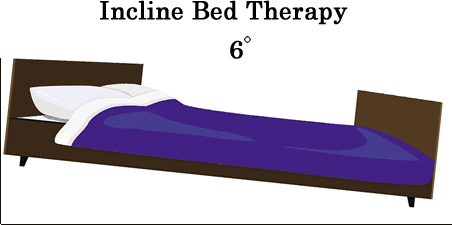 Inclined Bed Therapy is the simple practice of raising the head of your bed by four to eight inches in order to improve circulation throughout the body while allowing you to sleep comfortably. You most likely would have come across this idea in the form of a commercial wedge pillow for acid reflux, but this natural treatment can offer the user a number of health benefits.
In particular, those who suffer from GERD or acid reflux often benefit from Incline Bed Therapy because it helps to keep acidic gastric juices from rising up the esophagus. It is also said to offer better circulatory system health than lying entirely prone, as the body somewhat relies on gravity to power the arterial and venous systems of the bloodstream. A wedge pillow is one solution, but various means of elevating your bed (the whole thing) are also described below.
Natural Cures: Incline Bed Therapy may be good for digestive issues such as GERD, sleep apnea and snorers, edema in the legs, skeletal and spine disorders or injuries, back pain, and respiratory conditions.
Remedies for Incline Bed Therapy

Add New Post