Incline Bed Therapy for Acid Reflux, GERD & Circulation
Last Modified on Jun 08, 2015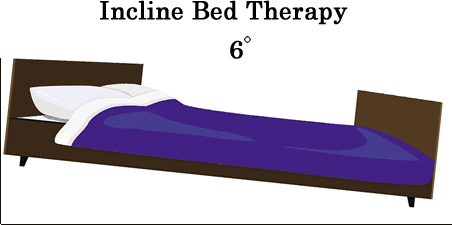 Inclined Bed Therapy is the simple practice of raising the head of your bed by four to eight inches in order to improve circulation throughout the body while allowing you to sleep comfortably. You most likely would have come across this idea in the form of a commercial wedge pillow for acid reflux, but this natural treatment can offer the user a number of health benefits.
In particular, those who suffer from GERD or acid reflux often benefit from Incline Bed Therapy because it helps to keep acidic gastric juices from rising up the esophagus. It is also said to offer better circulatory system health than lying entirely prone, as the body somewhat relies on gravity to power the arterial and venous systems of the bloodstream. A wedge pillow is one solution, but various means of elevating your bed (the whole thing) are also described below.
Natural Cures: Incline Bed Therapy may be good for digestive issues such as GERD, sleep apnea and snorers, edema in the legs, skeletal and spine disorders or injuries, back pain, and respiratory conditions.
Acid Reflux
3

0

User Ratings

YEA (3)
75%
BETTER BUT NOT CURED (1)
25%
Posted by Anthony (Mysore, India) on 12/15/2014
[YEA] In response to Saba from who wrote:
Question: About INCLINE BED THERAPY isn't it the same thing as what sleeping on pillows does? Will I have the same effect if I sleep on a firm pillow that is 6inches higher rather than having to raise my bed? Thank you if anyone has any answer
Saba, using a firm pillow will only bend your neck and raise your head. The rest of the body remains prone/flat. Inclining your entire bed by raising it at the head makes the entire body inclined. The feet are lower than the heart, the stomach is lower than the throat, etc. This is what gives you all the benefits being discussed here. I have been sleeping on an inclined bed since 6 months now, and my heart burn / acid reflux is gone! I was prescribed this by a gasteroenterologist as against acidity regulating tabs/syrups.
Posted by Todd (San Jose, CA) on 02/12/2008
[YEA] I have acid reflux only at night. I wake up with a sore throat in the morning. I put bricks under my bed making the head of the bed higher than the foot. (Actually I used one brick and one piece of plywood cut the shape of the brick. However the floor sloped from the foot of the bed down to the head. Thus the net effect was one brick. It was the sloped floor that gave me this idea.) My acid reflux went away. I no longer woke up with a sore throat. This worked for over five years. Then I slept without the bricks for a week. My acid reflux came back. I replaced the bricks. However, my acid reflux had grown worse. I now need two bricks, instead of one.
This might work only for mild cases. I tried it right away as soon as I got acid reflux.
Sleeping position might matter as to whether this cure works. I sleep on my back. I did not adopt sleeping on my back because of the acid reflux. I had slept that way most of my life.
Does anyone know whether some sleeping positions are better than others for acid reflux, i.e. back, left side, or right side? Which way does the connection between the stomach and the esophagus point? Is it the same for all people, or does it vary?
Replied by Laurie
Springfield, Va.
05/14/2008