Natural Hair Conditioners
May 02, 2016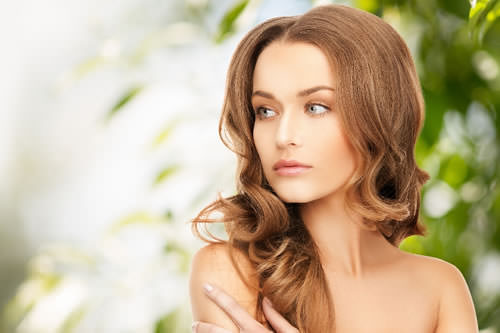 Hair Care without Chemicals
Our hair is important to us; a part of our persomal ensemble and a form of self-expression. Commercial products may contain chemicals that can be absorbed into our bodies or even damage our hair for short-term effects. The good news is there are many great alternatives to putting those products into your hair.
Natural Hair Conditioner Options
Below you will find dozens of ways to treat and restore your hair naturally. Among our more popular home remedy options for natural hair treatment are apple cider vinegar and coconut oil, and we even have heard about positive results using egg yolks, borax, and honey!
Other Pages of Interest:
Natural Shampoos
Natural Hair Coloring Recipes
Remedies for Hair, Natural Conditioners
Apple Cider Vinegar
Posted by Tasha (East Coast, Usa) on 08/27/2010

Apple Cider Vinegar is WONDERFUL for hair especially frizzy/curly hair. I mix 1/3 ACV or White Vinegar and 2/3 water in a bowl. First thing I do is dump this over my head. I let it sit while I wash up, rinse at the end and follow with a tad of conditioner. I have fine curly hair and its usually a hit or miss as far as how my hair day goes. I havent had a bad hair days since I started doing this. Hair is smooth, shiny, FULL and just plain gorgeous.
Replied by

Tricia

Ireland

08/28/2010

87 Posts
Replied by Francisca
Michelbach-le-bas, Alsace, France
08/28/2010

Replied by

Tricia

Ireland

09/02/2010

87 Posts
Replied by Francisca
Michelbach-le-bas, Alsace, France
09/03/2010

Replied by Tasha
East Coast, Usa
09/10/2010

Replied by Ctbrowneyes

Ct

01/29/2015

---
Replied by Rosy
Orlando, Fl
12/20/2008

Replied by Laurie
Sudbury, Ontario
12/24/2008

Replied by Pauline

Sebring, Florida

08/23/2009

---

---

Posted by Lana (Hamilton, OH) on 09/16/2006

I started using to rinse my hair after washing and cream rinse. I have long hair from my crown about 31 inches. I use 1 cup of apple cider vinegar ever time I wash my hair, which is 3 times a week. The smell only stays for about 30 min, but my hair is so much healthier and has also grown. If I miss the vinegar rinse my hair feels flat and unclean. It also helps with the split ends. White vinegar is not to be used on your hair as it will strip the naturel oils

---

---

Posted by Barbara (Phoenix, Arizona)

I have been using vinegar once a week for years and years as a hair rinse. It gives my hair the perfect pH balance. As a result, at the ripe old age of 63, I have very thick, healthy, shiny hair. When I tell people about it, they think I am crazy, but it works!! I remember when I was very young, my mom would wash my hair in rain water and then rinse it with vinegar.

I use approximately 1/2 to 3/4 cup vinegar diluted with about 1/2 cup water. I shampoo and rinse first then pour on the vinegar - let it sit about a minute and then rinse out the vinegar and then shampoo again and rinse very well so there is no odor of vinegar. This was even recommended to me by a beautician once, and I hadn't even told her that I was already doing it!! The vinegar also removes all the old shampoo, conditioner, hair spray, etc. build-up in the hair.

---

---

---

Posted by Dora (Ottawa, Ontario)

The apple cider vinegar worked very well. The only things to be watchful for: is not getting it in your eyes (becomes irritated for a couple of seconds) and being mindful in the shower where it becomes slippery on the floor. The best way I believe to use the ACV is over a sink to wash your hair, not the shower.

---

Posted by Sue (Kingston Area,Ontario)

After being guided to use apple cider vinegar to rid Candida.. I decided to cleanse my scalp of any yeast buildup. Wow...my hair is so curly,shinny and very healthy. I will use every second week as a cleanser. Try diluting 1/2 cup of ACV with 1/2 cup warm water-pour onto scalp, then shampoo & conditioner. I have even tried it on a cotton ball to exfolliate my skin--results were "glowing skin". Buy the "unpasturized"apple cider vinegar-it is live and therefore ACTIVE.Try it - IT does work.
Replied by Ed2010
Oakville, Canada
07/20/2012


---

---

---

Apple Cider Vinegar and Baking Soda




Posted by Ed (Wenatchee WA, USA) on 06/04/2007

I have been using a mixture of ACV, Baking Soda, and Water for a conditioner for about a week and a half. I use about 1/4 tablespoon of BS and ACV till the bubbling stops. then I add just enough water to complete filling a small cup About 3 inches high, 1/2 full. I apply just enough of this to soak my hair ( I do this in the shower ) and rub it in with my fingertips for about 1 minute, then I rinse it out. I have had mildly itchy scalp and hair that does not obey. Now I have no more tangles, my hair does what I want, and the itchy scalp is better. It's not gone yet, but is getting less itchy. Using this small amount of ACV does not leave any smell to my hair either. Thank you so much for this site. Ed

---

---

Apple Cider Vinegar, Baking Soda, Coconut Oil




Posted by Nita (Valdosta, GA) on 10/15/2008

I have recently become Earthclinic's biggest fan, trying a couple of suggestions that were in others' testimonials. Last night I soaked my hair in undiluted ACV to wet it. Then I used baking soda to srub my scalp clean, next I put a warm egg on my hair(focusing on the ends). I worked the mixture in and let it sit for about 10 minutes. My hair was instantly smoother when I put the BS on but I decided to add the egg anyway. When I rinsed it out my hair was very easy to comb through and it still was silky to the touch. I followed it up by putting coconut oil on my hair while it was still wet and wrapping it. I tied it up and went to sleep. When I combed the wrap down this morning I found the softest, shiniest, hair I have ever had. I am African American with chemically altered hair so this remedy is like finding a pot of gold! I am so amazed by the results of the cheapest most common things. I will never have to waste my time and money on useless hair products again. I'm 23 now so I'm sure this will save me a lot of money over the years. I feel so blessed to have found this site and I hope these remedies touch many more lives.
Replied by N.B.N
Charlotte, NC
01/04/2009

Replied by Laurie
Sudbury, Ontario
01/12/2009

Replied by Kay
Destin
05/17/2014

Replied by Robert Henry
Ten Mile , Tn.
05/18/2014


---

Argan Oil




Posted by Francine Case-Shore (Playa Del Rey, CA) on 04/26/2009

I have been using an oil from Morroco that is made from argan, indigenous to Morroco. It is amazing, there are a few products out there with this oil. I cannot tell you how my damaged hair has repaired itself, this oil will not make your hair oily and speeds up the drying time.

---

NEXT