Bad Breath in Pets: Natural Remedies
Apr 12, 2016
What greater joy exists than a pet that is so happy to see you that they bowl you over licking you to death?  Unfortunately the experience becomes somewhat less joyous when the pet is stricken with a horrible case of halitosis or bad breath, as it is more commonly known.  A dog or cat with bad breath can cause any pet owner to turn the other way in an attempt to avoid those loving licks.  And even though we all love to wake up to a nice, slobbery, facial wash, sometimes that breath is just too much to take first thing in the morning.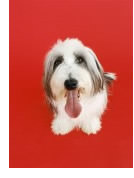 There may be a specific reason for the bad breath, and again there may not be.  Particular issues like periodontal disease can often cause halitosis.  Look for symptoms such as swollen or tender gums, plaque build up and yellow or brownish stains on the teeth.  Though we can give you some tips on how to manage your pet's bad breath, issues such as the ones mentioned should not be ignored.
To suppress that stinky breath try giving your pet Garlic and Fenugreek Tablets that you can pick up at an herbal or health food store.  The tablets contain 16mg of powdered fenugreek and .22 mg of essential garlic oil.  A daily maintenance plan of approximately 1 tablet per 10 kg animal (to a maximum of 4 tablets daily for giant breeds) should help to combat the problem.
A bean-like plant, fenugreek comes from its native India and Southern Europe and is made up essentially of the small seeds from within the pod of the plant. 
Remedies for Bad Breath
Baking Soda
Posted by Piper (Toronto) on 01/29/2013

For cat bad breath. I took my 14 year old cat in to vet - he was doing poorly. Losing weight, poor appetite, really bad breath. Did blood tests - but none of the usual ailments present. The vet told me that with bad teeth - they have bacteria in their mouth that is picked up by the blood and carried around their body.
As nothing conclusive came up in bloodwork, I decided to work on his teeth. I started to brush his teeth daily with a small amount of baking soda. I put a little bit on a child's toothbrush and just brush gently but firmly.
He doesn't particularily like it. He also doesn't rush to get the taste out of his mouth either. I think the time that the baking soda is in his mouth it is killing bacteria.
After doing this for a couple of days, his appetite returned. He seemed to have more energy and his fur seems nicer. His breath isn't terrible.
I should note I might have tried something added to his water, but he will only drink out of the tap.
---
Diet
Posted by Esprit64 (North Yarmouth, Maine) on 02/21/2011
I have owned dogs and cats for years and the way I keep them well (having fresh breath, non-smelly stools and clean teeth--indicators of good health) is to feed them a no-grain diet, both wet and dry, supplemented by raw meats, occasional fresh fruits/veggies. I am not a nutritionist, so I always purchase a good quality manufactured pet food as the basic food source (not any of the popular brands found in supermarkets, even those touted as healthy or natural or "top of the line" --rather, purchase from select pet stores--likely not any of the box pet stores--which stock foods having only healthy ingredients.

My pets "brush" their teeth by eating raw, not cooked, beef/chicken/rabbit/etc., meats on the bone. Chewing raw--not cooked--bones is nature's natural toothbrush.

As a result of good eating and food habits, your pet's breath should be fresh, they should pass no gas, and their stools will not be horrendous smelling.
Replied by Erin

Seattle, Wa

05/14/2011
Replied by Rilo B.
Crescent City, Ca
05/29/2011

Replied by Dreamystr1
San Diego, Ca
02/22/2012

Replied by Mel
Australia
09/22/2014


---

Posted by R.... (Anaheim, California, USA) on 12/27/2008

Warning
WARNING!

Warning to those who would take the advise of using garlic for their cats' bad breath. I surfed the net for toxic plants and food for cats. At least three websites posted the same thing: garlic, onion, chocolate, raisins, among other very common food ingredient... were said to be poisonous to cats - they may not be for dogs, but accordingly, garlic for instance kills red blood cells in cats if I remember right... and since cats are different in that they have very slow metabolism, the bad effects would not quickly manifest. ...good for humans but never for cats!!!

---
Replied by Diane
Saratoga Springs, N.Y.
02/27/2009

Replied by Diamond
Merrimac, Ma.
02/18/2011


---

Posted by Alan on 07/06/2006

We use: Grapefruit seed Extract. H20, carmal extract, xylotol for sweetness -- found in sugar free gums. A solution of 20 drops Grapefruit Seed Extract with 10oz. H20 and carmel extract for taste has cured incoming dogs to the pet rescue of bad breath and tarter build up. This took about 2 days of having it sprayed into the mouth for bad breath and a week to notice loss of tarter. Daily maintenace of 4 drops in water also showed a reduction in weight in our heavier dogs. Give chew toys or carrots to dogs during this time to assist with the cleaning process. GSE is an excellent anti bacterial element and has many uses for people and pets. Great for raising the pets PH level as well.
Replied by Claire

Spring, Texas

02/21/2009
Replied by Tamara

Baton Rouge

02/15/2007
Replied by Candice

Victorville, CA
Replied by Nancy

Springfield, VA

03/23/2009

---

Hydrogen Peroxide




Posted by Dorothy (Valley Glen, California) on 03/24/2008

Our eight-year-old Jack Russell Terrier had very bad breath and ugly black-stain teeth for most of her life. We tried everything, chopping parsley and adding it to her food, brushing her teeth with pet toothpaste, Greenies which gave her hemorrhoids, tried getting the Vet to clean her teeth but he never did, and everything we tried, failed. That is until I tried a drop of hydrogen peroxide. Now I've gradually worked up to adding an eye-dropper full (5-8 drops) to her water bowls daily, and her breath and teeth have improved much to our amazement. Her black teeth are now pure white, her breath is fresh and she seems to have a lot of new energy. Now I'm ready to give it a try myself for my arthritis.
Replied by Maureen
Charlotte, NC
07/05/2008

Replied by Mary
Tampa, Florida
09/04/2008

Replied by Minou
Ottawa, Canada
09/14/2008

Replied by Emily
Santa Rosa, CA
12/10/2008

Replied by Gabrielle
Brighton, Ontario, Canada
05/09/2010

Replied by Takidomama29
Minnetrista, Mn
08/30/2010

Replied by Catnat
Greenville, Texas
01/22/2011

Replied by Maryannw

Brick, Nj / Usa

04/12/2011
Replied by Haley
Mckinney, Tx
12/08/2011

Replied by Joe

Dallas, TX

12/01/2014
Replied by Jessica
Ont
04/11/2016


---

Toothpaste for Kids




Posted by Crystal (Beaverton, Oregon) on 11/23/2008

Hello all I have had many dog's. I even had a litter if 6 puppies. The best thing that I found is brushing my dog's teeth with childrens toothpaste with my kids old tooth brushes. The dog's love the taste and I love the smell!!! Must brush once a week if not more. The vet say's they have perfect condition teeth too. Bad breath is just a tad of kids tooth paste away you really don't need very much.

---

EC: WARNING! Some of the ingredients in kids' toothpastes may be toxic for dogs (i.e., xylitol ), so one would need to research the brand very carefully before using!
Replied by Yvonne

Castlegar, B.c. Canada

06/20/2011

---