Photos of Mange Dogs Cured with Ted's Remedies
Last Modified on May 23, 2014
Photographic Proof of Effective Treatment for Sarcoptic Mange
Earth Clinic is fortunate to offer you the single most popular and effective home remedy for mange in dogs, a borax and hydrogen peroxide cleansing wash that swiftly and safely kills the mites causing sarcoptic mange and other forms of this parasitic health threat. Incredibly positive feedback from dog owners like you fill our mange pages. To back up those claims, we have also posted a number of dog pictures below of pets before and after treatment with our resident naturopath's canine mange remedy. Check them out for yourself!
Click to read Ted's popular remedy formula for mange!
Once you've seen the pictures and been convinced of the effectiveness of this natural pet care remedy, try it out for yourself and come back to Earth Clinic to tell us all about your experience!


Photos
06/29/2011: Jeff from Houston, Tx: "I have some before and after pics if you want them. They don't show the whole dog because I wanted to focus on the infection, not the dog. Very remarkable improvement. E-mail me if you want them."
Replies
07/05/2011: Jess from Brooklyn, Ny replies: "Hi Jeff, I would love to hear about your experience using this solution and to see your before/after pictures. Can you email me at jessicafox78 (at) gmail (dot) com?"
07/07/2011: Jack from Toledo, ohio Usa, Lucas County replies: ""LOSS OF ANIMALS HAIR;" FIRST TAKE A GALLON JUG, PUT 1/3 CUP OF 20 MULE TEAM BORAX, 2 OZ'S HYDROGEN PEROXIDE AND 1/3 CUP OF APPLE CIDER VINIGAR IN

THE JUG AND FILL WITH DISTILLED WATER. GIVE THE CRITTER A GOOD BATH AND DRY IT OFF, THEN POUR THE SOLUTION IN THE JUG ALL OVER IT "BUT DO NOT DRY IT OFF. "! LET IT DRY ITSELF!! REPEAT THE PROCESS UNTIL HAIR REAPEARS ONCE OR TWICE A WEEK, , GOD BLESS....JACK

PS I HAD A NEIGHBOR WITH A HATEFUL LITTLE BLACK SCOTTY WITH NO HAIR FROM THE BACK OF HER RIB CAGE TO THE TIP OF HER TAIL AND A MONTH OR SO LATER HER HAIR WAS ALL COMING BACK IN!"
06/05/2013: Samantha from Milwaukee, Wisconsin, Usa replies: "I had a question about this mix with the apple cider vinegar. The peroxide in this, does it have to be diluted down to 1% like the other remedy? The one I have here at home is a 3% one, so should I put more water in the jug than what is listed here? My dog has a pretty severe case of something going on and I figured I would give this solution a try. I will post pics if it works! Before and after pics of course =) Thanks for the help!!"
[YEA] 02/21/2008: Caren from Wilmington, Delaware: "Here are our before and after pictures of Rocky. Thanks for letting us share them! I hope these pictures help others to decide to try this treatment of borax/perox. Unbelievable! that a vet would not recommend this to us! These before pictures are of his head where he was most infected. The back of his ears, legs, between his toes and spotty patches on his back and tummy where also infected and looked pretty much the same. After approx 5 weeks of treatment every spot is completely cured Just look at him now! Thank you so much for your website and helping us to make our little guy healthy and happy again! Sincerely Caren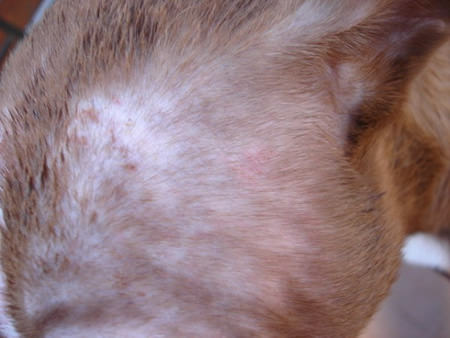 ROCKY WITH MANGE BEFORE TREATMENT (HEAD)

ROCKY WITH MANGE -- BEFORE TREATMENT (HEAD 2)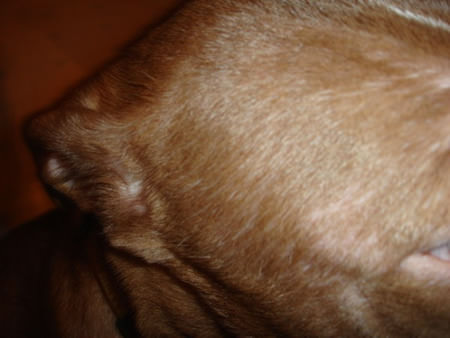 ROCKY AFTER TED'S MANGE TREATMENT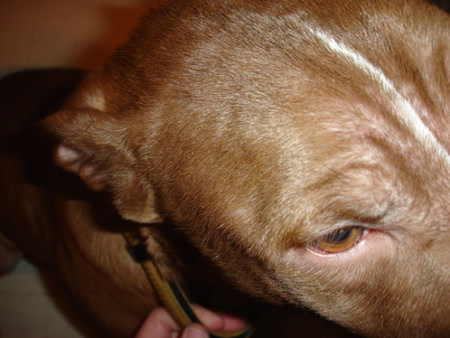 ROCKY AFTER TED'S MANGE TREATMENT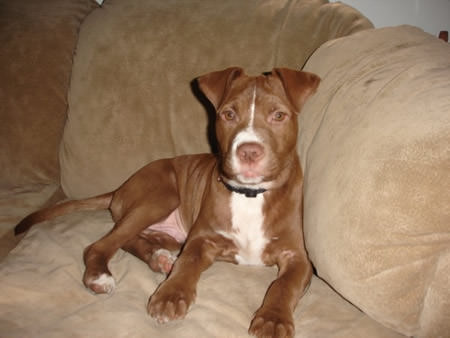 A VERY HAPPY DOGGY! "
Replies
03/10/2013: Martie from Reynoldsburg, Ohio, Usa replies: "Hi, I was wondering how you went about saturating the dog's head without harming the eyes. My dogs head is not infected, only his back, but I will have to treat it too to keep it from traveling."
03/11/2014: Irsuzy from Pleasant Gap, Pa replies: "How did you apply the solution? I have a large dog who hates baths, I'm wondering if I put it in a spray bottle and saturate the area if it will work. Or possibly saturate the whole dog?"
03/11/2014: Theresa from Mpls., Mn replies: "Hey Irsuzy!

If you are treating for mange I strongly urge you to treat the entire dog rather than spot treat particular areas as treating the entire dog will bring you the faster and better results.

Ingredients:

Borax laundry booster - the plain stuff with NO scent.
1 -16 oz brown bottle of 3% hydrogen peroxide

I get both of these from the grocery store.

Process:

Empty hydrogen peroxide into larger bottle - I use an empty 1 gallon vinegar jug. Add to this 32 oz filtered or distilled water - I just refill the hydrogen peroxide bottle twice - and dump into the jug. What this does is change your 3% hydrogen peroxide into 1% hydrogen peroxide.

Next add 1 cup of the borax crystals and shake. There should be some un-dissolved crystals in the mixed solution - this is just right. I try to use hot water from the kettle on the stove, that or sit the jug of mixture in the sink full of hot water while I bathe the dog.

NEXT:

Bathe the dog - use whatever shampoo and rinse well. Squeeze out excess water and make sure the tub is drained. I then plug up the tub. Now pour the mixed up solution over the dog. I use a small sponge to soak up the solution from the bottom of the tub and squeeze it out onto the dog again and again, making sure I get the head and underneath. Keep squeezing solution over and over onto the dog for about 15 minutes - 30 minutes is better. Then pull the stopper from the tub and let the excess drain. DO NOT DRY THE DOG OR RINSE THE DOG. The solution has to remain wet as it is still working. Allow the dog to air dry. I just pop mine into their crates and I remove any absorbent bedding.

If you are worried about poisoning your dog keep in mind that borax has the same toxicity as table salt. The solution doesn't seem to hurt the eyes or sting any sores on the skin. Some dogs feel instant relief!

When treating for mange I will do this dip 2-3 times the first week. I would treat the entire dog with the mange remedy and only after treating the entire dog for 2-3 baths in the first week would I then shift to bathing or dipping the dog once per week for a total of 8 weeks."
03/13/2014: Benb from Denver, Co replies: "Thank for you instructions! How long did it take for you to see results? We have done a two treatments over 2 days (once a day). He is still itching like crazy. Redness has gone down in some areas, but flared up in new areas. Have you had similar results? Thanks c"
03/14/2014: Theresa from Mpls., Mn replies: "Hey Benb!

The redness flaring up and the condition looking like it's getting worse is a normal response. It appears to get worse because the treatment is causing a massive mite die off and the bodies of the mites that are deep in the hair folicles are decomposing and giving off toxins which causes the flare up. So a good sign, actually, as you know the treatment is working.

You should see improvement in one week. If this were my dog, I would treat the entire dog and not just what appear to be the affected areas. I would treat every other day for the first week - so three baths in the first week. Then continue with once or twice per week, depending on the results you see. Treat for a total of 8 weeks - this covers the life cycle of the mite and with a little wiggle room for any late bloomers.

Keep an eye on any abraided skin to make sure a secondary infection doesn't develop; the borax treatment should help in preventing a topical infection, but if your dog is really itchy and scratching his skin open, an over the counter tripple antibiotic ointment would not be amiss."
[YEA] 12/14/2006: LaDonna from Longwood, FL: "The first two photos were the first day of the treatment, you can see how red his skin was from the mites. The last photo is the NEXT day. Of course, I am still doing the treatment weekly because the mites have yet to leave the top portion of his head and shoulders, but the back end is healing great.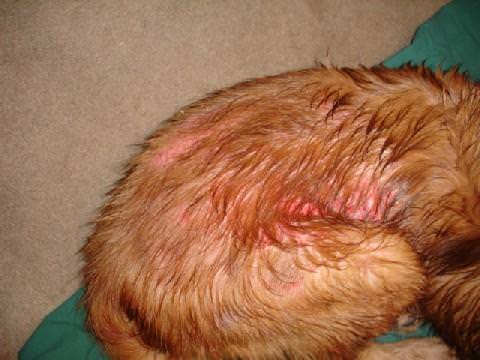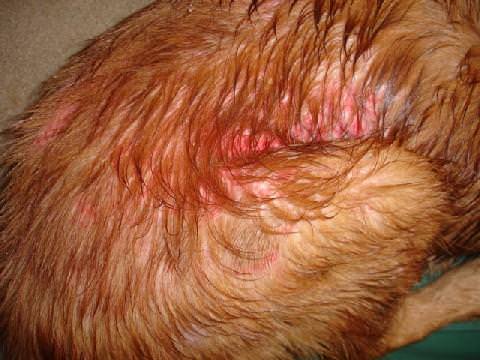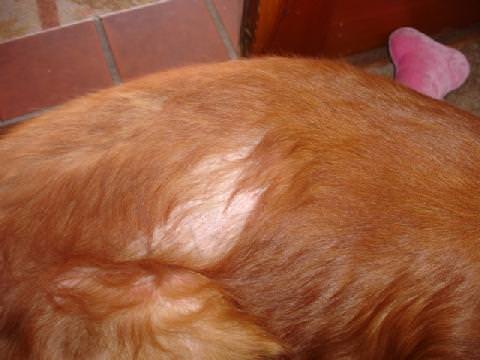 After using Ted's remedy, Riley's skin has healed "
Replies
10/21/2011: Alleyoop from Griffin, Ga replies: "My mother's dog, Toby, who is a shihtzuh mix, has always had very sparce tan long hair which made him look kinda funky (you saw more skin than small patches of wiry looking hair). He started scratching himself until he was raw and bleeding and so I looked up skin disorders in dogs and discovered he had a type of mange. I found your recipe for the dip, gave Toby a shampoo with Dawn dish detergent (it's really inexpensive - I paid $1 for a small bottle) to kill all the fleas (read that somewhere too - and it works!! ), then I dipped him in your solution (mixed a small bottle of 3% hydrogen peroxide and filled the bottle up twice with water, which I added to the peroxide, then added 3 tablespoons of borax (Twenty Multeam Borax that you use in laundry) and mixed it well until the borax dissolved. Not only did he stop scratching, his fur grew out to this beautiful, long, multi-color champagne color that completely covered his body - he was beautiful!! People who visited after his hair grew out would look at him and say "Is this the same dog that used to be here??!!" They couldn't believe the change in him. Not only did it get rid of the mange, but apparently he must have had some sort of skin parasite that it killed also to allow his fur to grow out like it did. He is now a very happy camper. I only wished I had taken "before" and "after" pictures so you could be amazed in the change too!"
Need a home remedy for your dog's mange? Click right here for the #1 home remedy for mange in dogs!