Colds
Posted by Robert (Torrance, CA) on 01/23/2013

★★★★★
Another remedy I use to this day (not for kids, though) is a hot black tea mixed with squeezed lemon, honey and one shot of Rum. It helps with colds by getting the sweating started.
Replied by Mmsg
(Somewhere, Europe)
01/24/2013

---
Coughs
Posted by Anna (Lidecko, Czech Republic) on 02/13/2013

This, is a remedy they used in my village in Czech Republic. It is a warm drink for a dry irritating cough... Where you need to create mucus to expel. My mother makes it with warm milk, honey and some melted butter (maybe 1 teaspoon). Not very healthy, but it tastes good when you are feeling sick and makes a lot of mucus!!
Replied by Cathy
(Texas)
03/03/2015

Replied by Robert Henry
(Ten Mile, Tn.)
03/03/2015

I. Brooks
(Columbia, SC)
12/22/2020

Replied by Rebel
(Somewhere, Usa)
03/03/2015

---
Sauerkraut
Posted by Robert (Torrance, CA) on 01/23/2013

★★★★★
I remember when I was a kid and was having a cold and fever my mom always gave me homemade raw uncooked sauerkraut and also a glass of sauerkraut juice (the sour water squeezed from the sauerkraut). It's supposed to be loaded with vitamin C and other good stuff to strengthen your immune system especially during winter months and it was also great fever reducer. I don't know about the vitamins, that's just what my mom always told me but I know it worked pretty well. I loved the taste of it so many times I was just snacking on it or drinking the juice because it was also a great craving quencher.
Oh, I also remember it was great for hangovers when I was older.
The side effect of sauerkraut is it gives you gas.
Sauerkraut is big in Czech Republic so most of the families used to have a big jar of their own homemade sauerkraut at home. We always had our own in our cellar. I don't think people still do it there because I assume it's easier to buy it now.
---
Sore Throat
Posted by Robert (Torrance, CA) on 01/23/2013

★★★★★
For a sore throat I always eat raw onions. A lot of onions. If I catch it early enough usually it takes care of the sore throat completely. I just make myself a simple sandwich topped with a ton of raw onions. My favorite is bread with liver paste and onions but you can use anything you like instead of the liver paste, like tuna etc. Basically the bread and the paste are there to help with the taste of the onion but still I like it when it actually burns inside my mouth and throat and it brings tears to my eyes. Then it feels like it's doing something. I usually eat at least 4 of the sandwiches a day.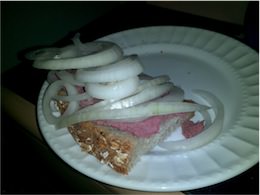 I've been using this remedy for years. I actually found it in a book I had long time ago that was loaded with old Czech home remedies. I wish I knew where the book is now because it was a real treasure. It's probably somewhere with all our stuff we left back in Czech.
I just did a quick search and found that the liver paste is also loaded with some great stuff like a ton of protein, potassium and then Vitamin A, Calcium, Vitamin D, Thiamin, Niacin, Vitamin B6, Phosphorus, Selenium, Vitamin C, Iron, Vitamin E, Riboflavin, Vitamin B12, Manganese, Copper, Magnesium, Zinc. Maybe that's why I crave it when I'm sick.
---