Photos
Posted by Ivette (Ohio) on 12/18/2018


Here is my boxer Jax., who had a bad case of mange!! I treated him with the Borax bath and switched him to a raw diet. The yellow ointment in the middle picture is NuStock..purchased from Amazon, that also helped with itching and hair growth.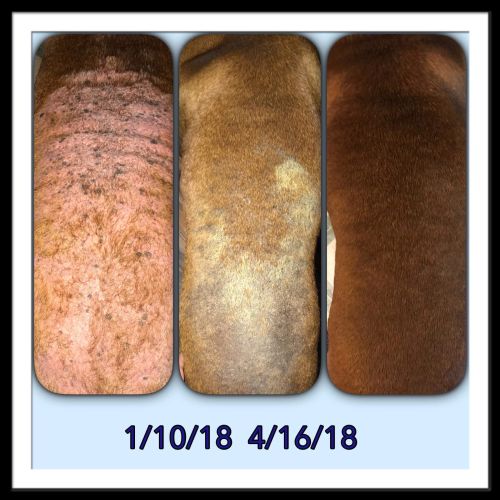 ---
Posted by It Works (Kuala Lumpur, Malaysia) on 08/29/2016


Hi I have a mixed terrier (with some other breed) called Boy. Last year he developed some skin disease. Some said it is mange, some said it is due to old age and some said he is suffering from a hormone deficiency. I thought it looked like mange. Tried all kinds of shampoos, plus giving him coconut oil in his diet but nothing worked. I came across this website and thought I'll give the "Borax and hydrogen peroxide" a try. Finding Borax was difficult in my country Malaysia. But I finally found some at ACE Hardware (not cheap). Bathe Boy with it three times. After each application, I left him as he is with not wash-off until the next application a week later. I shampooed him, wash and then applied the Borax + Hydrogen peroxide. Then I left him as he is until the next application (No wash-off). After the third application, an unfortunate incident happened. I rolled over him while he was sleeping under the car. Had three broken ribs, damaged diaphragm and a dislocated shoulder. Only had surgery to sew back the diaphragm. Three weeks later after the surgery, I finally bathe him again after the last application. So poor Boy did not have a bath for more than a month. He is recovering well and shoulder back in place. BUT I began to realized one thing. His hair was growing back nicely and I have to thank Ted's formula for it. IT WORKS! Please see pictures.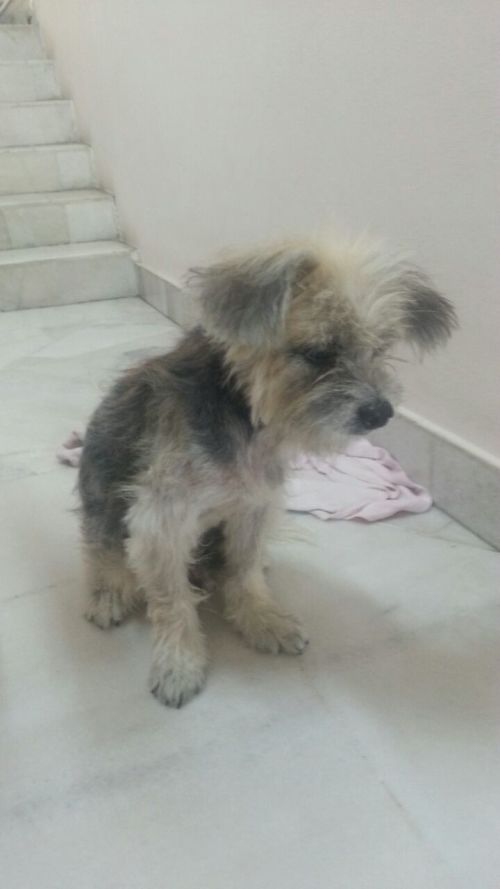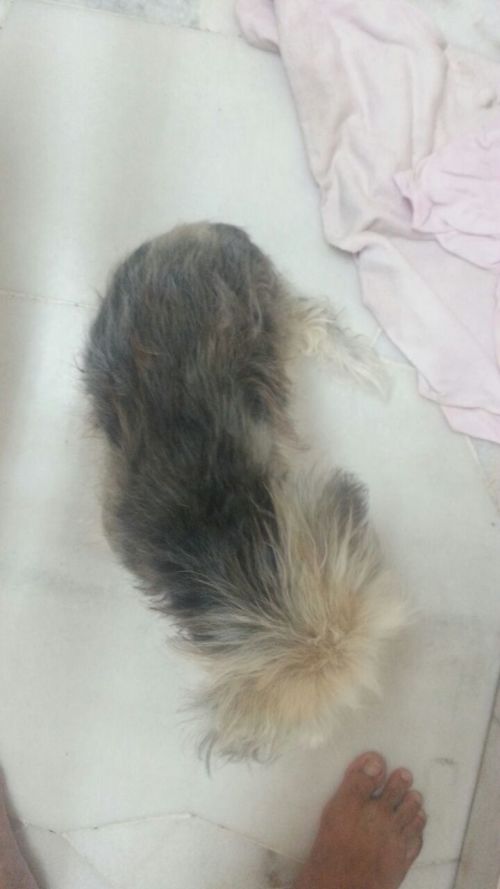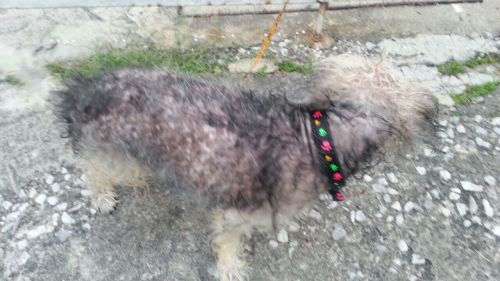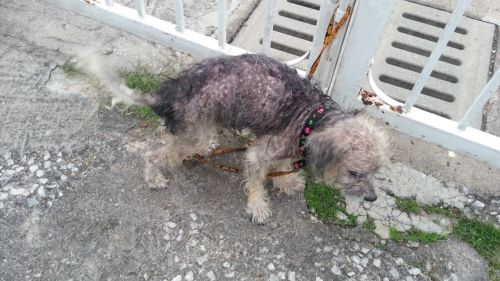 ---
Posted by Jeff (Houston, Tx) on 06/29/2011

I have some before and after pics if you want them. They don't show the whole dog because I wanted to focus on the infection, not the dog. Very remarkable improvement. E-mail me if you want them.
Replied by Jess
Brooklyn, Ny
07/05/2011

Replied by Jack
Toledo, ohio Usa, Lucas County
07/07/2011

Replied by Samantha
Milwaukee, Wisconsin, Usa
06/05/2013

Replied by Dlyn
Oregon
09/12/2015

Replied by Diamond
Ma.
01/11/2016

Replied by Pamela
New York
03/03/2017

Replied by Maria
TX
03/03/2017

Replied by Cynthia
San Jose, Ca
03/07/2017

Replied by Theresa
Mpls., Mn
03/08/2017

Replied by Sam H.
Apache Junction, Az
05/14/2017

---
Posted by Caren (Wilmington, Delaware) on 02/21/2008


Here are our before and after pictures of Rocky. Thanks for letting us share them! I hope these pictures help others to decide to try this treatment of borax/perox. Unbelievable! that a vet would not recommend this to us! These before pictures are of his head where he was most infected. The back of his ears, legs, between his toes and spotty patches on his back and tummy where also infected and looked pretty much the same. After approx 5 weeks of treatment every spot is completely cured Just look at him now! Thank you so much for your website and helping us to make our little guy healthy and happy again! Sincerely Caren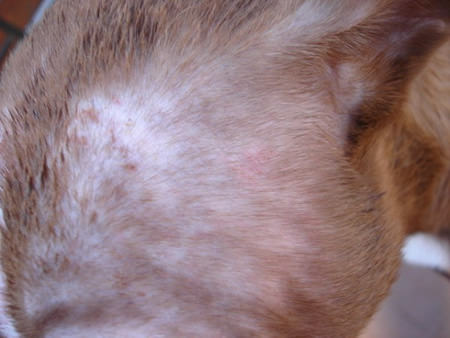 ROCKY WITH MANGE BEFORE TREATMENT (HEAD)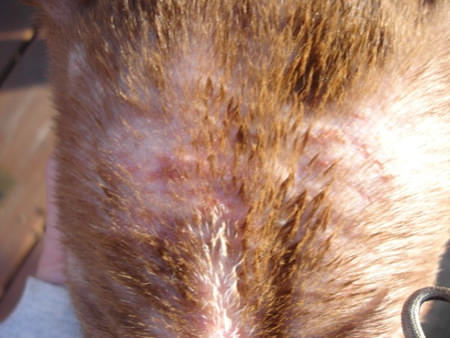 ROCKY WITH MANGE -- BEFORE TREATMENT (HEAD 2)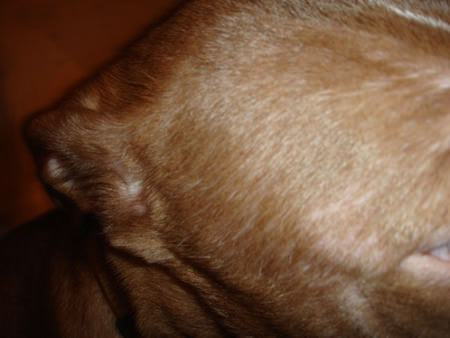 ROCKY AFTER TED'S MANGE TREATMENT

ROCKY AFTER TED'S MANGE TREATMENT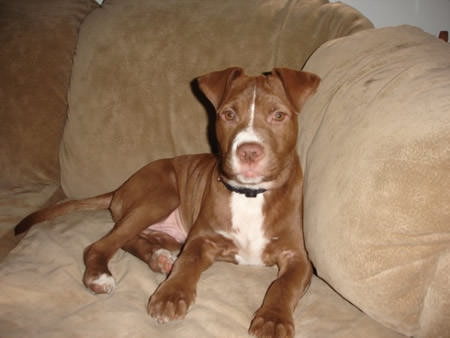 A VERY HAPPY DOGGY!
Replied by Martie
Reynoldsburg, Ohio, Usa
03/10/2013

Replied by Irsuzy
Pleasant Gap, Pa
03/11/2014

Replied by Theresa
Mpls., Mn
03/11/2014

Replied by Benb
Denver, Co
03/13/2014

Replied by Theresa
Mpls., Mn
03/14/2014

Replied by Sh~ianc
Durant, Oklahoma
01/01/2016

Replied by Sh~ianc
Durant, Oklahoma
01/01/2016

Replied by Theresa
Mpls., Mn
01/02/2016

Replied by Diamond
Ma.
01/11/2016

Replied by Diamond
Ma.
01/11/2016

Replied by Fonda
Fl
01/12/2016

Replied by Cheryl
Fl
06/15/2016

Replied by Linda
Somerset. Tx
06/01/2017

Replied by Theresa
Mpls., Mn
06/02/2017

Replied by Deborah Kirkendall
Puerto Viejo, Costa Rica
08/23/2017

Replied by Joanne
Toronto, Ontario, Canada
11/17/2017

Replied by Dorothy
San Diego
07/20/2018

---
Posted by LaDonna (Longwood, FL) on 12/14/2006


The first two photos were the first day of the treatment, you can see how red his skin was from the mites. The last photo is the NEXT day. Of course, I am still doing the treatment weekly because the mites have yet to leave the top portion of his head and shoulders, but the back end is healing great.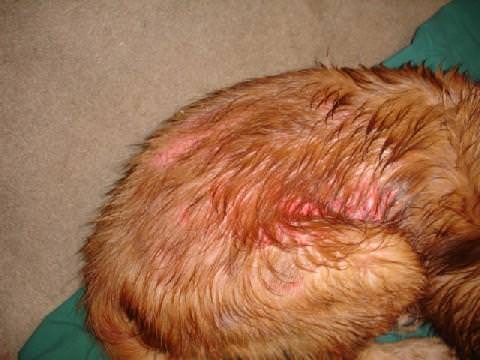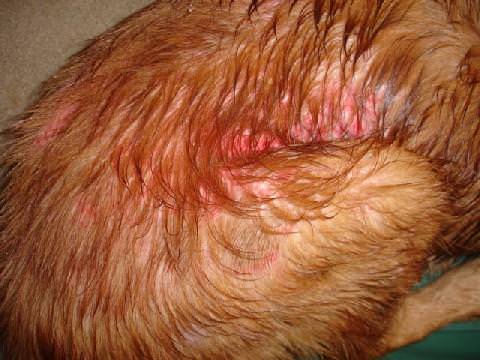 After using Ted's remedy, Riley's skin has healed
Replied by Alleyoop
Griffin, Ga
10/21/2011

Replied by Teresa
Michigan
10/20/2014

Replied by Theresa
Mpls., Mn
10/20/2014

Replied by Om
Hope Bc Canada
10/20/2014

Replied by Theresa
Mpls., Mn
10/21/2014

Replied by Om
Hope Bc Canada
10/21/2014

Replied by Judy
Texas, US
10/31/2014

Replied by Om
Hope Bc Canada
10/31/2014

Replied by Theresa
Mpls., Mn
11/01/2014

Replied by Leya
Katy, Tx
11/06/2014

Replied by Om
Hope, Bc, Canada
11/06/2014

Replied by Theresa
Mpls., Mn
11/07/2014

Replied by Diamond
Ma., US
11/07/2014

Replied by Om
Hope Bc Canada
11/08/2014

Replied by Jet
Tenn
01/28/2015

Replied by Theresa
Mpls., Mn
01/28/2015

Replied by Stacy L.
Nebraska
08/31/2015

Replied by Theresa
Mpls., Mn
09/01/2015

Replied by Maxine
San Pedro De Perez Zeledon, Costa Rica
09/27/2015

Replied by Suseeq
Sydney Australia
09/27/2015

Replied by Maxine
San Pedro De Perez Zeledon, Costa Rica
09/29/2015

Replied by Suseeq
Sydney, Australia
09/30/2015

Replied by Nancy
Rhode Island
02/25/2017

Replied by Theresa
Mpls., Mn
02/27/2017

Replied by William
Arizona
11/11/2017

---