Using ACV presently. Apply with a cotton ball in the morning and evening. Have to admit, using the ACV at this point hurts, but it sure is doing something. Had two. Using ACV, the first one disappeared within days. The second one, in the photo, was larger and from what I could tell, the size of a marble. It seems flat. Just not sure when to stop this treatment.....
This is what's going on in the photos.

Susan (Cinti. Oh) on 09/22/2016


Apple Cider Vinegar treatment for Plantar Fibroma
I have been using Apple Cider Vinegar for a week now - everyday. I soak a cotton ball and tape it on to the Fibroma. I leave it in place over night and then replace it in the morning.
At first it just peels. Then it gets darker. Then it turns black.
It's at the point that continuing gets pretty painful but, it is flatter!
I will now stop doing it for a few days so I'll be able to wear normal shoes for an upcoming event. Once that's over I will start up again.
Given that there just aren't that many options it's worth a try. Hope this helps somebody else dealing with Plantar Fibroma.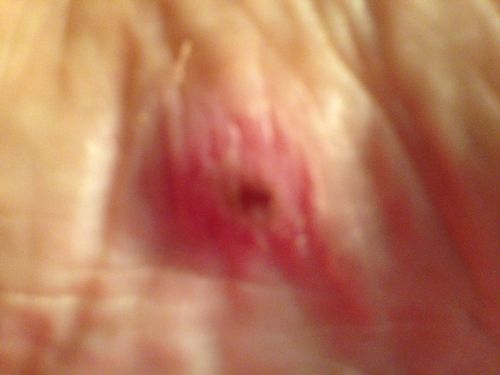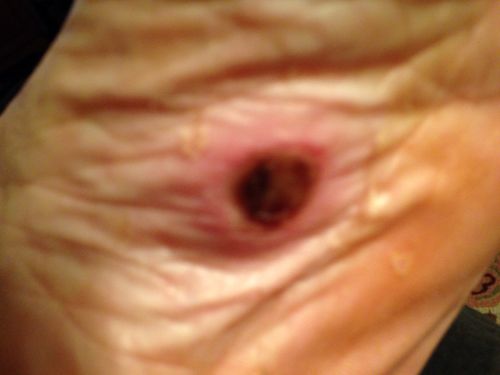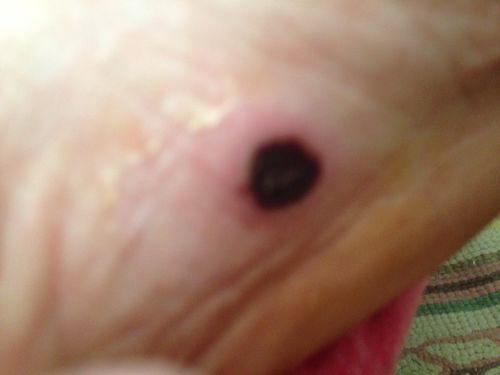 ---
Luis (Beaverton, Or) on 12/14/2014


I have fibromas on both feet. I am treating the most painful one as an experiment.

Application Method:

1- Went to the store to buy a breathable band-aid that encloses the area.

2 - took a piece of cotton ball and got it wet with ACV. Placed the cotton ball over the fibroma and enclosed the cotton ball with the band-aid

Applied the treatment after showering and before going to bed. Removed band-aid in the morning.

Results after 1st night:

1- Significant less pain when touching the Fibroma

2- very small area of skin on top of the fibroma was soft and able to peal off the dead skin.

- After the first night, it feels like it is healing. Will continue treatment for two more nights and report back when have a chance.

---
Wadams (Australia) on 04/06/2013


I've been using ACV for a week now just on the lump area; nothing happened for first three days, then skin around and in top of fibroma peeled off. When top of fibroma skin came off, left perfectly round hole. Next application of ACV made fibroma black underneath the skin.. Looks revolting, but something's definitely happening! Sting/burn too painful to reapply ACV so have applied solugel to give it a rest bc area was very inflamed & painful to walk on. Am waiting to see now. MRI shows nodule very deep, so I dont know if its just burned the top or is affecting the whole fibroma.

---
Liz (Tenerife, Canary Islands) on 02/20/2013


My 82 year old father used the apple cider vinegar method as described from Tassia (Berkley) for this and it has worked. He had it on both feet and on one it has almost gone to nothing, the other is slowly going down but was bigger to start with. He did over do it, and ended up with a burn from the acid, but once that healed has only done it at night and has been ok. He used organic and ordinary cider vinegar, and they both have worked. He now can walk without pain.

---
Tassia (Berkeley, Ca, Us) on 10/09/2009


I got this thing called a Plantar Fibroma on the sole of my foot, suddenly, about 7 weeks ago. After I got the diagnosis a couple of weeks ago, I was trying out some ACV on my skin and it occurred to me that it would feel good on my feet -- and it did, it felt REALLY soothing and cooling, which seemed very good. By the next morning, the fibroma was almost gone. Here is what I did: I put a folded paper towel in a plastic bag (like a produce bag) and poured some ACV (that expensive, organic brand) onto that, then put my foot on the paper towel and tied the plastic bag onto my foot (I actually did both feet because it felt so good) and left them like that overnight. I kept doing this for about a week, and there is no sign now of a fibroma. Kind of amazing, as people have surgeries for this -- and then the fibromas come back anyway. I wonder if this would also help plantar fasciitis, as it seemed to soften and relax the entire fascia.

---