Noni (San Luis Obispo, Ca) on 10/12/2016


Cause of Granuloma Annulare may be systemic Candida.

I have had granuloma annulare on my hands for about 25 years now (see picture). It was only on one hand for many years, then seemed to have travelled up to my fingers and it became prevalent on my left hand as well. It's as if it moved/shifted. When I bumped it, it hurt.

About 2 months ago, I had a blood panel done and it was found that I had Systemic Candida (Albicans) which was contributing to many painful problems in my stomach area. It has been about 5 weeks now since I've been on an Anti-Candida diet (as well as a diet for my Leaky Gut) and I can truly say that almost all of my Granuloma Annulare has cleared up on both hands! At least you really have to look hard to see it.

Just wanted to encourage others that if they have granuloma annulare, go get a blood panel done for Candida Albicans. If it shows >1, then you may have Systemic Candida.

My nutritionist said that most everyone she meets that has an auto-immune disease almost always has Systemic Candida, but not every Systemic Candida patient has an auto-immune disease...not yet.

She said doctors don't know much about Candida, so they miss it altogether. I really felt that this is the key to my health problems and feel much better, although it's very tough for me to stick out this diet for 2 months.

I hope this helps everyone suffering with this same strange phenomenon. God bless.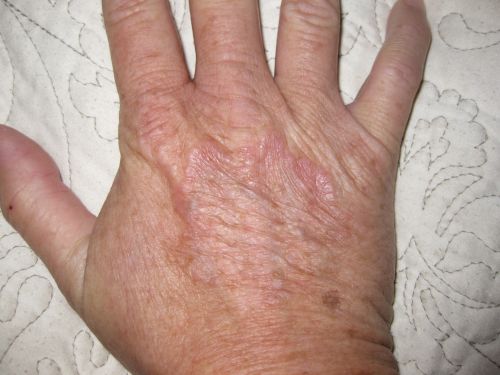 Replied by Robin from Kc, Mo on 12/06/2018
Just wondering how you are doing today? I have had this for about six months and it is all over my body except for my face so I was wondering if you have any new advice or suggestions.
Replied by Mary from Usa on 12/06/2018
My husband has had GA for years. He tried everything but the best by far was using a hair dryer on his arms where the GA is located. It has taken a few months but a few of the rings have disappeared. This is not a quick cure all.
This information is from Doug Kaufman on "Know the Cause" on youtube.
Replied by WIlma from Medford MA on 08/10/2022
I was just recently this year Diagnosed with GA I am going crazy just looking at it. People look at me like I have a disease. So how long and often should I use the blow dryer plus at what speed should I have it on. I will do anything to make this go away. Did you ever laid out by the sun.? I keep looking on line to find anything that can make it go away faster. please advise. thanks in advance