Betaine HCL Remedies: A Natural Supplement for Health
Last Modified on May 11, 2015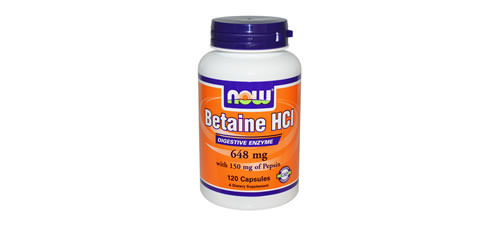 Betaine hydrochloride is a chemical compound sometimes used to increase the acidic content of the stomach (hydrochloric acid) as well as to increase potassium levels in the body. This natural remedy is recommended to increase digestive efficiency, especially for those with insufficient acid content in the stomach. This is not uncommon among those with GERD, acid reflux, asthma, and allergies.
Low stomach acid levels can result in insufficient digestion of foods in the stomach or slow digestion (indigestion) and the resultant bloated feelings and gassiness. Supplementing with betaine hydrochloride is said to increase stomach acid content and thereby help reduce such symptoms.
Home Remedies: Betaine hydrochloride capsules or tablets are said to be of benefit to those with indigestion, heartburn, gas, candida, and even several skin conditions that may be the result of poor digestion.
Choline
0

0

Posted by Jim (Lost, USA) on 07/19/2013
Does Betaine HCL cause or aggravate TNAU because of the choline content? I have read conflicting information online.
EC: Jim, could you clarify? We couldn't find any health ailment that matched TNAU.
Digestion
2

0

Approval Ratings

YEA (2)
67%
SIDE EFFECT (1)
33%
Posted by Bug Bunny (London, England) on 04/20/2012
[YEA] Hi, I love all the info on your site. Feeling bad I went for a colonic 3 weeks ago. The result, lot of undigested food in my poo. I had been suffering from, what I thought was acid reflux, for about 12 months. I was also doing a bad diet, lots of ready made meals, was not eating enough veg. I tried a few remedies for the acid reflux, did not work. The colonic therapist said I had low hydrochloric acid. I did not have acid reflux after all. Wow, imagine my surprise.
I have been taking Betaine HC1 caps with pepsin for only a few days but feel so much better. No more gas and burps, my poo is proper colour, not yellow. My white tongue is gradually turning pink. Its early days but I have found the solution to my health problems, the Magic Betaine HC1. I shall continue to take it and get onto a proper diet. I am also sorting out my vitamin intake with vitamin tabs until I can get vitamins from my food. I am taking probiotic yoghurt as well. look forward to increased health benefits with Betaine HC1
Replied by Margret
Toronto, Ontario Canada
08/09/2012