Neti Pot for Sinus Infections
Aug 27, 2016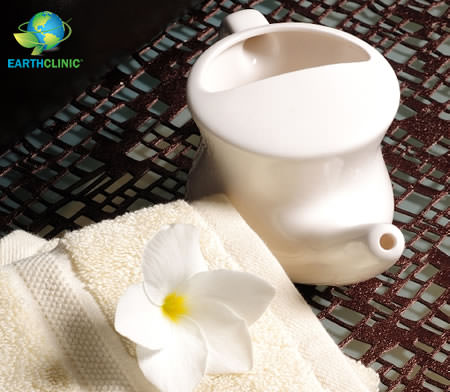 Neti pots are effective natural treatments for sinus infections used by millions of individuals worldwide to deal with their sinus issues. Since sinus infections rank among the most painful and widespread health conditions, finding an effective treatment option or therapy is crucial.
The neti pot
has been found to be an effective remedy that can be used by anyone to attain beneficial results.
Nasal Irrigation for Treating Sinus Conditions
Nasal irrigation using the neti pot is a tradition with origins in Ayurvedic medical practice.? The process is designed to flush the nasal cavities, relieving congestion and alleviating infection. The neti pot is considered one of the most popular options for treating sinus conditions as it is particularly effective and safe.
Do Neti Pots Work?
While some doctors may negate the benefits of the neti pot, research suggests that this solution does indeed work. In fact, many ear, nose, and throat surgeons recommend nasal irrigation using a neti pot to their patients prior to and even following nasal surgery.
Further research suggests that nasal irrigation is an effective way to relieve sinus symptoms. The saline solution often used in treatments also makes the option even more effective for removing allergens and other irritants that contribute to sinus issues.
How to Use a Neti Pot to Cure Nasal Congestion
The neti pot is typically a ceramic or plastic pot that looks much like a cross between a traditional teapot and a magic lamp. While some of the pots are different, most function by filling the pot with a warm saline solution. Once filled, an individual must tilt his or head over the sink at a 45 degree angle, place the spout in the top nostril, and pour the saline solution into the nasal cavity.
The fluid will flow through the sinuses and out the other nostril. Blowing the nose helps eliminate any liquid. Likewise, spitting out any fluid that flowed into the mouth eliminates any excess drainage. Following use, the neti pot must be washed and left to dry in the open air.
Research suggests that fewer than 10% of neti pot users experience adverse effects. All others experience extensive relief and limited recurrence of symptoms when used regularly. Neti pots are a safe, effective remedy for treating sinus infection and other nasal conditions.
Where Can I Buy a Neti Pot and Saline Rinses?
You can buy both Neti Pots and Saline Rinses inexpensively on Amazon. Many pharmacies also carry both.
Continue reading below for feedback from Earth Clinic readers who have used neti pots to cure their sinus infections!
User Ratings

YEA (16)
94%
BETTER BUT NOT CURED (1)
6%
17 User Reviews
User Ratings

YEA (16)
94%
BETTER BUT NOT CURED (1)
6%
Posted by Bamagirl (Alabama, US) on 10/21/2014
Am I using my neti pot wrong? I never get anything out of my nose/sinus' and then, hours later, I start dripping from my nose--so embarrassing at work! Here's how I use it: fill it with the saltwater, put spout up to one nostril, lean over sink and pour from pot. It runs in one nostril and out the other. I then gently blow, leaving both sides open, then treat the other side the same way. When I am really stuffed up, it will come into my mouth instead of out the other nostril, so I just let it flow on out. Is it normal for it to drip so bad so much later? Maybe I should just do it at bedtime, not in the morning?
Replied by Om
Hope Bc Canada
10/21/2014
Replied by Gtcharlie
Los Angeles, Ca
10/22/2014
Replied by Maria
Boise, US
10/28/2014
Replied by Kush
Bhopal, India
11/20/2014
Replied by Mm
Australia
06/22/2016

---
Posted by Kimber (North Illinois) on 05/17/2013

After 2 week of dealing with severe spring allergies which consisted of major head/ sinus congestion, watery eyes, and coughing from post nasal drip I felt maybe maybe a trip to the doctor might be a next step. I was taking a decongestant, a antihistamine , netti pot, and Apple Cider Vinegar 2x's per day, with all this I was feeling like a sinus infection was brewing- adding pressure and headache. So to get to the point- I hate going to the doctor and trying to handle this the best way I knew how. Desperate to get rid of this brewing sinus infection I took 1 tablespoon of Apple Cider Vinegar and added to the netti pot with warm water. After completing only 1/2 the treatment because it was very uncomfortable burning through my sinus cavity I had to stop. Well be prepared- w/ a box of Kleenex because war had been declared!!! With in minutes stuff/ infection was on its way out. Within an hour relief was being felt. As uncomfortable as the neti pot was with Apple Cider Vinegar the result were quick and immediate. Bye bye infection!
---
Posted by Carolina (Nyc, Ny, Usa) on 11/12/2012
I have had a bad sinus infection for the past 2 years, non stop. I had two courses of antibiotics, unsuccessfully. I cannot read, think, breath due to the pressure in my head. My left cheek bone and jaw hurts. My eyes are glassy and itchy all the time. I tried the apple cider vinegar solution but it destroyed my stomach, badly. I got gas, terrible cramps, and overall a feeling of discomfort.
Yesterday I bought a neti pot that comes with salt and aromatic essential oils. I tried it last night for the first time and it didnt hurt or bother me. I produced very clear mucous and felt my nasal passages were clearer. However, my head did not stop hurting and I had a dry cough right after. I tried it again this morning and I felt I was drowning. I also got a dry cough afterwards. The whole afternoon I felt awful. The pressure in my head was terrible. I felt I was the whole afternoon under water. At some point I bent down and a splash of water came out and then again. I exhale vigorously as suggested in the neti pot instructions and do the exercises to remove the excess water. I tried it again tonight as I am planning on using the neti pot twice a day. Again I felt like drowning while using the neti pot and got a dry cough.
Right after I finished, I got a really bad pain on the left side of my upper stomach and now I am bloated and my belly feels sensitive. Are these symptoms going to go away? Is this normal? I feel I am using the neti pot correctly. I even got my husband to be right by my side to correct my posture. But I dont always get a steady flow when using the neti pot and I was wondering how to do so. I also feel my throat is salty and I am producing some kind of salty phlegm. Thanks for any advice!