Healthy Water, Healthy Body: Home Cures from Water!
Mar 22, 2015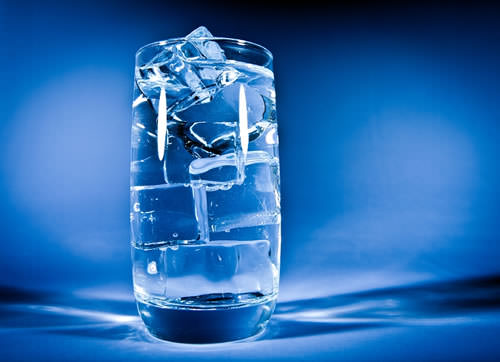 Water--the forgotten nutrient! Eight glasses, 75% of our body by volume, the elixir of life, yada, yada, yada... Even as much as we talk about how important proper hydration is to human health, nothing is easier than to forget to drink enough water. Most of us, in fact, seem to be dehydrated most of the time.
Getting the safest water to drink has likewise become a crucial part of our daily healthcare habits. The debate between tap water and bottled, filtered vs. distilled or dechlorinated, etc. and the nutritional value of spring water has become as intense as any in the natural health community. Our readers have something to say about the relative values of each water source or water filtration option below.
Natural Remedies: Water can have a strong remedial effect on conditions like diabetes, skin ailments, constipation, and high blood pressure. However, there is virtually no health condition or area of general health that can't benefit from getting enough to drink each day. Older men in particular should pay attention to proper hydration, as their bodies less effectively recognize or signal dehydration as the years go along.
Remedies for Water
ACV and Salt
Posted by Andreina (Roma, Italy) on 12/27/2007

In the morning, I mix 1Tbl ACV with a pint of water, and 1/4 teaspoon of salt. I put it in a bottle and drink it throughout the day. I repeat the prosedure in the afternooon, so I drink 2 pints a day. It cures everything (my acne, sore throat, stomach ache, dry skin, sore joints...etc) I've been doing this for 3 months, and have dropped 7.5 kilograms! I <3 water! Be sure to mix it with salt and vinegar, so you don't lose vital nutrients, and sodium!
---
Replied by Terry
Langley, B.c. Canada
03/30/2011


---

Borax Instructions




Posted by Mary (Canada) on 09/26/2014

Hey there, anyone who can't afford to buy distilled water, has a family, and/or drinks a lot of water, this was my solution. I bought a water cooler, the kind where you put the big blue jug upside down on it. You'll have to buy the first jug of water, then when it's empty, I ran my water through a brita filter, poured it into the big blue jug, (you have to remove the cap, and don't worry about trying to save it) doing this until the jug is full. Then place a small piece of glad "press and seal" (NOT REGULAR PLASTIC WRAP) it has to be the PRESS N SEAL! Make sure it's pulled tight, rub your finger around the rim to make sure you have a good seal, then flip it onto your cooler, voila, you now have gallons of free filtered, distilled, whatever else you want in there, water. I used to add liquid trace minerals, so I don't see why you couldn't just add borax if you wanted. Did this for years, for my family of seven; the water was horrible where we lived then.

---
Replied by Kathy
Dubois, Pa
09/17/2009

Replied by

Joyce

Joelton, Tn

09/18/2009

524 Posts
Replied by Kathy
Dubois, Pa
09/18/2009

Replied by Wydo
Ventura, Ca
01/04/2010

Replied by Kathleen
San Antonio, Texas
01/05/2010


---

Decontaminating Water




Posted by K.Lynn (Mt.Healthy, Ohio) on 01/07/2009

I'm confused over the healthy drinking water debate. could someone please tell me, as I've been boiling our water on the stove for 5-10 minutes after boil to decontaminate. we have traditional city water but it tastes horrible from all the additives. Do I need to add anything after boiling to make it healthier? Thankyou

---

Detoxing with Water




Posted by Om (Hope, Bc. Canada) on 05/22/2014

Mama to Many from Om have you some ideas on this:

Can drinking of one liter of water cause detox symptoms? I add 1/8 tsp borax to one liter daily with two days off and also make my own Kombucha which, I know, causes detox symptoms. I am also not used to drinking straight water. Today, for the first time in long years, I felt nauseous for a short while and feel I want to sleep a lot. I am vegan but do not do too well at it with wheat allergies and sugar concerns, as well as no soy. I take no drugs and deal with everything myself. Because of the poisons in our food and my unwillingness to consume food that is obtained by torture and kill, I look almost anorexic by now.

I am well informed about commercial food production and our little store here does not want to be bothered with "freaks", like vegans. I planted things in the garden but not a thing came up. Repeated, with the same results and gave up. ( They have a house on their back and get it first.) BTW I have to be vegan because I experienced the bovine growth hormone by eating cheese that gave me a whollop of current from the liver to my right breast. That did it over night. And raw food is not for everyone.

Please let me know what you think or anybody who can chime in. Namaste, Om
Replied by Om
Hope, Bc. Canada
05/24/2014

Replied by Om
Hope, Bc. Canada
05/24/2014

Replied by Om
Hope, Bc. Canada
05/24/2014

Replied by Mmsg
Somewhere, Europe
05/26/2014

Replied by Om
Hope, Bc. Canada
05/26/2014

Replied by Om
Hope, Bc. Canada
05/26/2014

Replied by

Bill

San Fernando, Philippines

05/27/2014

1239 Posts
Replied by Andrea C
Wales Uk
05/27/2014

Replied by Andrea
Wales, Uk
05/27/2014

Replied by Mmsg
Somewhere, Europe
05/27/2014

Replied by Om
Hope, Bc. Canada
05/27/2014

Replied by Andrea C
Wales Uk
05/28/2014


---

Distilled




Posted by Kevin (Crossett, Arkansas) on 12/20/2011

I've been taking the H2o2 3% mixture internally now, for awhile, and I just want to know if there's anything I can add to the mixture to make it taste better. I know the H2o2 isn't supposed to mix with certain things, and it's not the H2o2 that tastes bad. I just don't like the taste of this distilled water, I've been getting. So, is there anything safe, that I can add?
Replied by Robert Henry
Ten Mile, Tn Usa
12/21/2011


---

Posted by Phil (Athens - Pagrati, Attica, Greece) on 07/17/2011

Hello wonderful people.

I've got two questions about distilled water:

1)Since it is not the easiest thing to find in Greece and when you find it, it is cost much more than deionized water, can we consider the water that comes out of a drippimg coffee maker (filter coffee) as distilled ? If not why? It is the same way. Water boils, becomes vapor , vapor condenses to water again.

And 2) if so, do we have to add sea salt in it to consume it?

Greetings to all from hot (poor) Athens

---

Distilled or Filtered Water




Posted by Sean (New York, NY) on 02/25/2009

Hi. First let me just say that I'm new to this site and I think it's great. I'm going to start doing some of the remedies (ACV, BSM, oil pulling maybe). I've been reading a lot and I've noticed or it seems most people are using distilled water or some form of other water that doesn't have pollutants or as much in it. I don't know if I missed something but my question is... I know it may sound stupid but:

Is it ok to use filtered water(using Brita) when using any of these remedies that I plan on using as mentioned above or with any remedy that is mentioned on your site? I just want to make sure that using the water filtered through the Brita is ok to use?

Thank you.

---

Distilled Vs Reverse Osmosis




Posted by Maryanne (Seattle, Washington) on 07/31/2009

I have a question about water. I researched the entire water and distilled water section, but I am still a bit confused about what the best choice is. It seems that plain distilled or Reverse Osmosis water is not beneficial to health, but mineral water is the best. Of course I do want to remove dangerous chemicals such as Flouride and Chlorine, but not remove good minerals. What kind of water purifier is best? and what should I add to the finished water to provide minerals (is it sea salt?) I'm interested in an inexpensive countertop variety, if you cant say brand names, then just email me.
Replied by Rob
Manhattan, New York
08/02/2009


---

Distilled Vs. Demineralized




Posted by Brendan (Adelaide, South Australia) on 01/02/2011

Anybody know what the difference is between distilled and demineralised water, I tried to go buy distilled the other day from the laundry isle because I remember my mum buying it for the iron, but all I found was deminerallised. Is this the same thing? Thanks.

P. S Thanks guys for fixing the posting window thing, that was driving me nuts.

---

General Feedback




Posted by Supertigertv (San Francisco, California) on 08/07/2014

I found some really interesting very scientifically backed information about Adya Clarity on the website called www.NaturalNews.com that basically does not recommend the product. I did not have a good experience myself but you should decide for yourself. Mike Adams says the product contains high levels of aluminim because it is basically just over priced "pool cleaner" and the separation of toxic minerals just a common "parlor trick" that still requires a separate water filter device to complete the products ability to turn a glass of water into something actually drinkable.
Replied by

Baldev

Maharashtra

08/11/2014

158 Posts

---

---

Posted by Healthodyssey (Ojai, Ca/usa) on 05/16/2012

First let me say that I do not believe that there is one cure for everyone. It is a question of tuning into yourself and intuiting the path toward healing. The products or protocols that you begin with may change over time, so be flexible.

I am a 46 year old male who started losing my hair in my early 20's. It was devestating. I don't think a day has gone by without it affecting my self-esteem. But, I now have such significant regrowth that I can see the light at the end of the tunnel (toward full regrowth) and wish to share my experience with those who might benefit.

I started washing my hair everyday when I was 8 years old. Little did I know that I was stripping the natural sebum from my hair and scalp, sending my sebaceous glands into oily overdrive and causing hair loss: oily scalp syndrome. Around this time (coincidently) I also started getting crippling headaches from scalp tension.

In my early 20's I was taking Minoxidyl, to little affect because of course I was still washing my hair with SLS shampoos. In my early 30's I came off Minoxidyl and started working with Edgar Cayce's protocol using Atomidine and crude oil as well as the violet ray machine (Tesla coil). Again nothing worked, as I was still washing my hair everyday with chemical shampoos. I have a great deal of respect for Cayce and believe his readings were very accurate, but SLS was not introduced into shampoos and soaps during his lifetime, so we have to adapt to new protocols.

I then met a very gifted clairvoyant who told me to stop using SLS shampoos and start taking biotin. So, I switched to "natural, " sulphate free shampoo and began supplementing with Biotin. Again nothing worked and while I continued using "natural" shampoos, I quit taking the supplement. It took several years to realize that many of the so called sulphate free, "natural" shampoos on the market are legally allowed to use a "sulphate free" descriptor if they change the chemical name to something else. Don't you just love those folks at the FDA! There are, apparently, around 150 different chemical names for SLS (so buyer beware! ). I then switched to Morrocco Method shampoos about two years ago and noticed the hair loss pretty much stopped within a month, but there was no regrowth (but, I was still washing my hair everyday). However, I did notice that decades of headaches and chronic scalp tension vanished overnight, as soon as I quit SLS or any of its alternate chemical names.

At about the same time I starting fingernail rubbing twice per day for ten minutes each time. At the end of each session I noticed that my hair and scalp had a lot of chi running through it. In hand reflexology the fingernail beds relate to the scalp. There were some scary moments, several months into the protocol, when my hair shed A LOT, but then quickly regrew to be thicker and much stronger.

I finally quit using Morrocco Method several months ago (it's very expensive) and starting washing my hair with baking soda and a ACV rinse, but only once a week, then after a while every two weeks. The night before I washed my hair I oiled it with a mixture of olive oil, lavender oil and rosemary oil. I was finally, after all these years seeing some regrowth, but I also noticed that after washing I was running into the same old problem of my sebaceous glands going into overdrive for a day or two.

Then I had this intuition to quit eating eggs. I was curious and did some research and found out that raw egg white blocks biotin absorbtion. Although, I was eating cooked eggs (most days) I guess I must be sensitive to egg white protein. As soon as I quit eggs I started to re-supplement with 5000 mcg of biotin a day. I also quit washing my hair with anything at all, just rinsing it everyday with cold water. Never hot or even warm as this tends to activate heavy metals in the water, unless you have a really superior shower filter. I went as they say "no-poo! " There was an instant difference and very quickly I noticed huge regrowth as the oils in my scalp returned to normal.

Around this time frame I treated my cat for flea sensitivity with crab apple flower essence. He was reacting to fleas bites with itchy scabs and his fur started to fall. Within a few weeks of the crab apple in his water, the fleas left, the scabs healed and his fur totally regrew and his coat is in better condition than it has ever been. So, I started using crab apple on myself, as I had a sense that maybe if the sebum is stripped from the hair then it has no protection against microscopic parasites. I also added cotton, cedar and mountain pride flower essences to the crab apple. I take these flower essences internally, as well as adding them to a spray bottle for external use. I added mountain pride, which is primarily an essence for standing firm in one's warrior nature, because I had this sense that male pattern baldness or thinning of the hair has a mythology to it, based on the Biblical tale of Samson and Delilah. I am now curious to learn if other cultures have a similar mythology?

Anyway, a few weeks ago I retroduced the violet ray and that is helping enormously to increase scalp circulation. It goes to show that just because something did not work in the past that it might not work again in the future, if we change the mix. For me the culprit was primarily chemical sensitivity and the stripping of natural sebum from the scalp. I also vigorously brush my hair everyday, which I had not done for years as I was told as a child that brushing is not good and the more you brush the more hair loss you will experience (the dumb things we buy into! ). This, of couse, could not be further from the truth and in fact the opposite is the true. brushing is actually way more affective than even natural shampoos.

I have had such amazing results with the no-poo that I decided to go no-soap, too. I am amazed! My whole body/skin chemistry has changed and whereas I got stinky after exercise, there is no odor at all now. I can only guess that using soap causes the body to go into overdrive in an attempt to rebalance the system with natural oils. I am now wondering if soap and shampoo are culprits in the rise of skin cancers? SLS breaks down and destroys the top layers of the epidermis, the layers which act as an environmental immune buffer, stripping the natural oils that protect the skin from sun damage. Of course this is just an intuitive theory, but I feel it is pretty accurate. I also feel this is the case with toothpaste. Is it just sugar in the diet or are we adding to the problem by using products that strip the bodies natural defence mechansims? For all of our "sophisticated" dental care and advance formula toothpastes and floss we have more tooth decay than at any other time.

My father was a brewer by trade and therefore something of chemist. I recall him telling me, when I was a child, that if you wash a lab beaker thoroughly six times with distilled water then all trace chemicals will be completely washed away. I also have a friend in AZ that has a commercial eco-cleaning business that uses super-heated water to clean hotels, hospitals etc. They have scientific evidence that super-heated water will kill ALL bacteria and keep them away for far longer that a bottle of chemical cleaner which when sprayed onto a surface kills most bacteria for a few seconds, before they start to multiple again and eventually become resitant to the chemicals. Nothing ever becomes resistant to water!

So, the moral of my story is: "Let water be enough and then let the body's natural wisdom do its thing. It knows best! "