7 Benefits of Rebounding for Health
Last Modified on Apr 19, 2014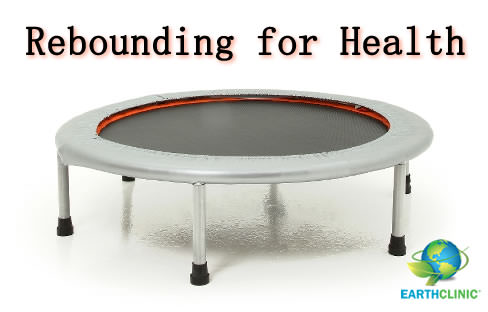 Rebounding is a fun and effective remedy for multiple ailments. It's one of our favorite health activities at home because it's one of the best remedies for the immune system! Aside from the simple benefit of getting your body moving and burning calories, rebounding also offers a number of very specific health benefits.
What Is Rebounding?
Very simply, rebounding is just jumping or bouncing on a trampoline. However, unlike most trampoline bouncing, the goal of rebounding is not to jump high or to perform a number of intricate gymnastic tricks. Rather, the goal in rebounding is to perform a series of specific small, controlled movements that improve health.

The series typically involves three basic exercises in conjunction with a number of variations on the basics. The three basic moves are the health bounce, the strength bounce, and aerobic bouncing. The health bounce involves gently bouncing up and down leaving the feet intact with the trampoline mat. The strength bounce focuses on jumping as high as you (safely) can and strengthens the primary and stabilizer muscles throughout the body. Aerobic bouncing involves jumping jacks, running in place, bouncing on one foot, dancing, twisting, and completing any variety of other crazy maneuvers you can think of to increase your heart rate and make you sweat.
Rebounding
Table of Contents