Cayenne Pepper for a Sore Throat
Jul 24, 2016
<< Continued from page 2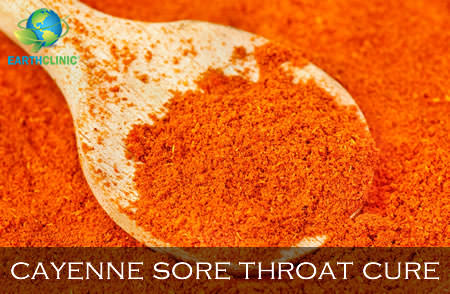 Cayenne Pepper Sore Throat Remedy
Home Remedy Ingredients:
Cayenne Pepper - 1 Teaspoon
Warm Water - Small Glass
Far and away the most popular sore throat remedy. Add a teaspoon of powdered cayenne pepper to a glass of warm water and repeatedly gargle with it. Sore throat pain vanishes, and other cold-like symptoms improve as well! (If your lips are raw, put on a little chapstick first to protect them.)
EC Contributor Instructions:
Penny from Fresno, California: "If it is too late, as in strep, it takes gargling with cayenne in water every fifteen minutes until it goes, and be patient, because it GOES. I haven't had a sore throat take hold in 15 years or more, though many have tried to start up, which also is a way for many illnesses to sprout. I generally will gargle cayenne in water at whatever strength I like and do it as much as I can until I tire of it, and then repeat every fifteen minutes, each time swallowing a tiny bit real slowly (not necessary). It only stings the tongue a little when spitting out, otherwise, no discomfort, you can get used to even the swallowing part when you see how well it works. I use the cheap Mexican stuff, but also keep on hand in refrigerator the pesticide free stuff from health store. Cayenne is a miracle cure for ulcers and so many other conditions, plus aids assimilation of nutrients and vitamins. I will keep cayenne in water in the bathroom in case I get up in the night, so I can gargle once in the night if I am very sick, but if it is in water, it will go bad quickly and needs to be put back in refridge in morning. Afterwards suck on a clove (see below). I have never seen a sore throat that won't succumb to it."
EC TIP: DON'T STOP TAKING THE CAYENNE!
Cayenne doesn't always work within the first hour or two. If you've had a sore throat for days, you will need to keep up the gargling for at least one day if not two. Your lingering sore throat will disappear. Many of the folks who reported a NAY rating in the Cayenne section are reporting negative results after a very short period of time.
User Ratings

YEA (449)
90%
NAY (33)
7%
BETTER BUT WITH SIDE EFFECTS (2)
0%
BETTER BUT NOT CURED (5)
1%
WORKED TEMPORARILY (4)
1%
WARNING! (1)
0%
SIDE EFFECTS (5)
1%
Posted by Nikoo (Chronic Coast, California Usa) on 12/29/2011

Worked Temporarily
I dont like doctors/hospitals and avoid at all costs. I have had a terrible misreable sore throat for almost a week. Felt like daggers when I swallowed.
Tried Cayenne pepper in warm water, cayenne in tea w lemon and honey, cayenne on my mashed potatoes, ACV cayenne lemon honey in hot water -- NOTHING WORKED. I had temporary relieve but sore throat would just not vanish. I think the remedies helped because I was hacking up all kinds of mucus but the pain did not go away. So finally as a last resort I went to see a doctor and she told me I had strep throat -- unfortantly this homeopathic cure could not overcome that kind of infection.
So I rate this remedy as a Kind of worked/temporary relief.
Will try again if I get a sore throat and post results then.
Replied by Davers84

Mattoon, Il

01/04/2012

---
Posted by Jufycoop (Mahwah, Nj, Usa) on 12/24/2011

I had sinus surgery 5 days ago and woke up from recovery with severe throat trauma from the intubation. My uvula was swollen to 4 times it's normal size, was covered with a white film, and the back of my throat felt like it had been sliced with razors. The sore throat pain has been so bad I could not eat, drink or even swallow saliva without tears. When I went to my first post- op visit yesterday, the Dr said the trauma will heal on its own and there was nothing that could be done. I found this website and believed from the other posts that the cayenne gargle could work for me. I tried 1/4 t cayenne, 1/4 t salt, a little honey and warm water and gargled 6 times over a half hour. The pain subsided enough for me to eat small salad!! I just gargled again 2 times and looked at the uvula, which is shrinking! Thank you everyone for your posts.