Apple Cider Vinegar Treatment for Gout
Jun 27, 2016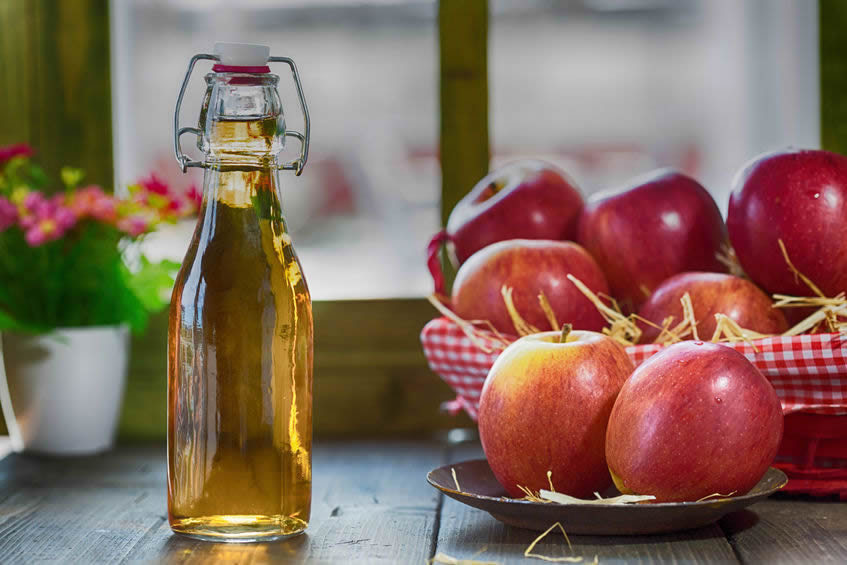 Apple cider vinegar is an effective natural treatment for gout. Some find relief in a matter of hours with the apple cider vinegar treatment while others find it takes a few days to see significant improvement.
How Much Apple Cider Vinegar Should I take for Gout?
Apple cider vinegar is a common natural remedy for a variety of health conditions. Sometimes, as little as a teaspoon in a glass of water twice a day brings relief to many ills. However, for gout, results are usually experienced when larger amounts of apple cider vinegar are consumed. It is not uncommon for gout suffers to use 1-2 tablespoons of apple cider vinegar 2-3 times a day.
How Do I Take Apple Cider Vinegar for Gout?
Because gout sufferers are in so much pain, they often take a shot glass of apple cider vinegar and chase it with a glass of water, as soon as they learn about the remedy. Alternately, the apple cider vinegar can be added to a tall glass of water. The water in and of itself is important. Dehydration makes pain worse and the water will help prevent that. Plenty of quality fluids also help the body to flush out toxins and the uric acid crystals.
Apple cider vinegar can also be added to juices. It is disguised well in apple juice, apple cider, grape juice and orange juice. Cherry juice is another popular remedy for gout. Adding apple cider vinegar to cherry juice will give you two remedies in one dose!
What Kind of Apple Cider Vinegar Should I Use?
For health purposes it is important to take raw and organic apple cider vinegar. Larger grocery stores, health food stores and even some warehouse stores sell raw and organic apple cider vinegar.
Of course, if it is the middle of the night and you wake up with a gout attack and all you have in the house is regular apple cider vinegar, it is worth trying this remedy anyway.
Topical Use of Apple Cider Vinegar for Gout
Apple cider vinegar also can be used topically for gout, usually in conjunction with internal usage.
Apple Cider Vinegar Wrap
Soak a cloth with apple cider vinegar and wrap the pained toe, knee etc. Cover that with plastic wrap and an ace bandage. This remedy is most convenient when used overnight.
Apple Cider Vinegar Spray
Apple cider vinegar can be kept in a spray bottle and sprayed onto the gout affected area. If you keep the spray bottle in the refrigerator, the cold vinegar may bring some extra relief at each application. Spray the area hourly during the day.
Apple Cider Vinegar Ice Cubes
If you freeze some apple cider vinegar in ice cube trays, you can ice the gouty area directly as needed. You will benefit from the cold as well as from the apple cider vinegar.
Side Effects of Apple Cider Vinegar for Gout
If you suddenly begin to take large amounts of apple cider vinegar you could experience side effects. Large amounts of any new food can cause changes in your body. Side effects can include lowering of blood pressure, decrease in blood sugar, headache, nausea, dizziness and an overall unwell feeling. If you experience side effects from apple cider vinegar, reduce the amount you are taking, try a topical application, or try another remedy.
Have you tried apple cider vinegar for gout? Please let us know how this remedy worked for you! Keep reading to see how our users have benefited from this wonderful folk remedy.
User Ratings

YEA (94)
85%
NAY (10)
9%
BETTER BUT WITH SIDE EFFECTS (1)
1%
BETTER BUT NOT CURED (5)
5%
WORKED TEMPORARILY (1)
1%
113 User Reviews
Apple Cider Vinegar Cure for Gout
Home Remedy Ingredients
Apple Cider Vinegar - 1 Teaspoon
Filtered Water - Large Glass
Taking an apple cider vinegar (ACV) tonic 1-3 times daily can improve your overall nutrition and help dissolve the uric acid crystals. Mix a teaspoon of ACV in a large glass of water (honey optional) and drink with a meal. Increase the amount of ACV as high as 2 tablespoons per glass, as your body requires.
User Ratings

YEA (94)
85%
NAY (10)
9%
BETTER BUT WITH SIDE EFFECTS (1)
1%
BETTER BUT NOT CURED (5)
5%
WORKED TEMPORARILY (1)
1%
Posted by Mrsf7998 (Amarillo, Tezas) on 06/12/2016

Last weekend, I took my husband to the ER because he was unable to walk on his ankle. He kept telling me about the horrific pain and knowing he didn't do anything to provoke it, I took him. After blood tests, it turned out to be gout. I was surprised because I honestly thought that happened when you're older than 45 or so. He's 36 and never had problems like that before.
They prescribed him Allupriol 300mgs and I just did not feel right about him taking a pill everyday. For years, I've used Earth Clinic for my ailments (kidney stones) and it always worked for me! I saw the post about ACV with honey and warm water.
I kid you not... less than 24 hours after taking him, the pain and swelling was gone!!! He was able to move with full movement of his ankle the next day. I was thrilled for him!
I warmed a cup of water with 2 tablespoons of ACV and 1 tablespoon of honey. He has been drinking it daily and he feels awesome! I know people wonder if these testimonials are true, this one is! Thank you for always helping those who want an alternative to a prescription, folks. It means the world to us!!!
---
Posted by Es (Oregon) on 08/04/2015

Jeannie from Illinois and Mrl from Texas. I've been taking ACV for a long time, and also give it to my handicap son for his gout. He hasn't got a flare up since I've been giving it to him. We take 1 to 2 tablespoons in about 4 oz of water twice a day, after breakfast, then before or after dinner. The trick to get it to taste OK, is mixing a pinch of salt in it. I tried many things but nothing work as good as salt for me. It just takes a little bit, but it sure makes the difference. I hope this helps you too. Bottoms up!
---